Shaved Brussels Sprouts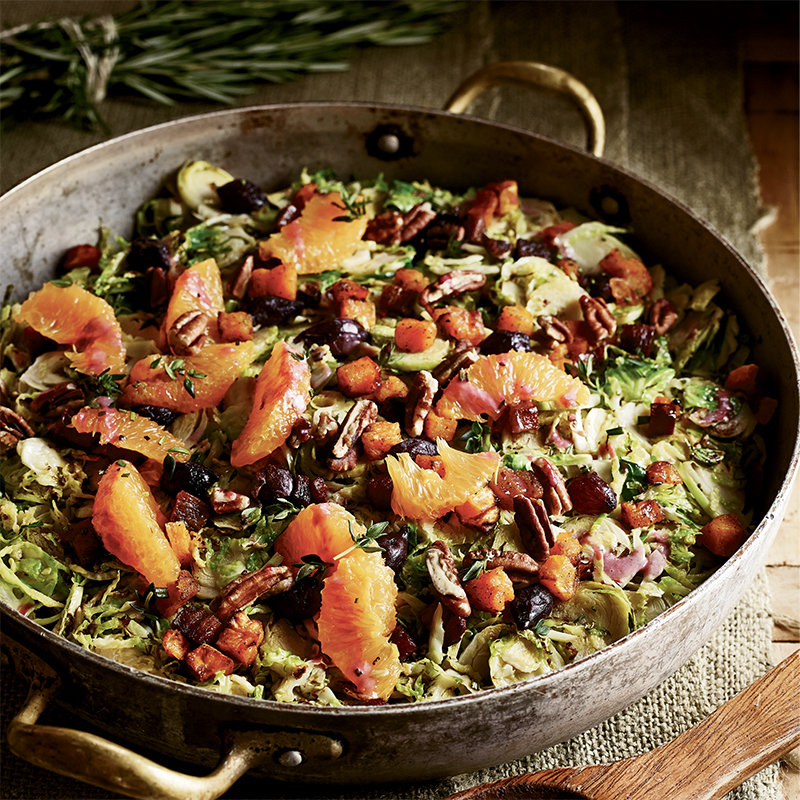 DESCRIPTION:
Courtesy of Michelle Bailey
INGREDIENTS:
1 cup pancetta, diced
2 cups butternut squash, peeled & diced
2 Tbsp. unsalted butter
1 lb. Brussels sprouts, roots trimmed & shaved thin
1/3 cup pecans, toasted & chopped
2 Tbsp. apple cider vinegar
Salt & pepper, to taste
2 oranges, segments only
1/2 Tbsp. fresh thyme
1 tsp. fresh rosemary, finely chopped
1 cup pomegranate vinaigrette

Pomegranate Vinaigrette
1 cup pomegranate juice
1 Tbsp. sorghum
Zest of 1 lemon
1 tsp. ginger, freshly grated
Salt & pepper, to taste
1½ cups grapeseed oil
DIRECTIONS:
Preparing the Brussel Sprouts
Preheat oven to 400°F. In a cast-iron skillet, render the pancetta until crisp. Transfer meat to a paper towel to drain and reserve fat in the skillet. In a bowl, toss butternut squash with rendered fat, place in a baking dish, and roast in oven for 15 minutes until golden brown. Remove and set aside. Use the same cast-iron skillet to heat butter over medium-high heat. When butter begins to brown slightly, add the shaved Brussels sprouts and sear for three to four minutes, tossing occasionally until edges have browned. Remove from the stove. Add pancetta, squash, pecans, and apple cider vinegar, and toss to incorporate. Season to taste with salt and pepper. Place in a serving dish and scatter orange segments and herbs on top. Serve warm with pomegranate vinaigrette.
Preparing the Pomegranate Vinaigrette
In a saucepan over medium heat, bring pomegranate juice to a simmer and reduce by half. Remove and let cool. Place reduced juice, sorghum, lemon zest, ginger, salt, and pepper in a food processor, and mix on low speed until combined. Increase to high and slowly add grapeseed oil in a steady stream. Adjust seasonings to taste and store in refrigerator until ready to use.