Savory Noodle Kugel by Rachel Miriam
Savory Noodle Kugel by Rachel Miriam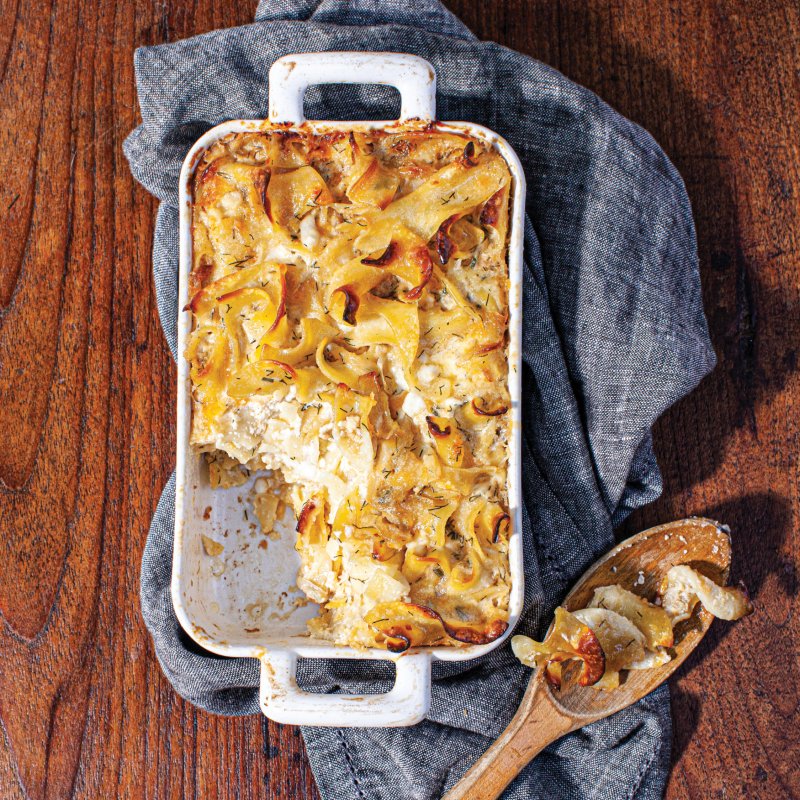 INGREDIENTS:
1 lb. egg noodles (preferably extra wide/broad), cooked al dente
1 cup brown butter, melted (from 2 sticks unsalted butter)
3/4-1 cup of caramelized onions (from 2-3 yellow or sweet onions)
4 eggs, beaten
1/3 cup sugar
1 ¼ cups cottage cheese
1 ½ cups sour cream
1 ½ cups shredded sharp cheddar cheese
¼ cup chopped dill
1 Tbsp. kosher salt, add more if needed
A few healthy grinds from a black pepper mill
2 cups whole milk
DIRECTIONS:
Ahead of assembly caramelize the onions; brown and strain the butter; and cook the egg noodles to al dente, drain and set aside to gather the remaining ingredients.
Preheat oven to 350°F. and butter/grease a 12x9 or 12x10 (a 3- or 4-quart) casserole dish.
Whisk together the eggs and sugar in a bowl big enough to mix everything. Fold in the following using a spatula: cottage cheese, sour cream, melted brown butter, caramelized onions, dill, kosher salt, and pepper.
Add the cooked noodles, mix well and taste for seasoning. Pour noodle mixture into prepared casserole. Gently press the noodles down into the casserole, then top off with 2 cups of milk.
Bake about an hour—until the edges of the casserole are turning brown and bubbling all around, and when the center seems somewhat firm when pressed down upon. Start checking after 40 minutes to see if the casserole could use a rotation.
Let rest 10 minutes before portioning. Can be eaten warm or cold. Leftovers are good fried in extra butter.