ROOT VEGETABLE POT PIE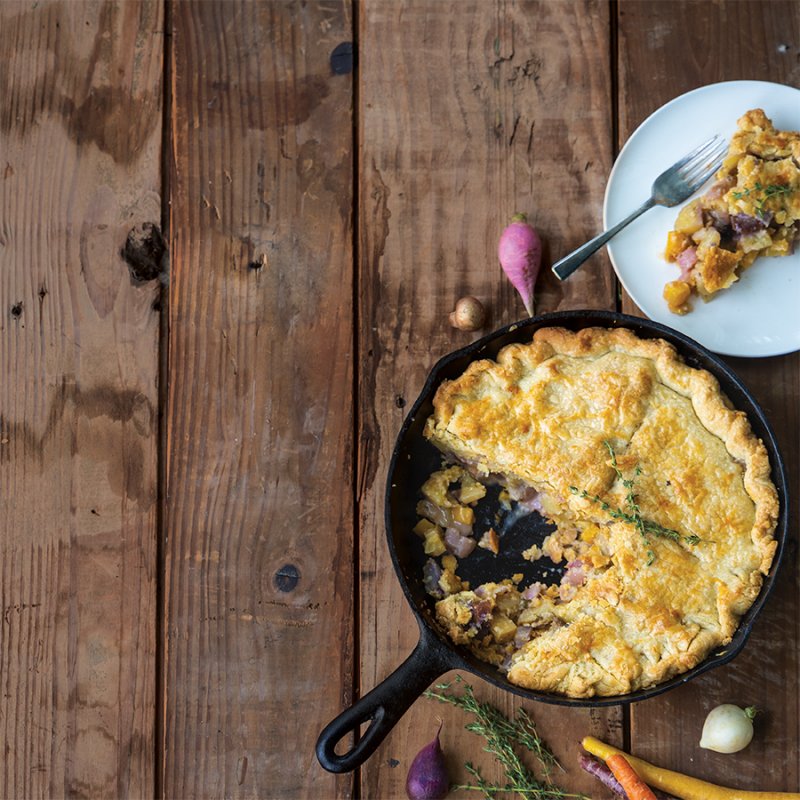 INGREDIENTS:
For The Veggie Fillings 
1 bunch sweet salad turnips
1 bunch of rainbow radishes 
1/2 bunch of carrots (like 3) 
2 pounds potatoes 
2 medium onions 
1⁄2 pound mushrooms of your choice
Approx. 1⁄4 cup of chopped parsley
Approx. 1⁄3 cup of olive oil for tossing
Generous salt and pepper 
For The Roux
2 cups homemade chicken stock 
1⁄2 cup dry white wine
1⁄2 cup butter 
1⁄4 cup flour
Approx. 3 sprigs of thyme 
For The Crust
3 cups flour
1 cup cold butter (I used Miyoko's 1 tsp salt cultured vegan butter) cut into 1⁄2 pieces
1 tsp baking powder
1 tsp salt
1/2 cup ice cold water
DIRECTIONS:
Preheat the oven to 400F. Cut all your vegetables into bite-size pieces ( 3 ⁄4 inch squares roughly). Toss together with olive oil, parsley, salt and pepper. Roast on a baking sheet for 25 min until vegetables are tender. 
In a small saucepan over medium-high heat, melt the butter. Add the flour, whisking constantly to prevent lumps from forming, and cook for 2 minutes. Add the wine and cook for 1 minute more. Stir in the broth and bring to a boil, then stir in the thyme leaves.
To assemble the pie toss the roasted vegetables into the roux so everything is nicely coated, this is your filling. On a lightly floured surface, roll out one disc of dough into the approximate size of your baking dish, about 1⁄4" thick. Place in a shallow pie dish (approximately 13"x9" or similar size) then add filling. Roll out the second disc of dough into roughly the size of your baking dish about 1⁄4" thick and place on top of the filling. Trim and crimp edges, then use a paring knife to create slits on top.
The pie can be frozen in your baking dish at this point. When you are ready to bake it, brush the top with a beaten egg and bake at 375 F for about 45 min.