Roasted Sweet Potato Chess Pie
Roasted Sweet Potato Chess Pie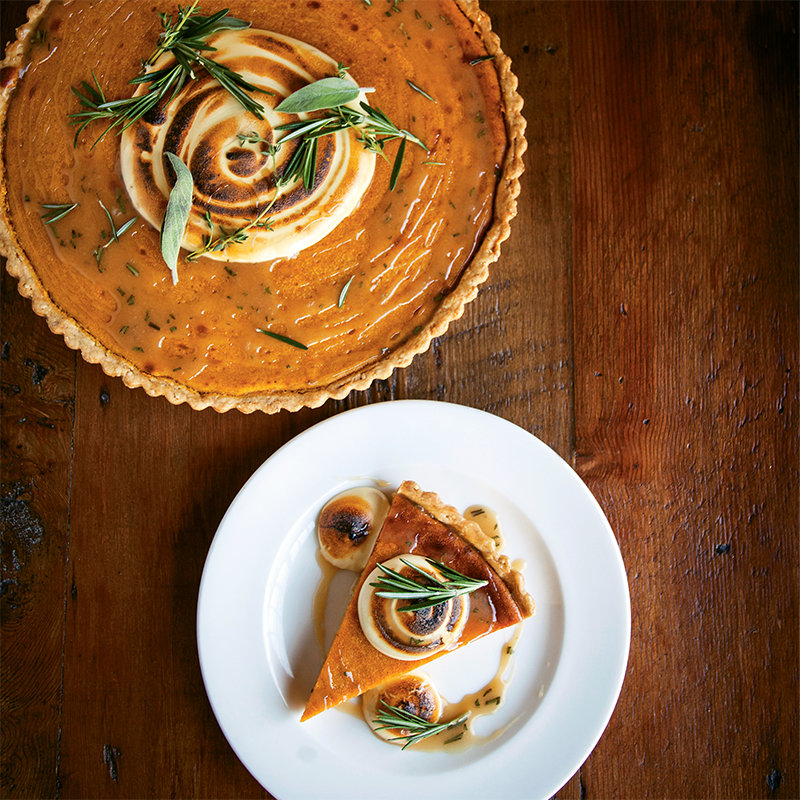 DESCRIPTION:
From the Kitchen of: John Fleer, The Rhu, Asheville
INGREDIENTS:
Benneflour Pie Crust
6 oz. all-purpose flour
2 oz. bennecake flour (Anson Mills brand recommended)
1/2 tsp. salt 
10 Tbsp. cold butter, cubed  
4 Tbsp. ice water, ice removed ​​​​​​​
Filling
12 medium sweet potatoes
Olive oil
Salt, to taste
1/2 cup brown sugar
3 tsp. cornstarch
1 Tbsp. milk powder
1 1/2 tsp. salt
1/8 tsp. ground nutmeg
1/8 tsp. cinnamon
Dash sherry vinegar
1/3 cup heavy cream, melted
4 egg yolks
1/2 cup butter, melted
Rosemary Honey Glaze
3/4 cup butter
1 1/2 cups brown sugar
1/2 cup honey
1/3 cup cream
1/3 cup water
1 1/2 tsp. salt
1 Tbsp. fresh rosemary, finely chopped
Sorghum Marshmallow Fluff
3 egg whites 
1½ cups sorghum 
1½ cups corn syrup 
3 cups powdered sugar
1 tsp. salt 
DIRECTIONS:
Benneflour Pie Crust
Preheat oven to 325°F. Combine flours, salt, and butter in a mixer with paddle attachment. Mix until butter breaks down into pea-sized pieces. Add water and mix just until it comes together. Remove and lightly knead on a work surface. Wrap in plastic and refrigerate to chill. Remove a few minutes before rolling out. Roll out dough and place in pie shell. Chill shell again in refrigerator. To par-bake the shell, place a square of parchment paper that's just larger than the shell in the center and fill with dried beans or pie weights. Fill about a quarter full to prevent crust from puffing up. Bake for 15 to 20 minutes. Pie shell should be completely cooked, but not fully brown. Allow to cool completely. See Roasted Sweet Potato Chess Pie for assembly instructions.
For the the Pie Filling
Preheat oven to 400°F. Lightly coat sweet potatoes in oil and salt. Roast until cooked completely and lightly caramelized, about 45 minutes. Let cool and remove skins. Purée in blender until smooth.
Preheat oven to 325°F. Using a blender, add one and half cups sweet potato purée, brown sugar, cornstarch, milk powder, salt, nutmeg, cinnamon, vinegar, cream, and egg yolks. Blend until smooth and well incorporated. Slowly stir butter into mixture. Pour into par-baked pie shell. Bake for 20 to 30 minutes until set, but not puffed or browned. It should have a gelatinous jiggle.
Rosemary Honey Glaze
To make Rosemary Honey Glaze, melt butter in a medium pot. Add brown sugar and honey, stirring until they begin to dissolve. Add remaining ingredients, stir, and bring to a low boil. Cook for five minutes and reserve.
To finish the pie, brush rosemary honey glaze onto baked pie while warm and top with sorghum marshmallow fluff. 
Sorghum Marshmallow Fluff
Using a mixer and whisk attachment, whip egg whites until they begin to foam. Add sorghum and corn syrup. Turn mixer to high and whip until mixture becomes white and marshmallow-like. Turn off and add powdered sugar. Slowly increase speed as sugar incorporates. Whip on full speed until incorporated and fluffy, then stir in salt. Reserve until needed. Top Roasted Sweet Potato Chess Pie with marshmallow fluff. Brown fluff with culinary torch before serving (optional).