Roasted Sunchokes with Dried Beef & Fish Sauce Aioli
Roasted Sunchokes with Dried Beef & Fish Sauce Aioli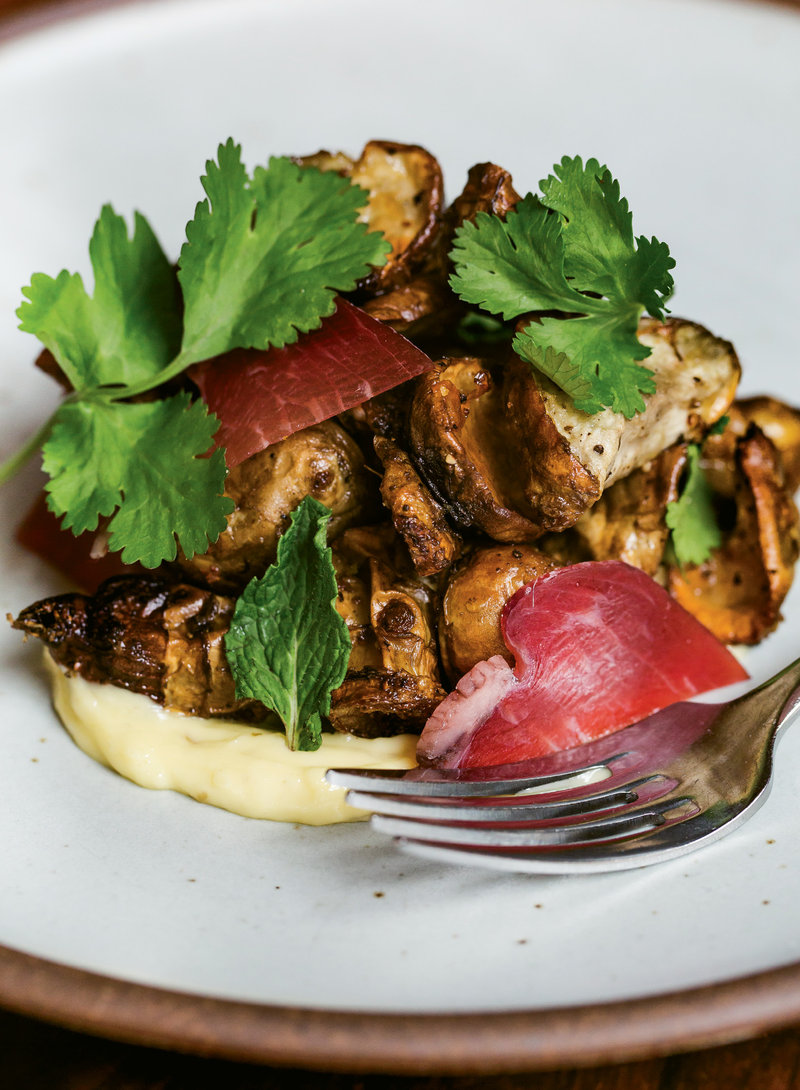 DESCRIPTION:
Courtesy of Jacob Sessoms, Table
INGREDIENTS:
2 lb. sunchokes, cut into 1-inch pieces, washed thoroughly
2 Tbsp. butter, cubed
Salt & pepper, to taste
2 egg yolks
Juice of 3 limes
3 garlic cloves
Pinch of salt
2 Tbsp. fish sauce
1 cup coconut oil, melted
1/2 lb. beef jerky, shredded
One handful each of mint, cilantro & basil
DIRECTIONS:
Preheat oven to 400°F. In a medium bowl, toss sunchokes with cubed butter, salt, and pepper. Cover and roast in an oven-safe dish until just soft, about 30 minutes. Meanwhile, combine egg yolks, lime juice, garlic, salt, and fish sauce in a food processor and pulse. Slowly add melted coconut oil until it is fully incorporated and forms an aioli.
In a medium bowl, toss warm sunchokes with beef jerky.
To serve, coat the base of each plate with aioli. Top with sunchokes and beef jerky mixture. Garnish with one handful each of mint, cilantro, and basil.