Pumpkin Chipotle Soup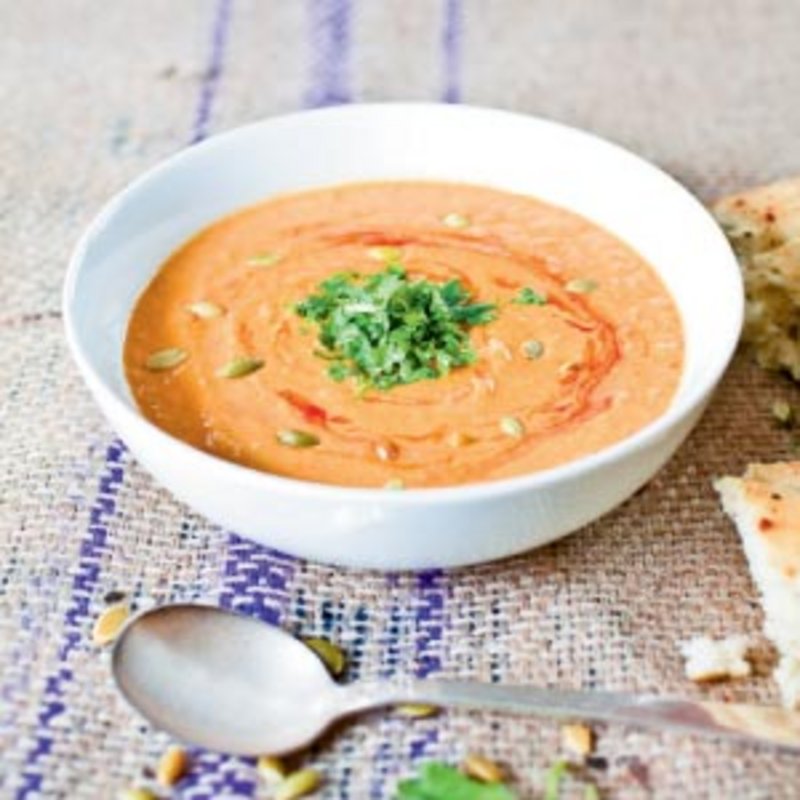 INGREDIENTS:
2 Tbs. olive oil 1 large onion, chopped 2 medium leeks, chopped Salt & pepper, to taste 2 celery stalks, chopped 1 ½ tsp. ground cumin 1 ½ Tbs. ground coriander 1/2 tsp. ground nutmeg 1 qt. vegetable stock 1 cup water 14 oz. can chopped tomatoes, strained 1 or 2 chipotle chiles in adobo, to taste 15 oz. pureed pumpkin     (or 1 medium pumpkin) 2 cups heavy cream Agave nectar or honey, to taste 1 tsp. lime juice Cilantro Toasted pumpkin seeds
DIRECTIONS:
In a large stockpot, heat olive oil. Add onion, leeks, salt, and pepper. Saute onions until they begin to caramelize. Add celery, cumin, coriander, and nutmeg, and continue to cook for five minutes. Add vegetable stock, water, tomatoes, chiles, and pumpkin. Simmer about 20 minutes, or until vegetables are tender. Puree until smooth with an immersion blender or in two batches in a countertop blender. Return to pot, and slowly add cream until desired consistency is reached. Stir in agave nectar or honey and lime juice. Garnish with cilantro and toasted pumpkin seeds.