Potlikker Gumbo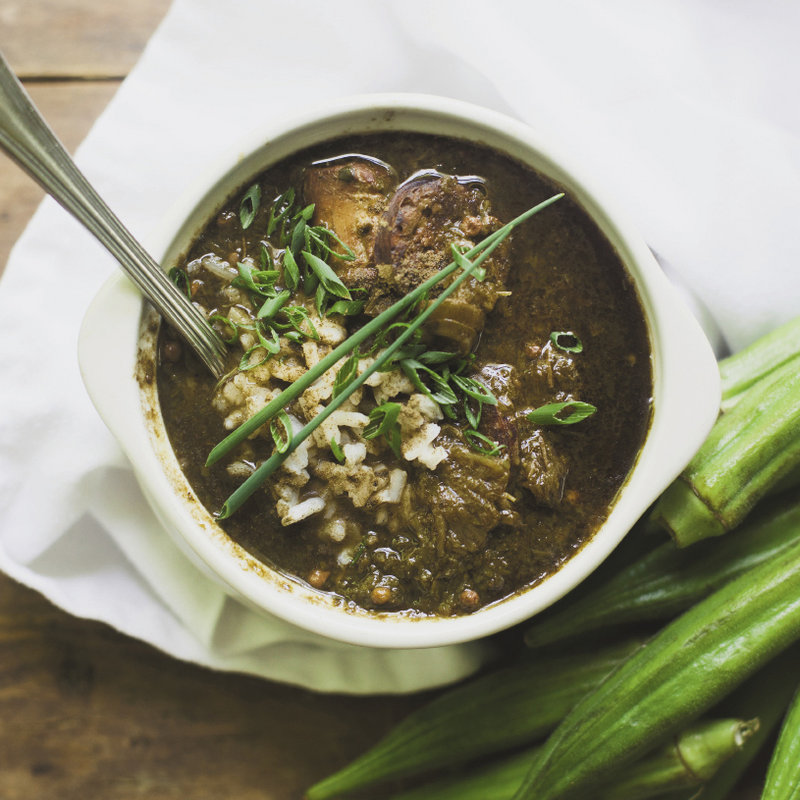 DESCRIPTION:
(Serves 15-20) Long's version of Gumbo des Herbes is inspired by the original, which was made famous by legendary Creole chef Leah Chase of New Orleans. Stock
INGREDIENTS:
4 large bunches collard greens (Long suggests adding chard, mustard, turnip, etc.) 2 gal. water 2 large onions, diced 3-4 country ham bones (or ham hocks) 1 bundle fresh thyme & 3-4 bay leaves, tied together with twine   Proteins 2 Tbsp. olive oil 2 lbs. Andouille sausage, sliced 2 lbs. chicken thighs, skins removed & cubed 1 lb. country ham, diced   Roux 2 cups canola oil 2 cups sifted all-purpose flour 4 cups yellow onion, diced 2 cups celery, diced 2 cups green bell peppers, diced 1/2 cup garlic, sliced thin   The Assembly: 6 cups fresh okra, sliced in ½-inch rounds 2-3 bay leaves 1 head curly parsley, finely chopped Salt & pepper, to taste 4 cups cooked steamed rice Gumbo filé (ground sassafras leaves)
DIRECTIONS:
Place all ingredients in a large stockpot and simmer for about two hours until greens are tender. Once cool, remove bones and herb bundle. Working in batches, purée in blender. Return to stockpot and keep on very low heat. Proteins Place olive oil a large Dutch oven over high heat. Work in batches to sear the sausage then chicken until browned, about seven to 10 minutes per batch. Add to green stock, along with uncooked ham.   Roux Using the same Dutch oven used to brown the meat, add canola oil and flour, and whisk together until blended. Place over medium-low heat, and cook 30-45 minutes, stirring frequently until it reaches the color of milk chocolate. (Note: Constant vigilance is required at this step. If roux is burnt, it should be discarded and remade.) When roux achieves milk-chocolate color, remove from heat and add onion, celery, peppers, and garlic.     The Assembly: Carefully add the hot roux to the hot stock, one ladle at a time, stirring stock to fully incorporate roux after each addition. Bring stock to a boil then reduce heat to low. Add okra and bay leaves, and simmer on low for approximately three hours, skimming the oil and foam that rises to the surface. (Note: A good trick is to move the pot so it is off center from the burner.) Add parsley, salt, and pepper, and serve over rice with a sprinkle of filé on top. Long suggests letting gumbo sit in the fridge for a day to allow flavors to mingle.