The Pop of Bottles Shops
The Pop of Bottles Shops:
The fusion of tap brews and bottling creates a new wave of beer service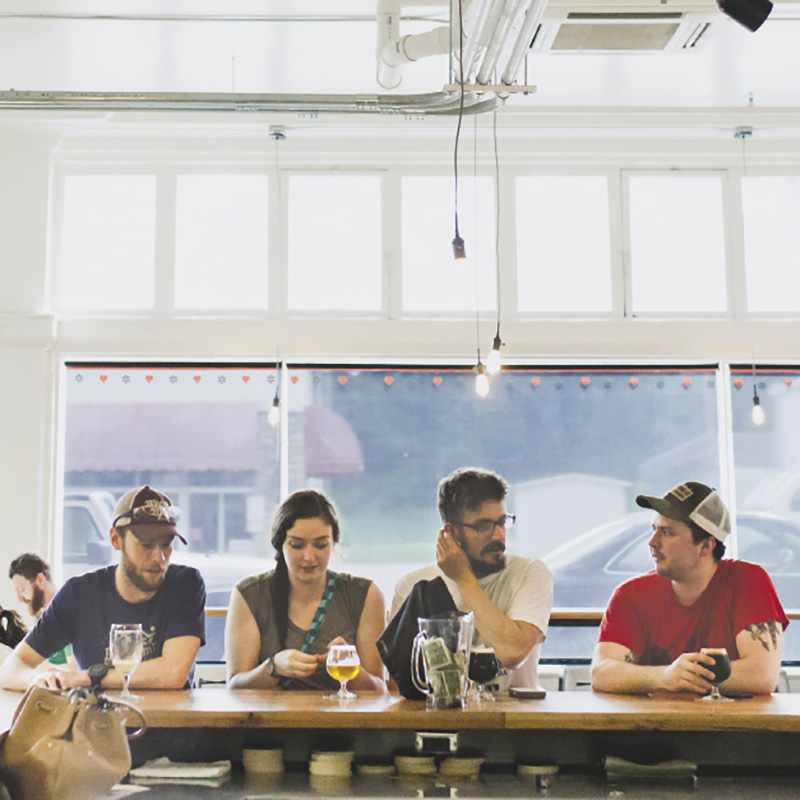 With new breweries arisin' across the region, a handful of bottle shops have cropped up to support the growing beer culture. These watering holes serve as a niche between a bar and brew market. Whether you want to sample the local suds on tap, build your own pack to take home, or buy seasonal favorites, these stores are reinventing the beer world. Here are several worth checking out.
 
Brown Mountain Bottleworks
Morganton
Morganton's only bottle shop has the feel of a coffee café, with wood floors and chocolate-colored walls and ceiling. It offers 400 varieties of craft beer and 100 of wine, along with local snacks from Black Mountain Chocolate, The Gourmet Chip Company, and Sunburst Trout Farms. Customers visit not just for the great brews, but also the live music. Pickin' on Tuesday is the freestyle jam night, while bands perform Thursday through Saturday. There's even a homebrew class offered on weekends. 115 E. Union St.; (828) 413-2678; www.brownmountainbottleworks.com
Tonic Delivers
Sylva
At Tonic Delivers, more than half of the 95 beers are regional. Along with a tap bar and brew market that sells beer, wine, and cider, this six-month-old store upholds its name by offering beverage and local food delivery to area homes, offices, and hotels. At the shop, six taps serve a rotating selection of seasonal brews, with lighter IPAs offered this summer. If beer isn't enough to lure you in, the weekly events just may, including Cards Against Humanity game night on Wednesdays and open mic on Thursdays. 625 W. Main St.; (828) 586-2929; www.tonicdelivers.com
 
Mad Anthony's Bottle Shop and Beer Garden
Waynesville
Save yourself a trip to Germany at this beer garden and bottle shop, which opened in June at a 1920s farmhouse in Waynesville. The primarily outdoor venue has a 3,000-person capacity and offers 300 bottled microbrews and 40 rotating taps serving selections from regional breweries and multiple countries, including Croatia, Germany, Sweden, and Lebanon. By August, rows of picnic tables and a large stage are slated to be ready to welcome the crowds. 124 Branner Ave.; (828) 246-9249; www.madanthonys.bar
 
Tasty Beverage Co. 
Asheville
Warning: You might loose track of time while perusing the aisles at this bright shop located in an old warehouse on the up-and-coming South Slope of downtown. When it comes to variety, Tasty Beverage Co. is the holy grail of bottle shops. The popular Raleigh location opened its second store in Asheville at the end of April, offering more than 1,200 soul-soothing suds. Adding to the assortment are 10 rotating taps serving beers not typically found on the shelves. 162 Coxe Ave.; (828) 232-7120; www.tastybeverageco.com