Panzanella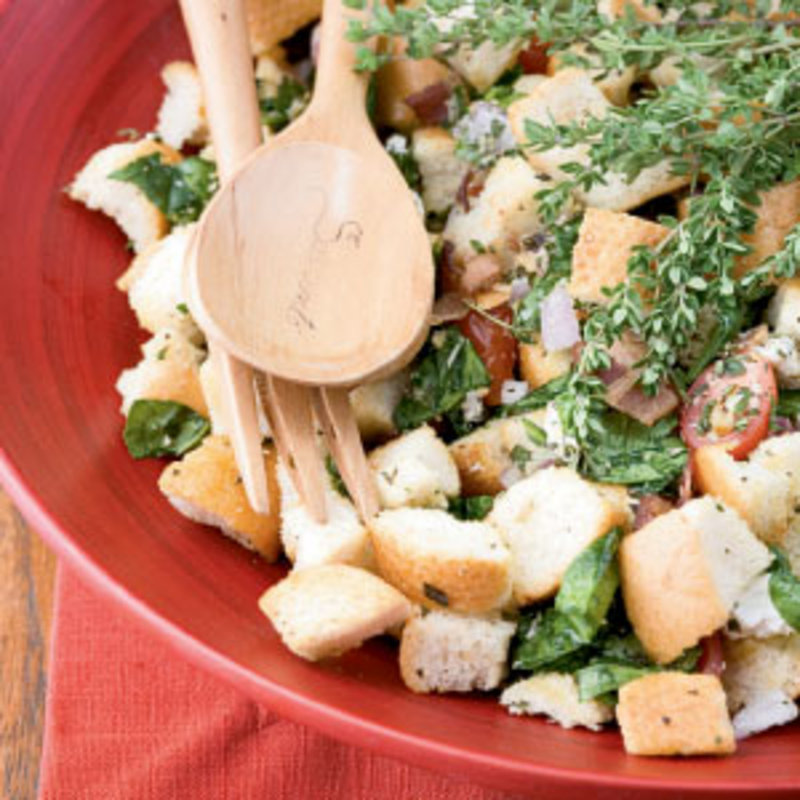 DESCRIPTION:
Courtesy of former Riverblaze Bakery, Franklin
INGREDIENTS:
Bread 
1 large loaf French or Italian bread, 1 to 2 days old, cubed into crouton-size pieces
2 Tbs. garlic, minced
3 Tbs. olive oil
1 tsp. salt
Fresh ground pepper, to taste
Salad
1 pt. grape tomatoes, halved
1 oz. fresh rosemary, sage, and thyme, minced 
1/2 sweet red onion, diced
1/2  cup goat cheese, crumbled
1/2  cup bacon or prosciutto, cooked to crisp and chopped
4 oz. fresh spinach, coarsely chopped
3 Tbs. olive oil
1/4 cup grated Parmesan cheese
1 tsp. salt
DIRECTIONS:
Bread
Preheat oven to 350°F. In a large bowl, toss bread, garlic, olive oil, salt, and pepper. Spread on sheet pan and bake for eight to 10 minutes until golden, but not quite crunchy. Allow to cool for five minutes.
Salad
In same bowl, toss bread with remaining ingredients, making sure not to crumble bread. Serve in a salad bowl and garnish with remaining fresh herbs.