Pan-roasted Quail with Mission Fig Brown Butter & Parsnip Purée
Pan-roasted Quail with Mission Fig Brown Butter & Parsnip Purée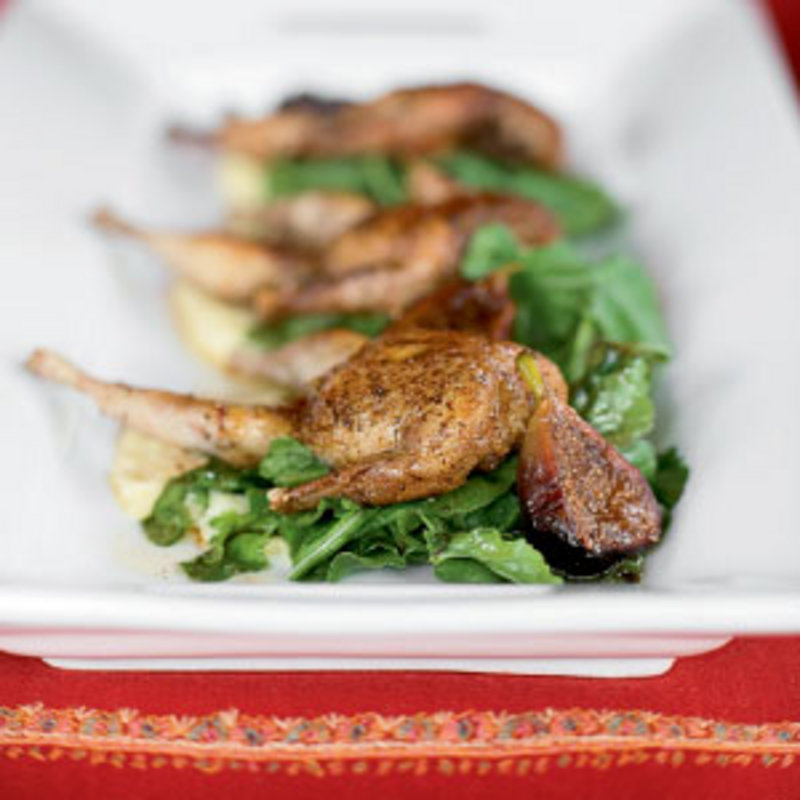 DESCRIPTION:
from Savoy | ASHEVILLE As the host, you'll have friends ooohing and aaahing when this little game bird makes a big impression
INGREDIENTS:
4 medium-size parsnips 1 medium-size Yukon Gold potato 2 Tbs. salt 4 Tbs. heavy cream 2 Tbs. butter 1 grating of fresh nutmeg Salt & cracked black pepper, to taste 4 semi-boneless quail 6 mission figs 1 Tbs. vegetable oil 4 Tbs. butter 1/2 lemon, juiced 1 Tbs. balsamic vinegar Baby arugula
DIRECTIONS:
Peel parsnips and potato. Cut both into two-inch cubes. Put in a medium saucepan, cover with cold water, and add salt. Boil over medium heat until vegetables are soft. Drain. While still hot, purée in a food processor (or pass through a potato ricer). Fold in cream and butter. Season to taste with nutmeg, salt, and pepper. Season quail with salt and pepper. Cut figs in half. In a sauté pan, heat vegetable oil over medium flame. When oil is hot, lay quail breast-side down in the pan. Cook for two to three minutes until skin is golden brown. Flip and cook for another two minutes. Add butter. After butter has melted and foam subsides, remove quail and set aside. Place figs cut side down in pan. When butter is a golden brown, add lemon juice and balsamic vinegar. Cook figs long enough to just warm them throughout. Season to taste with salt and pepper. Spoon a thin layer of parsnip purée on a platter. Place a handful of arugula leaves on plate and top with quail. Drizzle brown butter over the quail. Arrange figs on and around quail. Serve immediately.