Lobster Risotto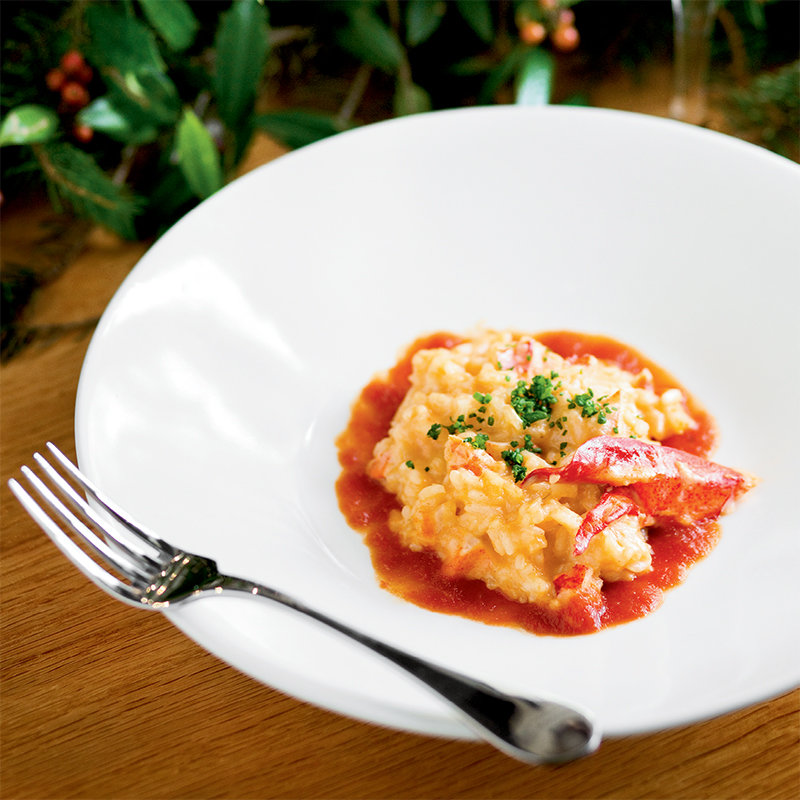 INGREDIENTS:
1½ onions
1 carrot, coarsely chopped
1 bay leaf
2 one-and-a-half pound lobsters
1/4 cup extra virgin olive oil
2 Tbs. tomato paste
1½ cups Arborio rice
1 cup dry white wine
Salt & freshly ground black pepper, to taste
2 Tbs. unsalted butter
1/4 cup Italian parsley, finely chopped
DIRECTIONS:
Finely chop one onion, and coarsely chop remaining half. In a large pot, bring three quarts of water to a boil, and add the coarsely chopped onion, carrot, and bay leaf. Prepare an ice bath. Plunge lobsters into boiling water and cook for two minutes. Remove with tongs and submerge in ice bath for a minute, then drain cold water and set aside. Keep lobster cooking liquid warm over low heat. In a deep 10- to 12-inch skillet, combine olive oil, finely chopped onion, and tomato paste, and cook over medium heat until onion is softened but not browned, about eight to 10 minutes. Add rice and stir with a wooden spoon until toasted and opaque, about three to four minutes. Add wine, then add four to six ounces of lobster cooking liquid a ladle at a time and cook, stirring constantly, until the liquid is absorbed, about 15 minutes. Meanwhile, remove lobster meat from shell, leaving claws whole. Chop tail into one-inch pieces. Add lobster to rice and continue cooking until rice is tender but still al dente, about two minutes. Season with salt and pepper. Remove from heat, add butter and parsley and stir vigorously. Serve immediately on warm plates.