Ganache Truffles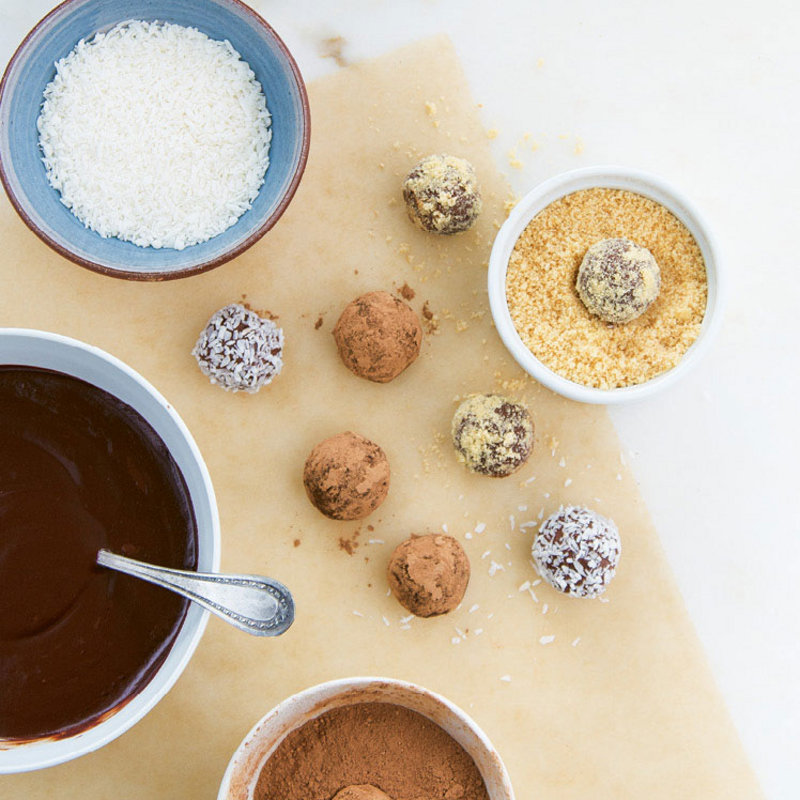 DESCRIPTION:
Courtesy of Baxley's Chocolates
(Makes 21)
INGREDIENTS:
1 cup heavy cream
8 oz. Lindt Excellence 70% Cocoa bars, broken into pieces
Flavorings:
1 Tbsp. lime peel (about 2 limes), grated
2 Tbsp. Earl Grey tea leaves, loose
2 Tbsp. roasted coffee beans, chopped or coarsely ground
Coatings:
Coconut, finely grated
Shortbread cookies, finely chopped
Cocoa powder, sifted
DIRECTIONS:
Add flavoring of choice to the heavy cream and cold steep in the refrigerator overnight. Strain the cream through cheesecloth. If needed, add whole milk to return cream to the original volume.
Using a double boiler or the microwave, melt the chocolate to 95°F and not more than 104°F. Use a thermometer to gauge. In a pan and using a thermometer, heat the cream to between 104°F and 113°F. Remove chocolate and cream from the heat. In four to five increments, add the cream to the chocolate, keeping the mixture above 95°F.
After each addition, stir in the cream in a circular motion, starting in the center and working to the outer edge of the bowl. Stir until the cream and chocolate are well emulsified.
The ganache should have the consistency and shine of mayonnaise. Pour ganache into an 8x8-inch pan and allow to crystallize for 24 hours in a cool place, preferably 60-65°F. (Note: A refrigerator is too cool.) Once crystallized, use a melon baller to form ganache into balls. Roll in preferred coating and enjoy immediately; or, if sealed tightly, chocolates can keep in refrigerator for several weeks.