GalloLea Camping Calzone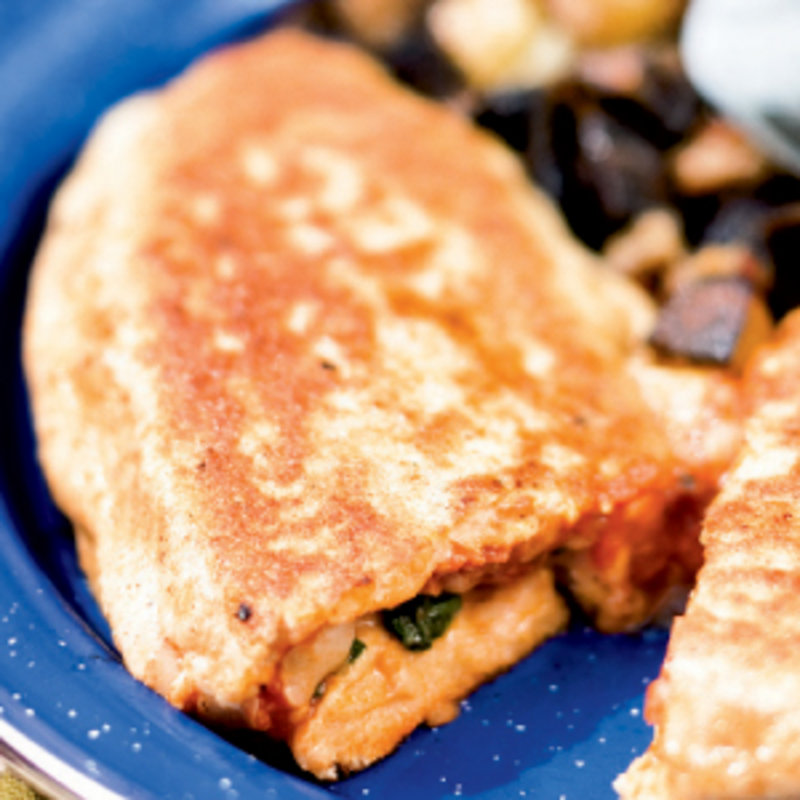 DESCRIPTION:
Among the provisions is the calzone kit Tom and Sue created through their business GalloLea, an organic pizza kit company. The package includes dry dough ingredients and sauce for a quick, easy meal in the forest. Today,  the hearty pastry pockets, filled with cheeses, walnuts, basil, or any number of stuffings, will make for a savory breakfast. Sue, a graphic designer, and Tom, a ceramics engineer, shifted career paths two years ago to collaborate on GalloLea, which was created through Blue Ridge Food Ventures, a small-business incubator in Enka. The packet of sauce that comes in the small kit is Tom's own Italian-American family recipe.  
INGREDIENTS:
1 GalloLea camping calzone kit 1/4 cup mozzarella 1/4 cup Gorgonzola 1/4 cup walnuts, chopped 1/4 cup sweet potatoes, cooked & chopped At home: Cook and chop sweet potato.  
DIRECTIONS:
Heat skillet over fire. Follow the directions inside the kit to prepare dough. Divide dough ball in half and press into two eight-inch circles. Add cheeses, walnuts, potatoes, and sauce packet to the center of the dough. Fold opposite sides of the dough together and pinch along edges to form a pouch. Pan fry in olive oil (provided in kit) for five minutes on each side. Let cool for five minutes and cut in half to eat. Another recommended filling combination is sundried tomatoes and spinach.