Written in the Stars
Written in the Stars:
PARI finally gets the biography it deserves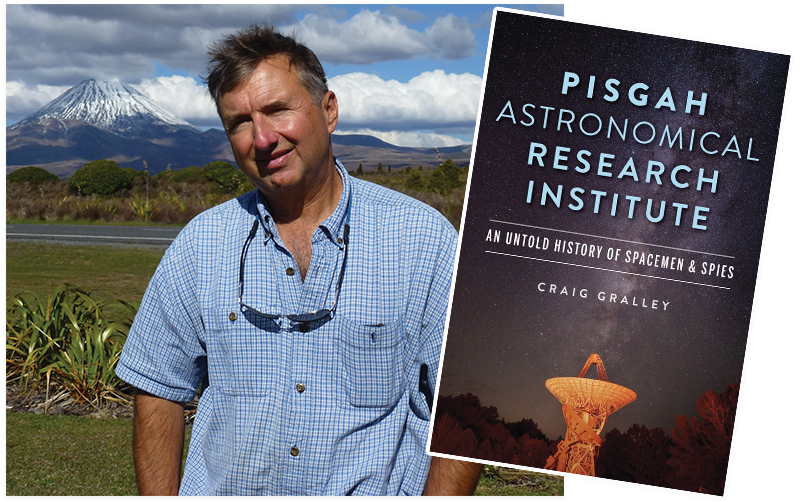 About the author - Visit craiggralley.com for more on this and the author's prior books.
It's a nearby place, but for years, it was as mysterious as the faraway corners of the heavens it has devotedly explored. Now, in his new book Pisgah Astronomical Research Institute: An Untold History of Spacemen & Spies, local author (and former CIA officer) Craig Gralley shares the space-age secrets hidden in Transylvania County.
PARI, a beloved nonprofit space research center, has occupied the grounds—a 200-acre campus nestled in Pisgah National Forest north of Rosman—since 1998. There, both leading scientists and up-and-coming astronomy students probe the skies, building on the place's illustrious (and sometimes classified) past.
That's because, to begin with, the massive antennas and radomes that dot the landscape were first installed by NASA back in the early 1960s to help the United States take flight in the space race. For almost two decades, it was a key hub in the nation's network of satellite tracking facilities. Then, NASA moved out, and a tight-lipped new client moved in: Rosman Research Station, as it was now called, was officially operated by the Department of Defense, but its main work was conducted by the ultra-secretive National Security Agency, the nation's codebreakers and international eavesdroppers.
That's a lot to unearth and distill, but Gralley has done it with just the right level of scientific and historical detail and provided a compelling narrative, to boot. "With each iteration," he writes, "PARI evolved to fit the needs of America's greatest challenges: space exploration and winning the Space Race, protecting our nation's security and, today, joining America's quest for scientific research and educational advancement."