Woven in Time
Woven in Time:
One hundred years ago, Fred Seely introduced the world to fine fabric handmade in the mountains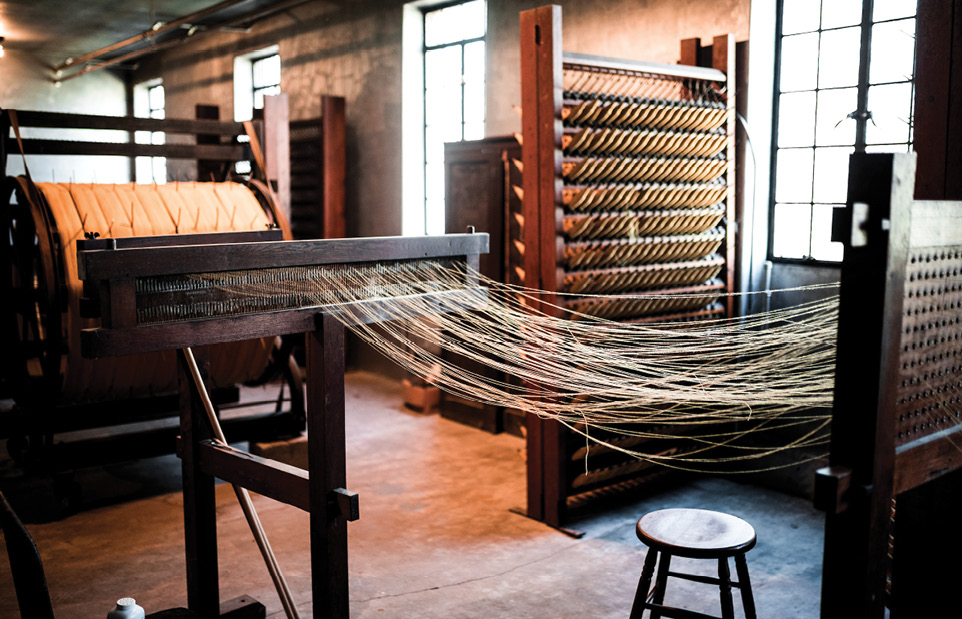 In the summer of 1933, a satisfied gentleman penned a letter to Biltmore Industries in Asheville with praise and just one concern. "I like your cloth very much and as you know have four suits made of it," he wrote. "The only thing I can say is that it lasts too long for you to get many repeat orders."
Though this happy customer didn't have a need for a new order, the company owned by Fred Seely, architect of the Grove Park Inn and son-in-law of E.W. Grove, was doing splendidly. His thriving business had a reputation for some of the finest handwoven wool fabric in the nation.
One hundred years later, the looms used to create Biltmore Handwoven Homespun fabric have fallen quiet in what is now Grovewood Village, but the spirit of handcraft is alive and well. Today, rather than wool to be tailored into fine garments, visitors take home unique handmade pottery, glass, furniture, sculptures, paintings, and more from the renowned Grovewood Gallery.
As the gallery celebrates its 25th anniversary this year, it's also paying tribute to what would have been the 100th birthday of its predecessor with events and tours of the Homespun Museum and Visitor Center, weaving room (now home to the Estes-Winn Antique Car Museum), and production facility (aka Dye House), which is newly opened to the public. "The history of craft is here in the Dye House, and the future of craft is in the gallery," says Russell Gale, gallery manager and wood craftsman.
A reputation for quality
The business began in 1901 as Biltmore Estate Industries under the direction of two instructors, woodcarver Eleanor Vance and weaver Charlotte Yale, with the philanthropic backing of Edith Vanderbilt, who hoped to provide the children of the Biltmore Estate's workers with a skill. There, young men, and eventually women, were taught to embrace a craft as a livelihood. Some learned to dye and weave fabric, while others were taught to carve bowls, trays, and picture frames, and even build replicas of the exquisite Gothic furniture found inside the Vanderbilts' home. The caliber of their work grew, and demand followed, with scores of travelers arriving at the train depot in Biltmore Village and pouring in to buy the students' handiwork.
Impressed by the school's growth and the quality of the work, Seely saw the potential for a full-fledged business and began negotiations to purchase Biltmore Estate Industries. Vanderbilt, Vance, and Yale all agreed to the sale. The word "estate" was dropped from the name, and Biltmore Industries took up residence in a new village of English-style cottages built specifically for its purposes. Seely equated the quality of the Biltmore products with the quality of hospitality and service at the Grove Park Inn. He was determined that "the same men and women who have made the Industries what they are will simply be adopted into the big family of workers at Grove Park Inn," he wrote in an advertisement titled "Why I Purchased the Biltmore Estate Industries" that was published in Asheville newspapers in 1917.
With six buildings situated on 11 acres adjacent to the Grove Park Inn, the operation had plenty of room to expand and a bevy of potential clients on the guest registry next door. During the era, many tourists weren't coming for a quick getaway, but rather staying the better part of a season, points out Museums Manager Tom Anders. While they vacationed, there was ample time to have a custom suit or two made by tailors at the inn. Biltmore Handwoven Homespun became the fabric of choice, and for good reason.
"If Mr. Seely was going to do something, he was going all in," Anders says. "He demanded a high-quality product." Every aspect of production took place at Grovewood. Wool imported from Australia and New Zealand was cleaned, carded, dyed, and spun before the weavers worked warp and weft through the looms. The fabric was carefully inspected, and any imperfections were repaired by hand before it was washed in Ivory soap and hung to dry in the mountain air. When customers came to pick out their favorites, they had an extensive collection of patterns and colors to choose from, including a muted houndstooth, a vibrant violet, and an aqua twill. Heavyweight fabric was selected for overcoats and hats, and lightweight for suits, with prices ranging from $3.75 to $5.25 per yard.
When Seely acquired the business, just eight looms were in operation. That number grew to 40 as orders for Biltmore Handwoven Homespun came in from across the country and globe. At its zenith in the late 1920s, Biltmore Industries employed some 100 people and produced 950 yards of fabric per day. Orders shipped as far as China and Uruguay, and illustrious customers included the likes of Thomas Edison, Henry Ford, Harvey Firestone, and even presidents Hoover, Coolidge, and Wilson.
Fading fortunes
But as times changed, so did fashions. When Fred Seely Jr. returned from World War II to take over the business after his father's death, the stellar reputation remained but customers were beginning to favor new fabrics and less formal attire. In 1953, Seely Jr. sold Biltmore Industries' business and buildings to Asheville entrepreneur Harry Blomberg, who saw the enterprise through until 1980, when it closed for good. It was the Blomberg family who brought craft to the village in a new way with the Grovewood Gallery and artists' studios, honoring the past and championing the quality of handcrafts just as Seely did a century ago.
Today, the old Dye House remains just as it was when the last employees clocked out. Towering laundry machines, hulking pickers, carding machines, and other equipment sit suspended in time, relics of an industry that clothed people for generations.
---
Explore & Celebrate
• Museums Manager Tom Anders leads groups on 45-minute history tours through the Homespun Museum and Dye House at 1 p.m., Wednesdays through Saturdays, from April through December. The museum is open Monday through Saturday from 10 a.m. to 5:30 p.m. and Sunday from 11 a.m. to 5 p.m. Admission and tours are free.
• Grovewood Gallery is celebrating a quarter-century of craft on May 20, 2-6 p.m., with an open studio tour, outdoor sculpture exhibition, artist demonstrations, live music, and local food and drinks.
• To mark the centennial anniversary of Biltmore Industries in Grovewood Village, visitors are invited to explore a special exhibition of fiber art by seven regional weavers, artist demonstrations, guided history tours, a cake-cutting ceremony, and a historical presentation by Bruce Johnson, director of the National Arts & Crafts Conference at The Grove Park Inn. The free event is on Saturday, June 17, from 11 a.m. to 4 p.m. For more information, visit www.grovewood.com.