Woodland Giant
Woodland Giant:
Whitemont Lodge's grand scale is surpassed only by its storied past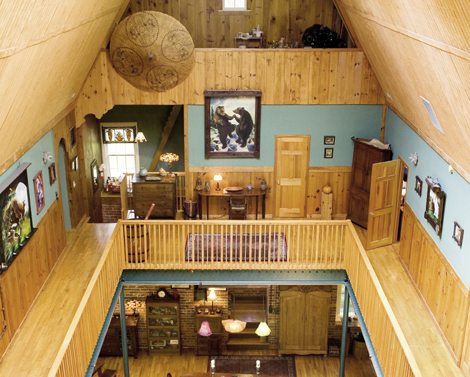 If you arrive at this forested swannanoa home by night, the pine-scented darkness yields to a magical backdrop of tiny lights twinkling through the windows of a stone and cedar-shingled giant. The grand lodge sits in the midst of a two-and-a-half acre old-growth forest that camouflages it from any vantage point except the sky.
Step inside, and the cavernous 2,000-square-foot great room unfolds into neatly arranged vignettes—a seating area here, a dining room there—accented by hand-hewn furniture, freestanding metal tree sculptures, and hand-blown glass lamps. An atrium that reaches 40 feet above the main living area and a wraparound interior balcony on the second floor reinforce the knowledge that Whitemont Lodge is no ordinary home.
Once a retreat for gentleman, then a fine arts school, then a tennis camp for girls, and most recently a private residence, the home immediately resonated with Buncombe County native Nancy Alexander, who would later learn the home had a tie to her family. "When I walked in," she says, "I was overwhelmed by the feeling of warmth and energy."
Family Tie
Through research and oral accounts from previous owners, Nancy has pieced together a hazy history of this home that dates back to the early 1900s, when it was constructed primarily as a gentlemen's club for enjoying the odd cigar and a glass of whiskey. With a tawny river rock exterior, grand fireplace, and brick walls throughout the main floor, no expense was spared.
A local historian confirmed that the lodge had been built on land that was part of Alexander Farms, a 1,500-acre homestead owned by Nancy's great-grandfather, Charles Alexander. The first record of the structure appears in the Buncombe County deeds in 1935, when Charles sold the property to two women from St. Louis, who opened a fine arts school there. It operated until 1945.
Eventually, the building and grounds (including 18 additional acres) became a tennis camp called Whitemont Lodge Camp for Girls, offering instruction until the late 1960s. Despite attempts to sell it after the camp closed, the property sat abandoned for almost 20 years, falling prey to revelers and vandals, and ultimately the forward march of nature—enveloping the land and lodge with thick vines and brush.
Renovation & Innovation
The structure was saved from demolition by a local realtor who completed some minor cleanup before he sold the lodge to a family from New Hampshire in 1988. This couple worked on the building for three years to bring it up to living standards. But soon after the family moved in, the father died, leaving his wife and two teenage daughters. His widow had the property on the market for five years before Nancy bought it in 1997.
"The lodge was like a blank slate when I first arrived. It spoke to me as soon as I opened the door, and I felt its potential," she says. "It was very stark, but I couldn't wait to turn it into an inviting and creative environment."
Nancy turned her attention to the refinishing, addition of architectural details, décor, and gardens. She began by enlisting the skills of craftsman Douglas Madaras of Madaras Design, who's created interiors for many Asheville locales, both commercial and private. She commissioned not only freestanding objects like the metal trees in the great room, but built-in design elements in the kitchen.
The great room of the 5,400-square-foot home mirrors the open plan of an urban loft, but is cleverly made cozy with handsome furniture. Leather sofas and a low coffee table of Brazilian tulip wood, poplar, and oak create an area for relaxing in front of the stone fireplace. A massive dining table and matching benches made from California redwood stumps by Hendersonville artisan Thad Johnson anchor one end of the room. Above the set, Sam Stark blown-glass pendant lamps add vibrant color. In a corner, a Madaras-made brilliant copper table serves as a smaller, less formal dining spot. Throughout the space, wood and metal come together to impart an otherworldly sense of nature taking root indoors.
The embrace of nature continues in the kitchen with fluid lines and creative custom enhancements. The walls are vibrant in red and purple. A magnificent copper vine light fixture by Madaras—much like the vine he created that climbs the exterior of The Bier Garden in downtown Asheville—complements bold, rustic cabinetry by Johnson. Dark, weathered shutters saved from the lodge's exterior are retrofitted as cabinet doors and embrace a certain whimsy with various knobs and drawer pulls fashioned from kudzu vines and vintage cooking utensils.
Personal gallery
Upstairs, the rooms strike a more traditional note—bedrooms, a den, and office host antique furniture, quilts, and heirloom pieces. But the walls surrounding this balcony floor are where art boldly asserts itself in the living space.
Paintings by local artist Marie Hudson and Monika Teal, formerly of Asheville, adorn the knotty pine walls, along with other watercolors and mixed media pieces. Teal's nature and animal-themed paintings are accented by heavy barn-wood frames crafted by Johnson.
From cut-out wooden dancing bears by Sharon Trammel, to framed line drawings by Nancy's daughter, Sarah Beth Tucker, the homeowner has surrounded herself with the art of friends and family. By commissioning work, she was able to request substantial pieces that wouldn't be dwarfed by the size of the home.
"Everything is on such a large scale here. Even changing a lightbulb can be challenging," laughs Nancy. "Over the years, I've become used to dealing with the everyday challenges. It has been a matter of altering my mind-set about what is normal in a home."
With its many historic roles and awesome scale, Whitemont Lodge is a paean to what is great about not being normal.