Winter Solstice Night Hike
Winter Solstice Night Hike:
DuPont State Forest Distance: 1/2 Mile Round-trip Difficulty: Easy (Guided)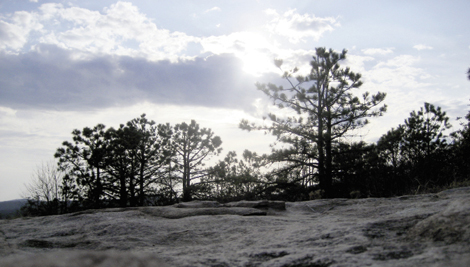 Take a hike on the darkest night of the year and you'll have a clearer understanding of nature, says David Weintraub, executive director of the Environmental and Conservation Organization based in Hendersonville.

The group has led an annual Winter Solstice Night Hike in DuPont State Forest for more than a decade, and this year's opportunity arrives on December 22.
The easy, quarter-mile walk to Hooker Falls heightens the senses. "Believe it or not, the sensory deprivation of darkness actually makes you more connected to the environment," Weintraub says. "Relying more on your ears puts you on a different plane." The deep winter silence and crunching leaves underfoot offer a meditative experience. Participants are encouraged to bring flashlights so they can see the gushing falls.
Solstice observances are an ages-old way to look forward to the rebirth of spring, says Weintraub, and this hike "really inspires people to work harder for the protection and preservation of the planet in the New Year."      
Winter Solstice Night Hike
December 22, 7-9 p.m.; free
DuPont State Forest; (828) 692-0385; www.eco-wnc.org