Winter Farmer's Market With a Cause
Winter Farmer's Market With a Cause:
Local vendors peddle their wares through the High Country cold, providing produce and local goods in Boone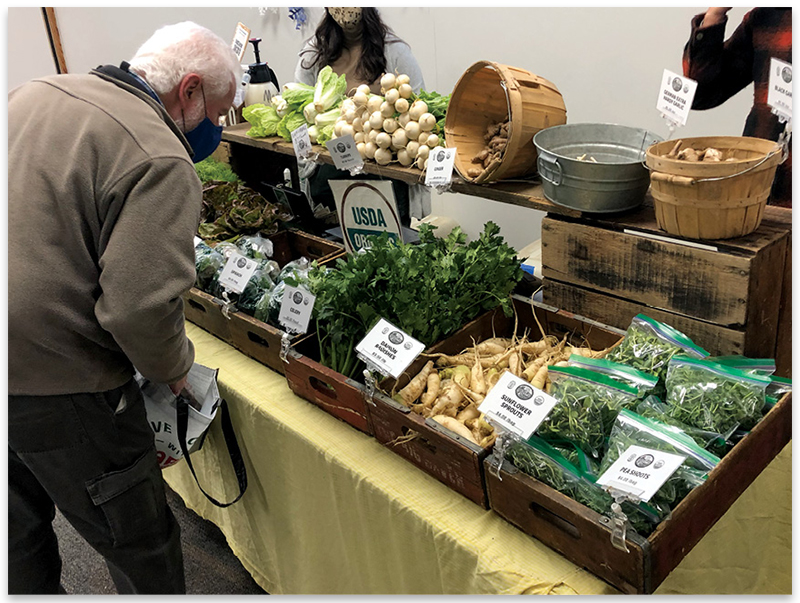 "Shop local" is a mantra uttered by many a WNC native, and for good reason. Regional marketplaces provide an unmatched buying experience that supports local farmers, makers, and more. Even in the wintertime, the High Country never stops shopping local–in Boone, the Winter Farmers' Market braves the cold mountain temperatures from December to March.
There are over 30 vendors slated for this year's Winter Farmers' Market, featuring big names like the Hedge Family farm, Boone Fungi, and Sweetwater Kitchen, as well as plenty of other returners and newcomers. From fresh farm goods to local meats, composting co-ops, fresh-tempered chocolate, crafts, and more, the market is a one-of-a-kind experience perfect for foragers and enthusiasts of Appalachian culture.
Sponsored by the Blue Ridge Women in Agriculture, a nonprofit organization supporting initiatives for sustainable, local food options, the Winter Market is one of four Boone farmers' markets that participate in Double Up Food Bucks. With this program, shoppers using an EBT/SNAP card, WIC or Senior FMNP can exchange their benefits for tokens worth twice the amount given to the market, effectively doubling the amount of money they can use for food. This program makes it easier for low income shoppers to have access to quality produce and local goods for half the cost.
Boone's Winter Farmers' Market
252 Poplar Grove Road, Boone; 10am - 1pm, Every Saturday from December through March
free
(828) 386-1537; brwia.org