Winner's Circle
Winner's Circle:
Sip and savor award-winning wines from WNC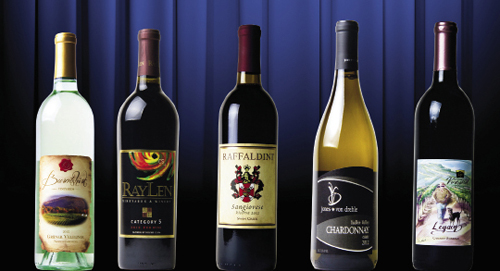 If you don't think North Carolina produces great wines that rival the likes California's more famous viticultural areas, just ask Debby Halpern, owner of North Carolina Wine Gifts. Through her wine club, she's turning naysayers into believers, one sip at a time. Here, she offers a selection of award-winning wines from across WNC. For more, visit www.ncwinegifts.com.
2013 Grüner Veltliner Burntshirt Vineyards » $22
Produced from an Austrian varietal, this refreshing, dry white holds aromas of citrus and herbs and flavors of lemon-lime and grapefruit. A silver medal winner in the 2014 International Wine Channel TV Awards, it compliments vegetables, roasted chicken, veal, and Wiener schnitzel.  
 
2013 Category 5  RayLen Vineyards  » $30
Category 5—think hurricanes—is a powerful blend of cabernet sauvignon, cabernet franc, merlot, petit verdot, and syrah. This rich red, which took home a double gold award at the 2014 N.C. State Fair, offers flavors of dark berries with light oak notes. Serve it with beef and venison.  
 
2012 Sangiovese Riserva Raffaldini Vineyard » $30  
A double gold winner in the 2014 N.C. State Fair, this Super Tuscan-style sangiovese is a blend of petit verdot and malbec. It's a fruit-forward wine that pairs nicely with garlic and tomato, hence anything Italian. A visit to the tasting room, housed in a Tuscan-style villa in the Yadkin Valley, is equally lovely. 
 
2012 Chardonnay Steel Jones vonDrehle Vineyards » $22 
Offering hints of lemon, pear, and apple, this unoaked chardonnay earned Best of Class in the 2014 International East Meets West Wine Challenge. Its crisp taste pairs well with fish, shellfish, or creamy pasta. An attractive tasting room and great views of the Yadkin Valley await at this new winery in Thurmond.
 
2012 Legacy Cabernet Sauvignon Grandfather Vineyards » $30  
A robust, spicy, and bold cabernet sauvignon, this wine begins with aromas of black fruits and smoky oak. It pairs perfectly with steak, short ribs, sharp cheeses, or tomato-based pasta dishes. Judges at the 2014 N.C. State Fair declared Legacy a double gold winner.