The Wing-builders
The Wing-builders:
Outrider USA crafts electric adventure vehicles in Fletcher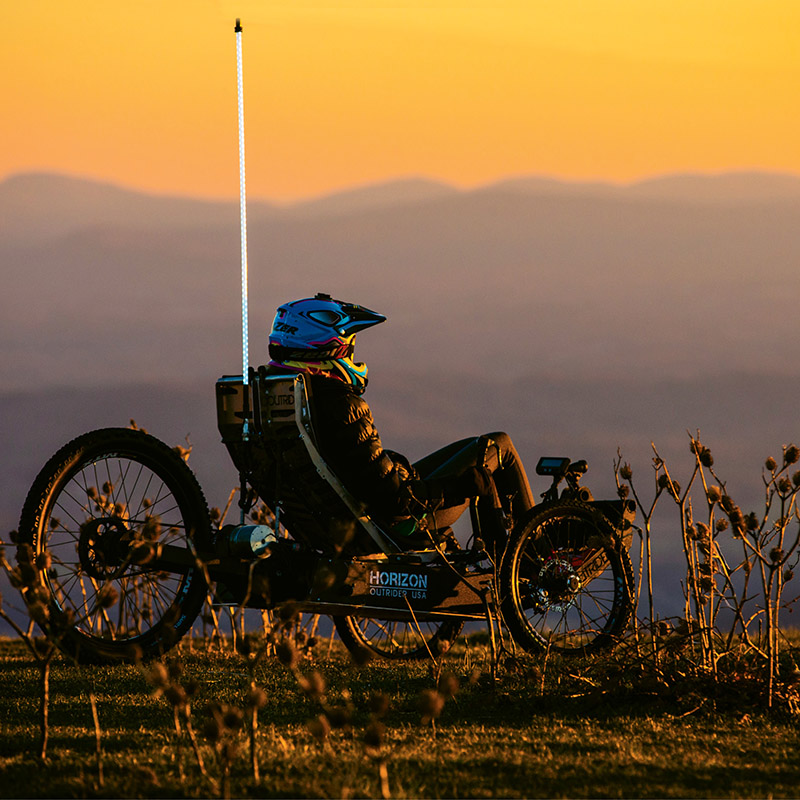 Tommy Ausherman's adaptive, all-terrain electric Outrider vehicles enable people with limited physical mobility to enjoy the thrill of bike riding outdoors.
When an Outrider USA vehicle zooms through the back roads of Fletcher, passersby marvel at the speed and agility of this three-wheeled electric bike. People point and ask questions, especially when founder Tommy Ausherman and his team ride to Ingles for lunch. "It's kind of like a sighting," he says with a laugh.
Outrider vehicles are more than a curiosity; they symbolize freedom for people with limited physical mobility. People with spinal cord injuries who live with quadriplegia or paraplegia can use these adaptive, all-terrain vehicles to feel the rush of fresh air against their faces. Although the bikes are used by people of all abilities, Ausherman says they are especially meaningful for former mountain bikers and rock climbers who have sustained life-changing injuries.
"Our goal is to build a machine that gives them their wings back so they can get back out in the woods and adventuring again," he says.
Ausherman and cofounder Daniel Rhyne were roommates at Appalachian State University when they first began building electric vehicles. The project started in 2009 as a way to make their own commutes to class safer. After graduation, they formed a tight-knit founding team that worked together to build electric bikes for the general outdoors industry. It was a successful venture, but Ausherman was at a crossroads: Could the vehicles serve a greater purpose?
Out of the blue, they got a call from Chris Wenner, who yearned to reconnect with the outdoors after losing the use of his limbs during a car accident at age 17. Now in his 40s, he wondered if Outrider USA would collaborate on a bike for people with limited mobility. "It was a clarion call, a lightbulb moment," Ausherman remembers. They started a crowdfunding campaign on Kickstarter and discovered that there was a tremendous demand for adaptive adventure vehicles.
Today, the three-wheeled vehicles are designed in the Outrider USA building in Fletcher. Custom parts are cut by US-based companies and shipped to Hendersonville, where the frames are welded. The vehicles are painted in Asheville, then assembled and tested back at the Outrider building in Fletcher. "It's very much a Western North Carolina-built machine," Ausherman notes.
In the coming years, Ausherman aims to develop a gyroscope-based headset and joystick to enable people with limited physical mobility to ride a standard bicycle. He's also searching for a nonprofit organization to help make the bikes more affordable for people of different income levels. "We're a very purpose-driven company," he says. "We want to believe that the technology is going to make an impact."
Outrider USA
66 Fletcher Commercial Dr., Ste. E, Fletcher
(828) 654-7555
www.outriderusa.com
RESOURCES:
Photographs by Joe Bolado; courtesy of Outrider USA