Wheel of Time
Wheel of Time:
A Catawba County landmark cranks up for a centennial celebration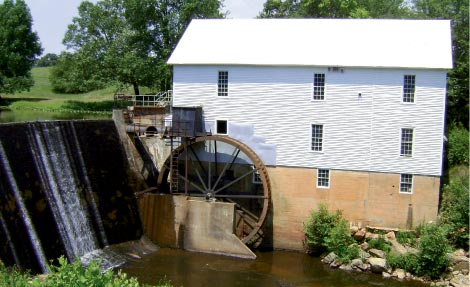 In honor of its 100th birthday, Murray's Mill in Newton, will set its wheels to grinding once again.
Beginning in 1883, William Murray operated a mill on the site until the property passed to his sons. John Murray built the current two-story structure in 1913, adding a 22-foot waterwheel. In 1938, John's son, Lloyd, made improvements by raising the dam and installing the current 28-foot waterwheel. Fed by Balls Creek, Murray's Mill is the last operating water-powered gristmill in Catawba County.
A celebration on July 13 will feature mill demonstrations, a barbecue luncheon, and a duckie race on the creek. Proceeds will benefit preservation initiatives, including repairs to the waterwheel and the repainting of the circa-1880 wheathouse, which is now home to historic exhibits.
After harvests, farmers relied on gristmills to turn their corn and wheat into important food commodities such as cornmeal and flour. With the addition of the electric hammer mill in 1940, Murray's Mill also produced animal feed from leftover corn scratch.
The mill was severely damaged by the 1916 flood, but was repaired and still houses its original machinery, says site manager Jennifer Marquardt-Leach. Visitors can see the original 1873 one-ton, French buhr millstones used for grinding corn, as well as the Sprout & Waldron roller mills for grinding wheat.
During the mill's heyday in the 1920s and '30s, farmers would "line up nearly two miles on either side of the mill for quality products, fair prices, and moonshine," Marquardt-Leach says. John stored the illegal hooch in grain barrels in the basement. He is even said to have sold mash to famed 'shine runner and NASCAR star Junior Johnson.
Three generations of Murrays kept the mill running until 1967. It stood vacant for more than 13 years before the Catawba County Historical Association bought and restored it along with 25  additional structures, including the 1890s Murray & Minges General Store, and John Murray house. With the exception of the celebration, the mill only operates during the Harvest Folk Festival in September. Now's the time to see history set in motion.
Want to go?
Centennial Celebration
July 13, 11 a.m.-3 p.m.
1489 Murray's Mill Rd., Newton
Tours: Thursday-Saturday,
9 a.m.–5 p.m., Sunday, 1–5 p.m.
Or by appointment
$5 self-guided, $6 guided,
(828) 465-0383,
www.catawbahistory.org
RESOURCES:
<p> Photograph by (3) COURTESY OF THE CATAWBA COUNTY HISTORICAL ASSOCIATION ARCHIVES; (PRESENT DAY MILL) KEITH HALL</p>