Wheel Talk
Wheel Talk:
Sycamore Cycles' Wes Dickinson dishes on the latest rides that are good to go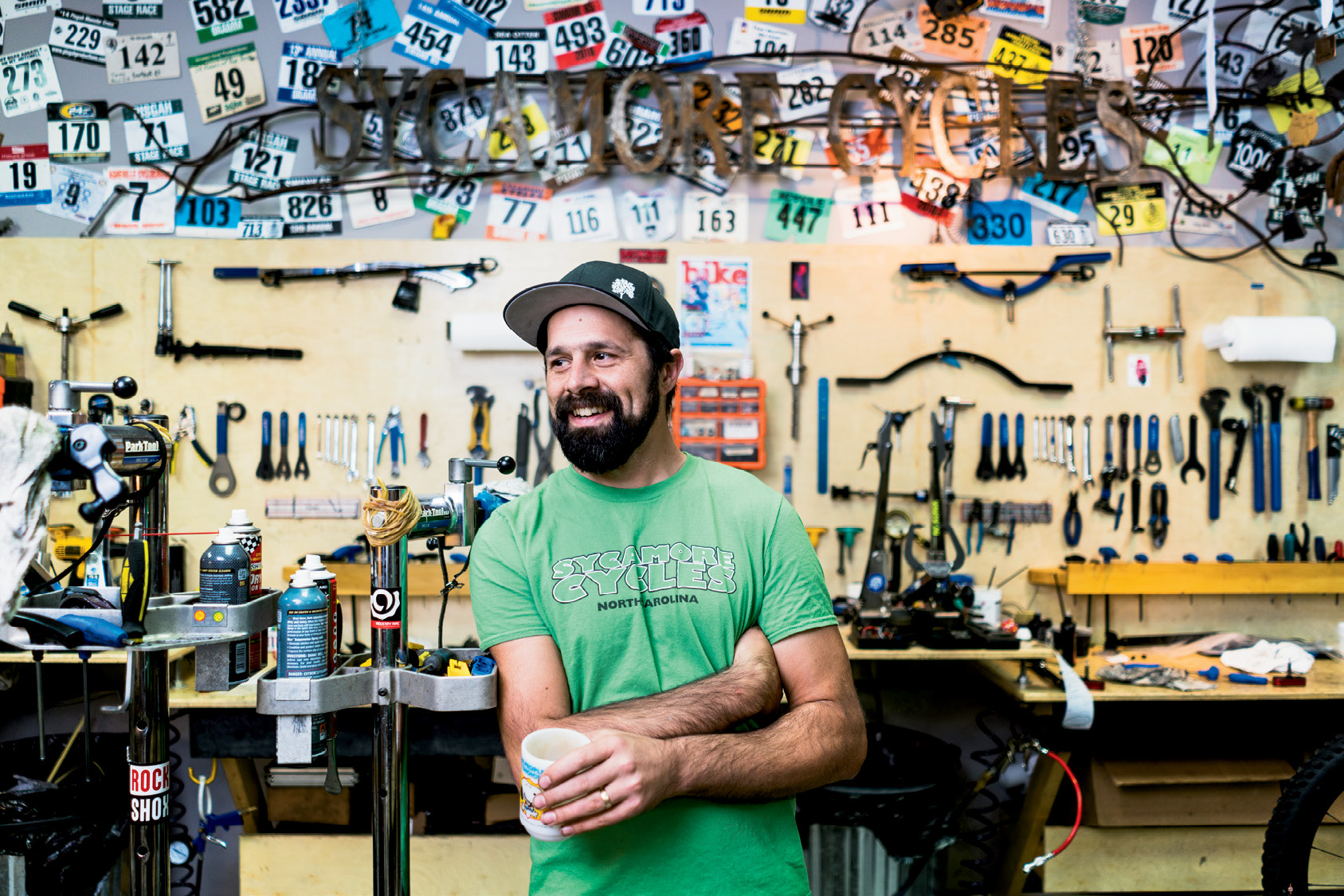 Specialized Stumpjumper S-Works, $8,500
For the serious North Carolina mountain biker, it doesn't get much better than the Specialized Stumpjumper. This classic has been mesmerizing legions of bikers for 35 glorious years. With 150 millimeters of front and rear travel, this bike maximizes the fun on burly descents like Bennett Gap and Black Mountain. Furthermore, Specialized's S.W.A.T (Storage, Water, Air, Tool) system allows riders to keep all the essentials stored in the downtube. Yes, this bike is a huge investment, but if your life revolves around riding, it's worth every penny.
Specialized Fuse 6 Fattie, $1,000
The Fuse 6 Fattie is an affordable hardtail (meaning front suspension only) designed with a winning formula: Volume + Versatility = Dominance. The volume is the Fattie's oversized, three-inch tires. Extra large tires means extra traction, so you'll be pedaling up Pisgah's rootiest and steepest climbs. The versatility comes in the form of nimble handling and comfort in the saddle. This is the beauty of the plus-bike movement: The Fattie is not nearly as cumbersome as conventional fat bikes, but with lots of rubber on your rims, you're going to enjoy longer rides and attack terrain that would otherwise be too much for a hardtail.
Trek Fuel Ex 8, $2,899
Trek's Fuel Ex is an impressive, do-it-all machine worthy of both long adventure rides in Pisgah Forest and slashy sessions in DuPont. On brutal climbs, fast descents, and hard-hitting chunder (loose debris, rocks, and roots), the Fuel Ex never feels overmatched. The 2017 frame geometry is longer and lower, and the bottom tube is impossibly straight, offering a blend of trail-bike agility and enduro aggression. Trek has somehow managed to continually improve the bike we thought couldn't get any better.
---
Get In Gear - Find must-haves essentials at The Hub
1. Kestrel Five Ten lace-up bike shoes, $150 - Compatible with every SPD pedal, these Kestrels are built with an EVA midsole for shock absorption.
2. Charge leg guards by Race Face, $48 - A mesh sleeve with foam panels covers like a second skin so you can ride the trails without getting nicks and abrasions.
3. High Above hip packs, $60-$75 - A waterproof polyant material makes these packs both weather-resistant and durable so you can carry essentials through any environment.
4. Patagonia Houdini jacket, $99 - This featherweight, weather-resistant shell features an adjustable hood and zippered chest pocket that converts into a stuff sack.
5. Agent Winter waterproof shorts from Race Face, $119 - These three-layered polyester shorts are treated to repel water but stay lightweight and ventilated to maintain body temperature.
6. Stash bibs by Race Face, $109 - The Stash bib features a 1.5-liter bladder with hose and mesh pockets so you can keep the essentials on your body throughout the ride.
7. Rover helmet by Smith, $150 - The clean design targets zonal impact areas while offering ventilation and an adjustable fit.