What's SUP?
What's SUP?:
It's stand-up paddleboarding, and it's riding a wave of popularity on lakes and rivers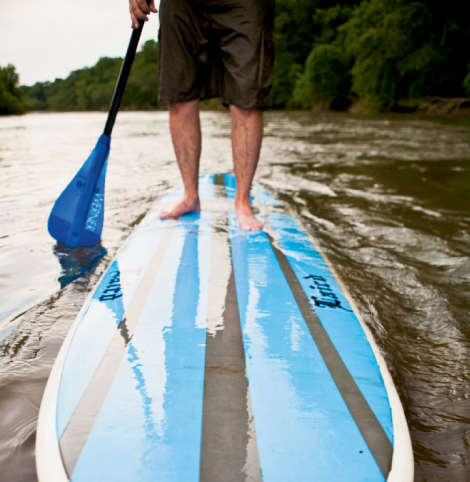 We're somewhere near the Biltmore Estate when we spot the monster wave we've been searching for all day. Eric sees it first, pointing his long paddle downstream before asking, "Do you think we can surf that?"
I smile and aim my surfboard toward the massive, curling wave. OK, technically, it's not a surfboard. It's a stand-up paddleboard, which is a surfboard on steroids. Think of Gidget's classic longboard, but imagine it longer, about 11 feet for me, and wider and add a five-foot paddle, and you've got the idea. If I'm being totally honest, that big wave I'm paddling toward is just a six-inch-high ripple in the middle of the French Broad River. But we've been on these boards for two hours looking for something, anything, we can attempt to surf, so a bit of hyperbole is understandable. After all, I'm in the middle of a river 200 miles from the nearest beach, and I'm about to go surfing.  
The situation brings to mind a verse from my favorite American poet, Brian Wilson: "If everybody had an ocean, across the USA, then everybody'd be surfin', like Californ-I-A."
Stand-up paddling, or SUP, is one of the fastest growing sports in the United States.
"I remember seeing people do it 15 years ago in Hawaii," says Chris Tilghman, an island transplant who now calls Southern Appalachia home. "I didn't think much of it then, but I tried it when I moved here and was hooked."
Tilghman owns a surf shop in Blue Ridge, Georgia, and spends most of his free time surfing the wave trains of the Nantahala River. It's a more common story than you'd think: Almost overnight, these oversize surfboards have become ubiquitous. Traditional surfers are carving ocean breaks with them, while kayakers are running SUPs through class-III white water. The boards are ideal for flat-water cruising, too. I know of a 70-year-old grandmother who leads early morning SUP paddles in the Gulf of Mexico. Yogis in Tennessee are even offering SUP yoga classes. The viral-like popularity caught industry insiders by surprise.
"We had no idea it was going to blow up like this," says Shane Benedict, master boat designer for local kayak manufacturer Liquid Logic. Benedict's company produces a hybrid SUP/sit-on-top kayak called the Versa, which is outselling most of its traditional kayaks. "The hype around SUP is crazy."
Here's my theory as to why: Everyone wants to be in the Beach Boys. Americans have always been obsessed with surf culture. I moved to Asheville from a beach town where I surfed constantly. No matter how loud I crank Jack Johnson, I can't seem to catch that same "stoke" I had while riding waves. But with the advent of the SUP, everyone can co-op that surfer vibe, even if you live in the land-locked mountains.  
So I bummed a couple of boards from a local outfitter, grabbed my buddy Eric (another beach transplant) and set out on the French Broad River looking for something tubular. The three-mile stretch of the river that passes by the Biltmore Estate is a serenely green, slow-moving affair. It's also only two feet deep. I know this because within five seconds of standing on top of a blue and white SUP at the put-in, I careen headfirst into the river.
Luckily, I come up with only a bruised ego. SUPs may be large, but they still require balance, particularly in moving water. It's all about your center of gravity. My 5´2˝ wife would be a natural on a SUP. Her center of gravity is in her shins. I'm 6´3˝. My center of gravity is in my hair.
Eric is even taller, so he spends more time swimming than standing. But after half an hour of monkeying around, we're comfortable enough to head down river. As soon as we start moving, I understand the buzz around SUP. There's an aesthetic beauty that you don't find in other river crafts. Kayaks are claustrophobic. Canoes are too Norman Rockwell. But the SUP is beautiful, elegant, hip. Dip your paddle into the calm waters of a lake or slow river and glide along the surface while mountains rise from the banks and you feel like you've stepped into a postcard.
Within minutes, I want something gnarly to surf, but this section of the French Broad only has a couple of ripples, so we cruise, enjoying the scenery. When Eric spots the wave, I'm as giddy as Ahab eyeballing Moby Dick. We pass it, then pull wide U-turns and paddle upstream to catch it from behind.
Paddling against the current is tedious. SUP aficionados will tell you how well these boards work your core. I don't care. Six-pack abs would be sweet, but I just want to surf, so I dig into the water, trying to reach this standing wave. I'm sweating and my shoulders are beginning to burn when the board suddenly catches the wave. The river continues to flow past, but I'm standing still, like I'm stuck in time. I'm surfing. In a river. In the mountains. Consider me stoked. With all due respect to Brian Wilson, who needs an ocean?  
Find a Ride
You're going to fall, so start out on a lake where the water is deep. Diamond Brand (www.diamondbrand.com) offers free demos at Lake Lure every Wednesday during the summer and rents boards for $25. Nantahala Outdoor Center (www.noc.com) offers SUP courses that introduce you to the basics on Fontana Lake. Asheville Outdoor Center (www.paddlewithus.com) rents boards along a flat stretch of the French Broad River near Asheville.