Wesley Corn
Wesley Corn:
Ugly America: Interpreting the state of poverty in this country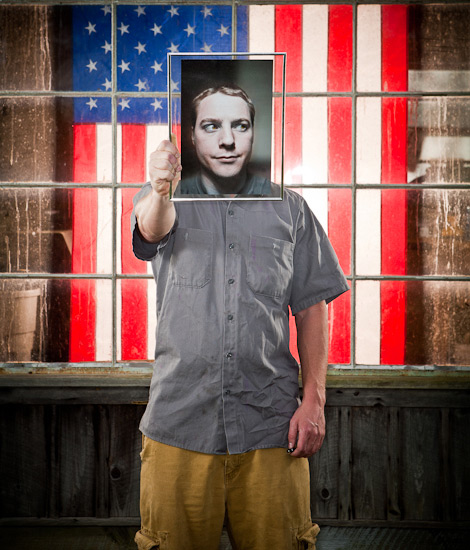 While Wesley Corn's photographic works aren't merely happy accidents, recent recognition of his photography has been a new and welcome journey.
"I'm not sure when one officially becomes an artist," reads his artist statement, "but I have been trying for the majority of my life now."
The youngest of four children from Henderson County, Corn studied art and design at both UNC Greensboro and East Carolina University. Working as a graphic and web designer for the past seven years has allowed him to amass a large library of photographs that first led him to produce fine art prints and digital art pieces. Panoramic images, digital collage, and even traditional portraits all figure into his creative works.
In Sad Clown Series, Corn creates portraits in which the subject is barely there—a mere whisper of a clown superimposed in front of an American flag. "These are based upon social commentary dealing with my country, and the hard times we're in today," he explains. Having joined the workforce in better times, Corn was suddenly faced with a different reality when he lost his job during the recession.
He allowed the narrative of his environment to infiltrate the philosophy of his subject matter. Rather than just a series of self-portraits, Corn merged visual elements with the dominance of the American flag, which happened to be hanging in his room. "With my art I am capturing moments of my life for posterity. There was a metaphor that came out of this—that, paired with my loss of income, I was completely stripped of traditional life."
He admits to having a love affair with many media including oil painting, allowing it to influence his photographic and digital manipulation of images. In other pieces of Clown Series, three clowns are painted—a photographic technique that uses long exposures to capture trails of moving light—in a scene of swirling sparks and fire, that can't help but be interpreted as hobos gathered around a trash barrel fire.
Corn's work demonstrates, eloquently, how photography as art is sometimes the perfect medium for an idea—and that ideas in art that attempt to grapple with social commentary, are even more poignant in tough times.