We Got the Beat
We Got the Beat:
Asheville Percussion Festival drums up education and entertainment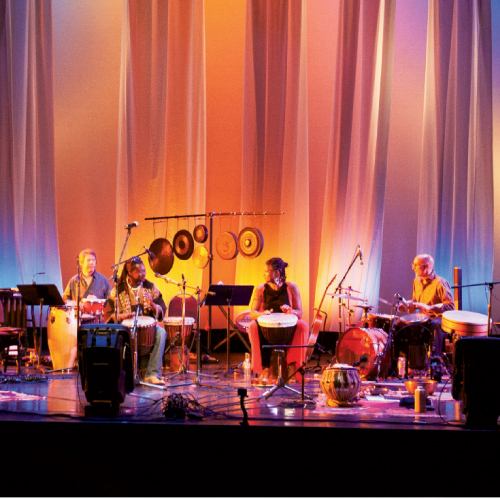 There's a lot more to drum circles than djembes. For many, percussion is a way of life, a multifaceted art steeped in centuries of musical tradition. "The drum is a communal instrument," says Asheville-based percussionist River Guerguerian, "and rhythm is part of our DNA." Guerguerian is director of the upcoming Asheville Percussion Festival, now in its fourth year, which will offer a week full of workshops, classes, wellness programs, and concerts that celebrate the diversity and global cultures of percussion.
The festival begins with a weeklong artist residency at Echo Mountain Recording Studio, where featured musician Bashiri Johnson will lead a series of collaborative musical and spiritual sessions. Johnson, a New York City-based performer and one of the most-recorded percussionists in the world, has shared both studio and stage with Miles Davis, Nina Simone, Bob Dylan, and Beyoncé, among countless others. He will also spearhead a Saturday night concert at Diana Wortham Theatre.
More than a dozen other noted drummers will offer classes for beginners and professionals alike. If you want to brush up on your skills before the festival gets underway, you can join Guerguerian on Thursday nights at Odyssey Community School for his ongoing World Percussion classes. Above all, Guerguerian says, the festival will foster "a creative environment where people of all skill levels and traditions gather to explore, innovate, educate, and build community."
Asheville Percussion Festival;
June 19-21 ; Workshops run Friday-Sunday at Odyssey Community School and OM Sanctuary. $25 per workshop, $25 Saturday Concert, $80 Weekend Pass, $160 VIP Pass (includes special seating and access to artist residency), $300 Intensive Program Pass (includes five hours of instruction daily, weekend pass, and participation in live
performance Saturday night)
www.ashevillepercussionfestival.com
RESOURCES:
Photograph by Jesse Kitt Photography