We Can Do It!
We Can Do It!:
A women's group in Rutherford County repairs roofs for charity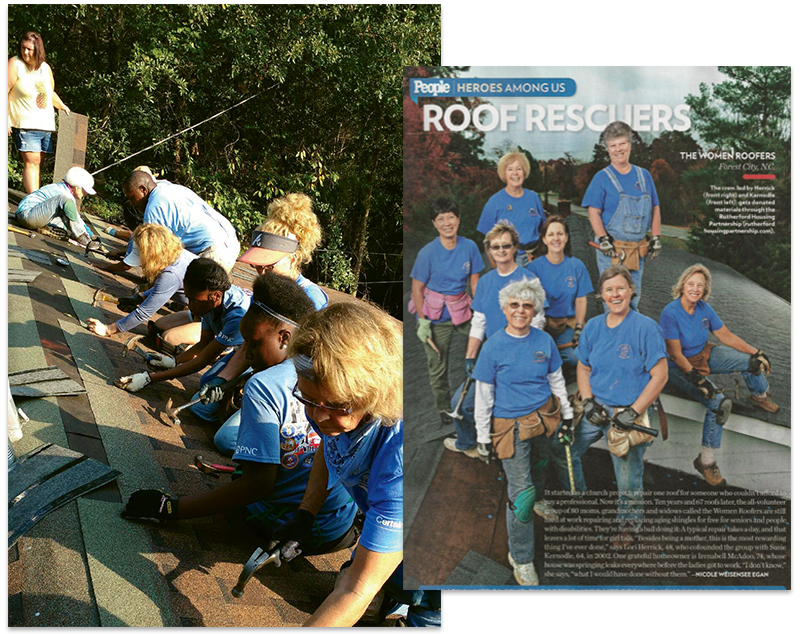 TAKING NOTICE - From People magazine to Mike Rowe's Returning the Favor, the Women Roofers have received national attention.
For the past 17 years, women have been fixing roofs in Rutherford County for people who can't afford to pay for the job themselves. All of The Women Roofers are volunteers, and nearly all are retired (the oldest is 75). None had any roofing experience when a Sunday school class in Rutherfordton decided, in 2002, to help an elderly Forest City woman by repairing her roof.
On the first day of work, only two women—Lori Herrick and Susie Kernodle, along with male church member Billy Honeycutt—showed up. "Once that first roof was completed, we were all struck with the roofing bug," Herrick says. "It was too much fun. We never thought we couldn't do the work."
Working through Rutherford Housing Partnership, The Women Roofers took on additional projects, and today, a core group of about 15 ladies has reroofed or repaired 125 roofs for elderly, disabled, and low-income Rutherford County residents. Nell Bovender, Rutherford Housing Partnership's executive director, leads the crew and is a regular volunteer. "It's a great way to get out frustrations," she jokes. More seriously, she says, "It blows our minds sometimes how good we've gotten at it."
And the return is rewarding, too. "You know that the person living at that home, their life is better that day," Herrick says. "That's the best feeling."
THE WOMEN ROOFERS
To learn more, volunteer, or donate funds or building supplies, visit rutherfordhousingpartnership.com.
RESOURCES:
Photographs courtesy of (2) Rutherford Housing Partnership