Walls of History
Walls of History:
Crimson Laurel Gallery in Bakersville displays beautiful works of art and the building's storied past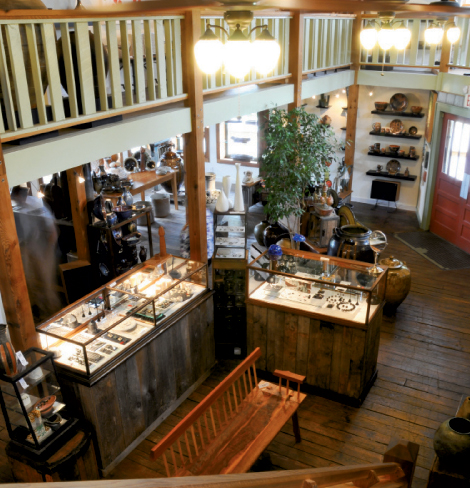 The history of the Blevins building is literally written on the walls. Built by the Blevins family in the early 1900s as a grain storehouse, the Bakersville landmark saw many incarnations, including a silent movie theater, billiard hall, and general store, before John Lara and David Trophia revamped the space as Crimson Laurel Gallery in 2006. "We found IOUs, tabulations from people buying coal, and bowling scores written on the walls," says Trophia. "There was even one board that read 'trimmed the mule,' with the date on it."
Today, the two-story, 2,500-square-foot showroom displays pottery by renowned North Carolina ceramicists, as well as jewelry, sculpture, and paintings. Were it not for the remnants of the building's former lives—lane markers and bowling scores, a framed movie playbill, and one of the original art deco theater seats on display in the entryway—it would be hard to envision the formidable space as anything but a gallery.
During the renovations, Lara and Trophia discovered heart pine floors and a tongue-and-groove ceiling. Other finds weren't so exciting—decades of trash, loose wiring, and animal nests filled the corners of the dilapidated building. But after 15 months of work, which included constructing a new foundation and salvaging the wormy chestnut boards from the exterior for reuse on the interior, the gallery opened in 2007.
Daniel Barron, director of the Avery-Mitchell-Yancey Regional Library System, remembers the past fondly: "When my mother was a child, Mr. Craigmiles operated a movie theater in the building and his wife read the silent movie captions to my mother while he played the piano. My grandfather worked there when it was a hardware store, and as a teenager, I defied my parents and slipped into the building to shoot pool."
These days, Barron frequents the space for gallery openings, thankful that it still reflects the needs of the community.