Vineyard Vanguard
Vineyard Vanguard:
A couple pioneers winemaking in Watauga County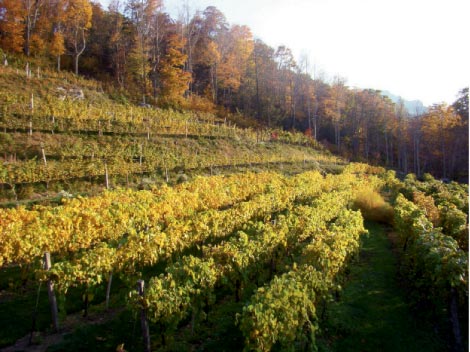 It isn't unusual to find Steve Tatum, owner of Watauga County's first winery, sticking around after tasting hours are over.
Nearing the end of its inaugural season, Grandfather Vineyard & Winery is welcoming visitors that can't seem to tear themselves away from the spot. "We're just astounded. We never seem to close at our posted hours," he says. "We're really gratified. People just want to stay and sit and sip."
It's no wonder. The winery's tasting room and production facility sit in a stunning setting, with a view of Grandfather Mountain, the birthplace of the rushing trout stream of the Watauga River that flows past the porch.
It's a sight worth savoring with a glass of wine produced from the extensive terraced vineyards that climb the craggy slope.  
"Supplies of some wines are getting low, but don't worry, more is on the way," Steve says. He's particularly pleased with the new Profile Red. Other wines featured are Terraced Gold, a chardonnay-pinot grigio blend that's a local favorite, and a blend of merlot, cabernet sauvignon, and malbec called Big Boulder Red. There's also an ice wine, which pairs well with desserts and is made with grapes that are left to freeze on the vines in fall.
The high elevations and cool-to- cold climate of this lofty corner of the mountains were two reasons Steve found little guidance when he decided to plant grapes here. "I talked to everyone I could and no one knew which wine grapes would grow—or if they'd grow." After extensive research, Steve and his wife, Sally, planted the first vines in 2003.
Two years later, "the grapes were doing exactly what they were supposed to do," he says, and the dream was born. In 2007, planning began for the winery building. By then, son Dylan had caught the bug and graduated from the viticultural program at Surry Community College. Dylan worked for three years as a beer and wine distribution rep before joining the family business.
The Tatums lived in the area for almost 30 years before the winery idea sprouted, running their specialty furniture store, Tatum Galleries & Interiors. Sally says the shop made it easy to create a comfortable tasting room with a mountain feel. "It's the perfect spot for making friends with guests. That's how we see the winery," she says. "Wine and friends just go together."      
Grandfather Vineyard & Winery
Banner Elk
225 Vineyard Lane
Tastings: $5 (includes a souvenir glass), Thursday-Saturday,
noon-6 p.m. Sunday, 1-5 p.m.
(828) 963-2400
www.grandfathervineyard.com
*Correction (10/19/2011): The original article incorrectly stated that the laboratory for Appalachian State University's Enology program is based at the winery. The facility is located on the ASU campus and the university collaborates with the vineyard for wine production studies.
                                                 
RESOURCES:
photographs Courtesy of Grandfather Vineyard & Winery