Veg Out
Veg Out:
Winter farmers markets keep the produce coming, even in the cold season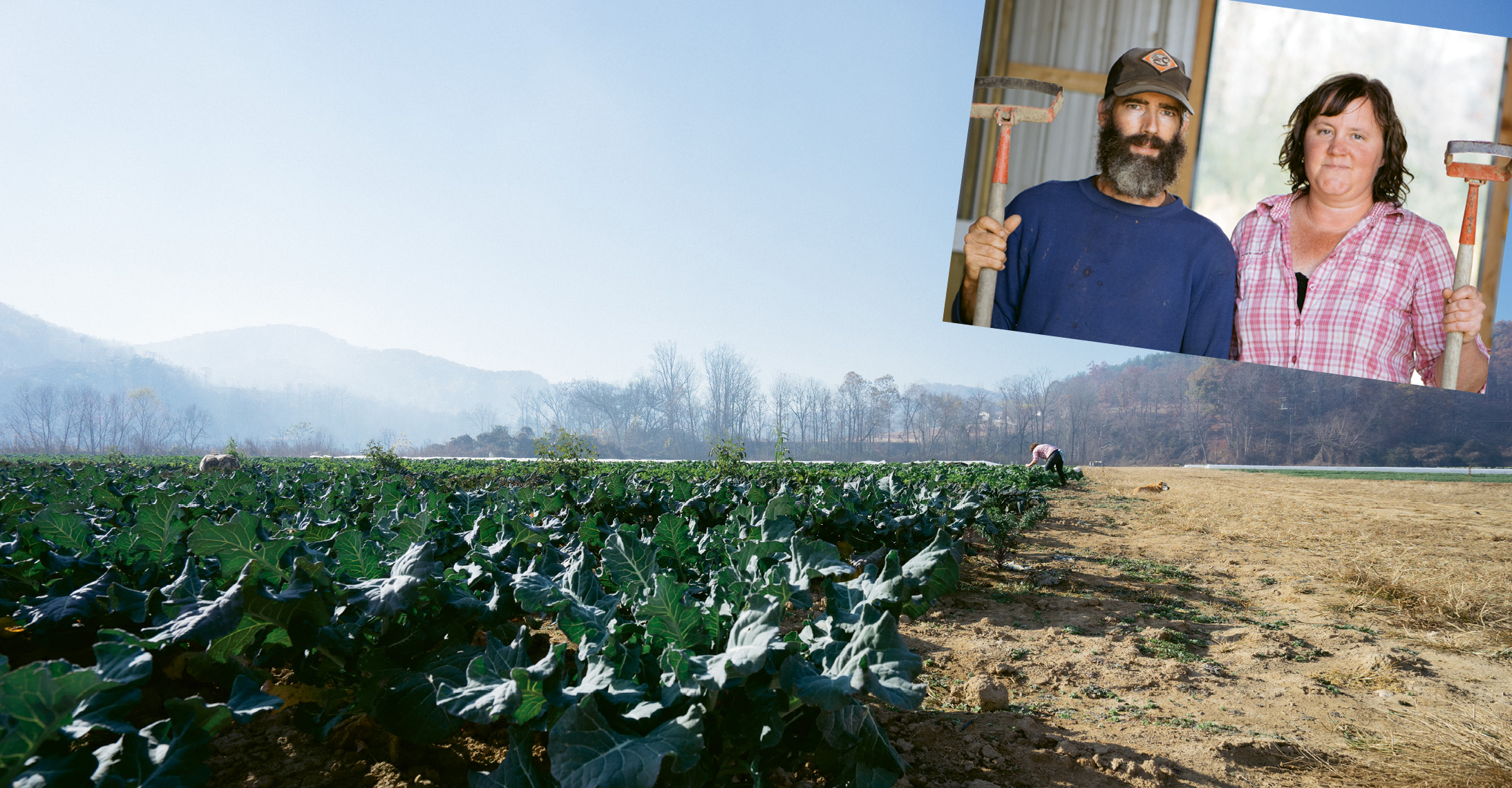 Kevin Toomey and Christina Carter of Ten Mile Farm
Eating healthy when the snow swirls is more satisfying with fresh produce. That's one reason more winter farmers markets are cropping up across WNC, where growers are finding ways to offer bok choy, radishes, mushrooms, apples, lettuce, and more, far beyond the traditional growing season. Farmer Christina Carter of Ten Mile Farm in Old Fort has noticed an uptick in public demand for winter produce. She remembers crowds of people at Asheville City Market clamoring for vegetables last winter season. "It was definitely a happening spot," she says. "People were really excited just to be able to get some vegetables at that time of year."
The produce itself is often sweeter in the winter, Carter adds, because chilly weather increases the sugar content of some vegetables. She thinks back on the 10 inches of snow that fell on her farm last January while kale and collards were in the field. "They tasted amazing," she says. Carter grows tender crops like lettuce and radishes in greenhouses during December and January. By mid February, she replaces them with summer seedlings.
Meanwhile, the greenhouse hums all year at Serious Dog Farm in the Smith Mill Works complex in Asheville. Farmer Sean Wilson focuses on hydroponic lettuce production, including varieties like mini romaine dragoon. He started the venture in September 2016, and this will be his first year selling at winter markets. He's one of an increasing number of farmers providing winter produce in Asheville and beyond. Though some farmers drive into the city from outlying areas, winter markets are also popping up in rural counties. Transylvania and Jackson counties have their own markets that attract hungry eaters searching for meat, cheese, and vegetables.
"People are looking for fresh greens that are locally produced," says Wilson. He and other growers are rising to the challenge with every head of lettuce and sweet potato they pile on farmers market tables this winter.
---
Keep it Fresh Across the Region
Winter markets are subject to change. Check appalachiangrown.org and search for "winter" for updates.
Asheville City Market
Asheville Masonic Temple; Saturdays, January-March
Boone Winter Farmers Market
N.C. Agricultural Extension Conference Center; 1st & 3rd Saturdays, December-April
Jackson County Farmers Market
Community Table Building; January 14, February 11, Saturdays in March
Spruce Pine Farmers Market
Pizza Shop at Dry County Brewing Company; 1st Saturdays, December-March
Transylvania Farmers Market
190 E. Main St., Brevard; Saturdays, December-April
YMCA Indoor Winter Market
Crosspoint Community Church, Asheville; Fletcher YMCA; Saturdays, January-March