Urban Oases
Urban Oases:
Take a spring break with four strolls flush with flora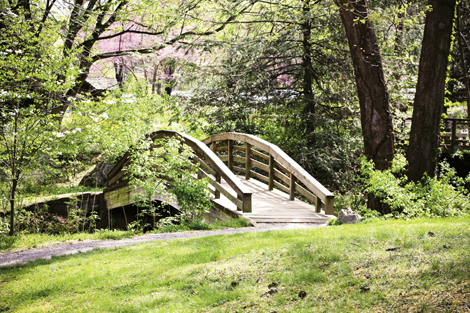 TREE TOUR
Sylva
Hooper House, 773 W. Main St.; free; (828) 586-2155
While you explore this town that bears a Tree City USA title, get familiar with the variety of trees that add majestic charm to the streets. Start at Bicentennial Park and look for the yellow markers describing more than 40 species along the mile walk, or pick up a copy of the Sylva Garden Club's guidebook ($7) at the Hooper House to make sure you spot them all.
JUNALUSKA MUSEUM MEDICINE PLANT TRAIL
Robbinsville
1 Junaluska Rd.; free; (828) 479-4727
Trekkers can immerse themselves in history on this quarter-mile stroll laden with Joe-Pye weed, witch-hazel, sassafras, bloodroot, and other plants used in traditional Cherokee remedies.
THE BOTANICAL GARDENS
Asheville
151 W.T. Weaver Blvd.; free; (828) 252-5190; www.ashevillebotanicalgardens.org
You have from dawn until dusk to explore this natural green space walkable from downtown. More than 600 species native to Southern Appalachia dot the landscape. In April and May, trillium, foamflower, and more spring beauties put on a show. This half-mile loop includes bridges, meadows, and a gazebo where you can picnic.
DISCOVERY GARDEN AT KIDSENSES MUSEUM
Rutherfordton
172 N. Main St.; $5; (828) 286-2120; www.kidsenses.com
KidSenses takes the learning outdoors with its Discovery Garden. Children can watch bees build hives, dig for dinosaur bones, find out about the roles insects play in ecosystems, and explore the vegetable patch during a guided tour. The experience highlights how all aspects of nature are intertwined.