Twigging Out
Twigging Out :
Little libraries spread the love of reading to remote spots across Ashe County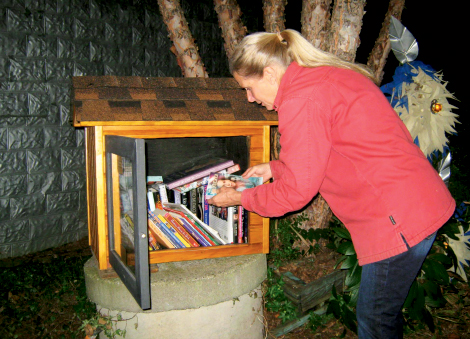 The Ashe County Public Library is branching out one "twig" at a time to share the joy of books beyond its hub in West Jefferson. In rural areas across the county, small wooden houses dubbed "twigs" are sprouting up to shelter mini book collections.
"We want to get books into the hands of people who don't often use the library because of an inability to travel or inconvenient work hours," explains librarian Suzanne Moore.
The repositories operate on a take-a-book, leave-a-book honor system, and hold 40 to 50 titles appropriate for a range of reading levels. While the library provides the initial collection, community stewards ensure the tiny branches stay stocked and maintained. The first two, built by the Ashe County Home Builders Association, were installed this fall outside Phipps General Store in Lansing and Todd Mercantile in Todd. By the end of the year, the library hopes to place seven boxes throughout the county.
"We want each twig to take on the personality of its community," Moore says. For instance, the Beaver Creek High School class of 1957 plans to construct a book box in the shape of a schoolhouse using salvaged boards from the old gymnasium bleachers. It will feature the school's mascot, a beaver, reading a book.
The building association aims to lead workshops on how to construct the boxes to expand the project throughout the Appalachian Regional Library system into Watauga and Wilkes counties. These twigs will join between 5,000 and 6,000 book boxes, which already dot the globe as part of the Little Free Libraries literacy movement.
---
Reading List
Book donations for twig branches are accepted at Appalachian Regional Library system locations.
To learn more, visit www.ashelibrary.org or call Moore at (336) 846-2041.
For more on the global program, visit www.littlefreelibrary.org.
                       
                   
RESOURCES:
Photograph by Suzanne Moore