True Gems
True Gems:
The mountains' mineral history is a gift that keeps on giving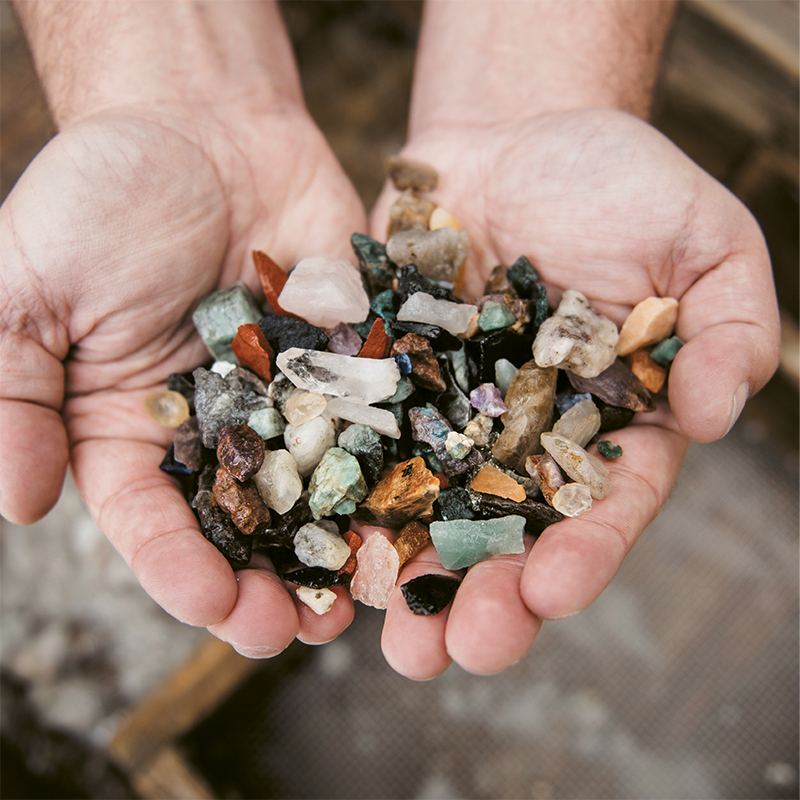 "Every boy and girl is an instinctual rock hound." —Alan Schabilion of Emerald Village
To the untrained eye, it's just gravel. But to Schabilion and the tourists he's hosting, it's a treasure trove of quartz, mica, feldspar, garnets, and even the occasional aquamarine or green and yellow beryl—along with still rarer materials that have captivated prospectors here for as long as anyone can remember.
Schabilion's family business, Emerald Village in Little Switzerland, is a thriving tribute to the Spruce Pine Mining District, an area spanning parts of Avery, Mitchell, and Yancey counties that has claimed more than 700 mines over the years. Emerald Village encompasses 100 acres that were home to a dozen mines that yielded more than 100 different gems, minerals, and rocks. Opened in 1980, the attraction has grown to include mine tours, multiple museums, a jewel of a gift shop, bucket-mining sluices, and many other fascinating facets. Its vast assemblage of vintage mining machinery, for example, is probably unparalleled.
The vestiges of large-scale mining are a fitting backdrop for what has proved a perennial fascination. "Every boy and girl is an instinctual rock hound," Schabilion says, and the scores of kids darting around the village are a testament to that. The attraction hosts some 25,000 people a year—including school groups from around the nation and ample numbers of curious adults as well, from mining novices to worldwide authorities. Despite the passage of decades since mining's heyday in Western North Carolina, the allure of precious finds in the mountains is still a powerful pull.
An economic bedrock
From its westernmost ridges to its foothills, North Carolina has long been fertile ground for those seeking natural wonders just beneath the surface. Thank the forces of geology that made the mountains, applying heat and pressure over millennia to forge substances now highly prized, including some of the most remarkable gold, emerald, and ruby specimens ever found.
It hasn't always been about the glimmering and colorful bounty of gemstones, however—just as often, the plentiful demand for native WNC minerals used in industrial production has been an economic driver.
The Spruce Pine area, for example, has for a century been the world's leading source of feldspar, a key ingredient in glass, ceramics, and other staple materials. It has provided copious amounts of feldspar, long found in the popular abrasive cleaner Bon Ami. Its vast quantities of mica have been used to insulate electrical mechanisms and produce solar panels, among other applications. And even today, nearly all of the highly pure quartz used to make the silicon components for computers made anywhere comes from Spruce Pine.
According to a 2011 state study, more than 100 mines were still operating in the mountains, churning up everything from quartz and clay to mica and olivine, which is used in aluminum and steel production.
Of course, for all their manufacturing uses, WNC's rich deposits of gems and minerals have generated a substantial side economy, with amateur seekers flocking to the dozens of mining attractions throughout the region. Some are tiny roadside stops, with buckets of "seeded" soil often imported from Brazil or China, up for purchase and picking through. Others are more sizable and include a healthy portion of native gems in the mix along with gold-panning opportunities. And still other mining sites are more true to history, offering visitors the chance to head out with hammers and shovels to prospect in rock dump piles, quarries, or caves.
While some of the attractions are seasonal (see our interactive map at wncmagazine.com for details), there's also a steady year-round roster of gem festivals, shows, and sales, and several active volunteer groups and clubs that band together in their quest for the ultimate find.
The Rock Hounds
If Western North Carolina has a preeminent rock hound, it's arguably Rick Jacquot. For the past two decades, the former Asheville police officer has rarely spent a week without seeking out valuables from the mountain rock and soil, and he's written many of the definitive works on how and where to find the goods locally.
A self-professed "low-budget treasure hunter," Jacquot is quick to admit that he's not much of a geologist in the traditional sense. "For me, I don't really care so much how and when this stuff got here," he says. "It's more about the thrill of the search and the finding."
In 2000, Jacquot founded the Mountain Area Gem and Mineral Association, which has grown into one of the region's most active groups of rock hunters. MAGMA sponsors regular field trips to former and current mine sites and hosts an annual weeklong gathering in Asheville in July (see sidebar for details). And while the group has no shortage of learned specialists, its emphasis is on making rock hounding accessible and getting hands-on rather than scholarly. "Ninety-nine percent digging, one percent talk" is MAGMA's creed.
While Jacquot has found more than his share of valuable specimens, he's just as likely to add key finds to the rock garden outside his Buncombe County home as he is to sell them.
Alan Schabilion, of Emerald Village, agrees that the real worth of WNC's mineral abundance is the ongoing chance to share in a crucial part of the mountains' natural history and culture. "Some people ask me if they're going to strike it rich here," he says, flashing a broad smile as his tour is winding down. "You never know, anything's possible. But if you leave here with a smile on your face, and you probably will, then you're rich."
The Golden State
Few may know it today, but North Carolina was once ground zero for one of the most sought-after metals of all. The story begins in 1799, when a farm boy discovered a 17-pound gold nugget in a Cabarrus County creek, prompting the first gold rush in US history. For almost half a century thereafter, North Carolina was the nation's chief supplier of gold, earning it the moniker "The Golden State."
To honor that history, in recent years a volunteer network has developed the NC Gold Trail, a far-ranging tour of historic sites, former mines and mints, panning sites, and equally lustrous locations (go to www.visitncgold.com for details). And the state's golden days are actually far from over: geologists estimate that as much as 95 percent of North Carolina's gold remains undiscovered, awaiting a new generation of lucky prospectors.
Museums that Rock
Asheville Museum of Science
When it relocated and relaunched with a new name in late 2016, this downtown museum brought with it an impressive display of the Colburn Earth Science Museum's considerable store of native gems and minerals. 43 Patton Ave., Asheville; (828) 254-7162; www.ashevillescience.org
Emerald Village's North Carolina Mining Museum
From canary-in-a-mine cages to hundreds of other incredible antiquities, Emerald Village is arguably the nation's best-appointed mining museum. 331 McKinney Mine Rd., Little Switzerland; (828) 765-6463; www.emeraldvillage.com
Franklin Gem & Mineral Museum
Active since 1972, this volunteer-run museum, long housed in the historic Macon County Jail, is one of the finest of its kind in the South. 25 Phillips St., Franklin; (828) 369-7831; www.fgmm.org
Mineral and Lapidary Museum of Henderson County
One of downtown Hendersonville's true jewels, this museum is noted for presenting "the beautiful world beneath your feet." 400 N. Main St., Hendersonville; (828) 698-1977; www.mineralmuseum.org
Museum of North Carolina Minerals
This free, National Park Service-run facility in Spruce Pine is geared toward education, especially about the geology that generated WNC's prominence in the world of gems and minerals. 214 Parkway Maintenance Rd., Spruce Pine; (828) 765-2761; www.blueridgeheritage.org
Gem and Mineral Events
WNC Rockhound Roundup - Asheville // July 22-29
Hosted at Camp Stephens, just south of Asheville, this 15th annual gathering of the Mountain Area Gem and Mineral Association offers a week of events, from shows and swaps to demonstrations, cookouts and—the main draw—field trips to area mining sites. 263 Clayton Rd.; prices vary with lodging/trip options; (828) 779-4501; www.wncrocks.com
Macon County Gemboree - Franklin // July 26-29
Billed as the second oldest gem and mineral show in the Southeast, this 52nd annual affair will feature dealers of both rough and cut gemstones from around the nation, along with exhibits and demonstrations. Robert C. Carpenter Community Building, 1288 Georgia Rd.; Thursday-Saturday, 10 a.m.-6 p.m., Sunday, 11 a.m.-4 p.m.; $2, free ages 12 and under free; (828) 524-3161; www.franklin-chamber.org
NC Mineral & Gem Festival - Spruce Pine // August 2-5
One of Mitchell County's signature annual events, this festival features a vast variety of vendors of crystals, fossils, jewelry, minerals, and gemstones, with two optional mine tours to boot. Commons Shopping Center, 12183 NC 226 S.; Thursday-Saturday, 10 a.m.-6 p.m., Sunday, 12:30-5 p.m. ; $3, free children 10 and under; (828) 765-9033; www.ncgemfest.com
Emerald Village RockFest - Little Switzerland // September 1-3
This star attraction's heritage displays, gem mining, and mine tours will be up and running all weekend, with the added bonus of live music, special food offerings, guided hikes, geology and history talks, and a kids' treasure hunt. Saturday night features a special black light mine tour. 331 McKinney Mine Rd.; Saturday, 9 a.m.-9:30 p.m., Sunday & Monday, 9 a.m.-6 p.m.; free with Emerald Village admission; (828) 765-6463; www.emeraldvillage.com
Gem, Mineral, and Fossil Show - Asheville // September 21-23
Serious collectors and enthusiasts convene for three days of buying, selling, and swapping gems, minerals, meteorites, fossils, and more. Camp Stephens, 263 Clayton Rd.; Friday-Saturday, 9 a.m.-6 p.m., Sunday, 10 a.m.-4 p.m.; (828) 779-4501; www.wncrocks.com
RESOURCES:
Photographs (Gemboree) courtesy of Franklin Chamber of Commerce; (dig) courtesy of MAGMA; (Asheville Museum of Science) by Julie Wood; (Mineral and Lapidary Museum) by Joe Bolado; (Museum of NC minerals) by Jon Elliston; (2 black & white) courtesy of the north Carolina state archives; (sepia) courtesy Emerald Village