True to Form
True to Form:
With a commitment to sustaining the craft he loves, chairmaker Brian Boggs is leading the handmade furniture industry toward an enduring future.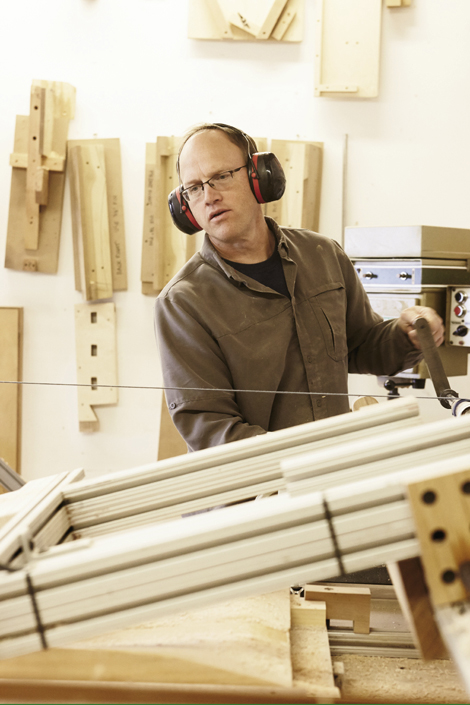 Inside Brian Boggs's woodshop on the perimeter of Asheville's Biltmore Village, several craftsmen plug away—measuring, cutting, and splitting sustainably harvested wood to assemble the fine furnishings sold under the banner of Brian Boggs Chairmakers. In the adjoining gallery, a collection of chairs and tables exemplify hallmarks of a master. Classic Appalachian ladderback models with woven hickory bark seats, nostalgic rockers, and others that are strikingly fresh in their design invite visitors to sit a spell.
The graceful bends in the wood and joinery are so precise it's difficult to tell where one piece of wood ends and another begins. What you won't realize just by looking is how each chair, equal parts art and comfort, was crafted with respect for the environment, as the majority of Brian's furniture is made from locally sourced felled trees. The attention to detail and engineering for lumbar support represents 30 years of experience. How he came to this point is revered among craftsmen, and his efforts to educate and support fellow artisans could make a lasting impact on the local furniture industry.
Discovering a Calling
Inside his studio, Brian is immediately approachable with a wide smile on his face. This is where he loves spending time, and his craft is what he loves to talk about. Start chatting him up about chairs, the inherent qualities of various woods, or details in the joinery and he'll share his unabashed excitement for his work. Taking a seat in one of his ladderbacks, he reflects on his early years in the trade.
His evolution from journeyman to master chairmaker began in the early 1980s when he read James Krenov's The Fine Art of Cabinetmaking, which described the aesthetics of furniture in a way that the artistic twentysomething could relate to. But it wasn't until he discovered Make a Chair from a Tree by John D. Alexander that he crossed over into the world of furniture design, first constructing a simple stool. He crafted the piece with a chisel he fashioned from a screwdriver. "It was obvious that there was no limit to the possibilities for creative expression in the form of chairs," Brian recalls. "It offered everything I had been looking for in painting and drawing, yet added a third dimension."
He refers to that third dimension as the intimacy that a client develops with a chair. "When you start with a piece that's well-made and durable, over time you build a relationship with that chair and stories develop," Brian says. "That's what gives it soul."
Hearing him voice his philosophical thoughts on chairs, the beauty of the grain, advantages of various glues, and the wood's natural properties, it becomes apparent he understands wood on a cellular level.
The craftsman's initial years in chairmaking were founded in the greenwood tradition he learned from Alexander's book. It's an ancient technique that uses the characteristics of the wood to interlock the mortise and tenon. The chair is assembled while the wood is still damp, or green, and as the wood dries, it expands to seal the joinery. Brian spent the next 20 or so years applying the greenwood method to the classic ladderback, all the while evolving the design in a way that enhanced the comfort and beauty. He emphasized the bend in the legs and positioned the back slats for lumbar support and perfected the joinery for lasting stability.
"His ladderback is a real landmark in contemporary furniture," says Fine Woodworking senior editor Jon Binzen, who puts Brian in the front ranks of chairmakers in the United States. "It's impressive to see someone dedicated to one idea and evolving it. He took the ladderback form and learned it really well, and then injected it with his enormous skill as a designer, engineer, woodworker, and craftsman."
In addition to Brian's expertise and innovative brawn, there is a bigger mission and purpose for his artistry, one that holds the ideals of sustainability at its core.
Construction with a Conscience
In the early '90s, Brian and two other members of the Woodworkers Alliance for Rainforest Protection, embarked on an artisan training venture on the north coast of Honduras. Brian trained indigenous people how to make chairs, helping to connect their livelihoods to the survival of the forests.
This effort led to the co-founding of GreenWood, an organization that continues sustainable forestry management efforts in Honduras and Peru. Since its incorporation in 2001, the nonprofit and its Honduran counterpart, Fundación Madera Verde, have trained more than 100 artisans, sawyers, and forest owners in 10 communities, encompassing 30,000 acres.
Brian still acts as a mentor for GreenWood, traveling to Central America to train others and source materials. Most recently, he's teamed up with a sawyer co-op in the Río Plátano Biosphere Reserve in Honduras for the direct sourcing of healthy harvested mahogany.
On the local front, at least 80 percent of Brian's wood is sourced from felled trees in the Asheville area. Whether it's a piece of walnut from Biltmore Estate or a cherry tree removed from a yard, the material doesn't go to waste, nor do the by-products of production. Farm & Sparrow bakery in Candler trades artisan breads for wood scraps to fire the ovens, and local chicken farmers exchange eggs for saw dust used in the coops.
"Brian was sustainable before sustainable was on the radar," says his wife, Melanie, with a laugh. She's been Brian's business partner since 2008 when he moved to Asheville from the craft hub of Berea, Kentucky. Pulling from her background in organizational development, she's helped bring that holistic mind-set into the business's model, which encompasses goals of preserving traditional methods as well as sustaining the trade.
On the company's website, a manifesto of sorts uses words such as ecosystem, collaboration, and mutually supportive partnerships to talk about creating an infrastructure that nurtures the local furniture industry. From sourcing to manufacturing to educating future furniture-makers to consumer education, the Boggses' plan is to partner rather than compete.
Brian networks with urban arborists, forestry managers, loggers, sawyers, and kiln dryers, as well as the Honduran sawyer co-op to source high quality materials. Acting as a supplier of healthy harvested lumber, the company in turn sells surplus timber to woodworkers, offering materials that are often difficult to acquire.
When it comes to production, Brian's woodshop serves to educate and support others. Some woodworkers are hired and train under him, while others rent space, gaining access to tools, lumber, and marketing resources. "Brian is very generous with his knowledge," says Robert Carran, who spent two years working as the woodshed manager for The Boggs Collective, the business's former name. "And when it comes to his integrity, there's no cutting corners."
Carran is among a few who've worked under Brian and, with support and encouragement, gone on to start their own businesses. A small-scale urban arborist, Carran plans to open a solar-powered kiln drying business this spring, supplying felled and dried timber to local artisans. He's a prime example of how Brian hopes to build infrastructure for local furniture-makers. "Brian doesn't want to own a mill or a lumber-drying business," says Carran. "He recognizes there are a lot of parts that go into an industry."
Much like how Brian's complex joints fit together so precisely, each part merely one piece of a whole, so are all the components that make up any industry. Nothing lasts if one piece is weak or missing. "Our mission is to develop an environment that incubates genius," Brian says. And that, in turn, "contributes to the long-term health of the furniture-making community."
 
Visit www.boggscollective.com.