Tree Heroes
Tree Heroes:
Volunteer paddlers strive to save hemlocks in the Green River Gorge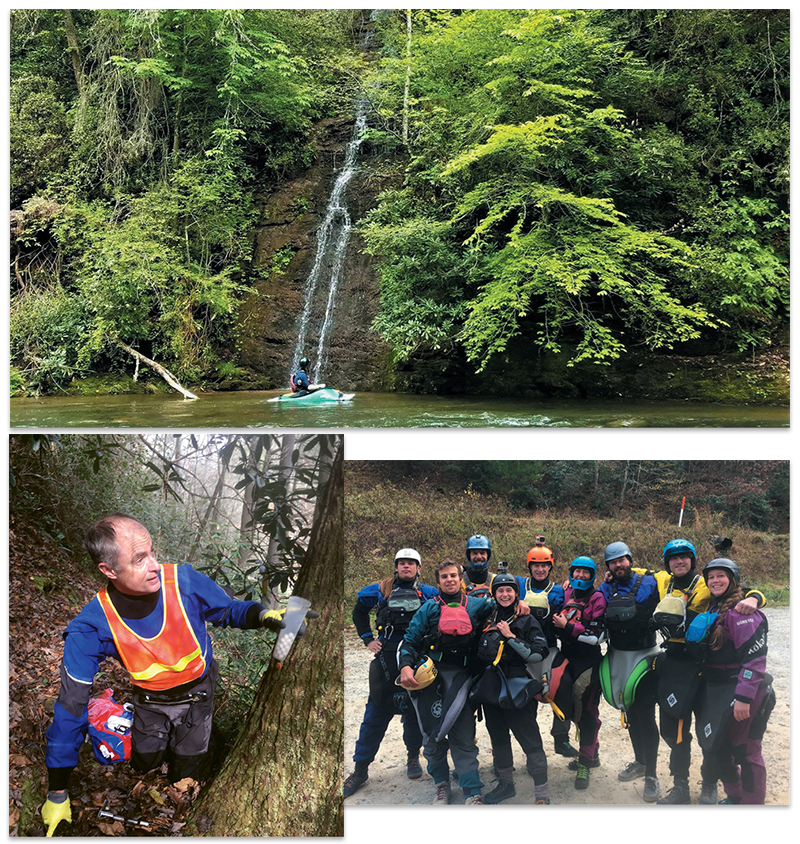 GROUP EFFORT -  Alex Harvey (bottom left) is a member of the P.H.H.A.T. team (bottom right), which treats hemlock trees to ward off the hemlock woolly adelgid in remote sections of the Green River Gorge.
While paddling down the Green River a few years ago, Alex Harvey noticed that among the heavy concentration of eastern hemlocks along the banks, many were overwhelmed by the hemlock woolly adelgid, an insidious microscopic pest. What happens, he thought, if the trees all die?
"It would be devastating," says Harvey, noting that the potential demise of the tree species could alter the river ecology and create hazards for boaters on the world-class white-water river. While the North Carolina Wildlife Resources Commission (NCWRC) and Hemlock Restoration Initiative have partnerned to successfully thwart the bug with a chemical application in portions of the Green River Game Lands, the trees deep in the upper and narrows portions of the gorge are inaccessible by foot.
ALL OVER THE MAP - The hemlock woolly adelgid has ravaged forests from Maine to Georgia. Since the 1990s, it has become a substantial threat to hemlocks in WNC.
Harvey thought treating them would be an apt job for skilled white-water boaters. In 2017, he approached Gray Jernigan, MountainTrue's Green Riverkeeper, and along with a cadre of floating volunteers, they've waged war on the exotic insect.
Since then, each spring and fall, the Paddlers Hemlock Health Action Taskforce (P.H.H.A.T.) has administered chemical treatments to over 700 trees.
Margot Wallston, coordinator of Asheville-based Hemlock Restoration Initiative, says the volunteer paddlers' work is a game changer in their struggle that's also backed by American Whitewater and the NCWRC. "The trees along the river are serving the greatest ecological function" by stabilizing the riverbank and providing shade and shelter to the river's aquatic ecology, she explains. Trained and deployed to apply the treatment tree by tree, volunteers take extreme precautions to keep the chemical solution from coming in contact with the river.
Since its inception, a growing number of volunteer paddlers have assisted with the project's mission. Jernigan says they hope to replicate the initiative along other precious rivers. "This project wouldn't have moved forward without the expertise of the local paddling community," he says. "Their talents have been crucial to the project's success."
PADDLING FOR PROGRESS: Learn more about P.H.H.A.T. at paddlersforhemlocks.com. The group hosts work days in the spring and fall, when the adelgid is most vulnerable.
RESOURCES:
Photographs courtesy of (paddlers, hikers, and map) Hemlock Restoration Initiative; (waterfall) MountainTrue