Train Whistles
Train Whistles:
A record-breaking rally could help bring rail service back on track in Cherokee County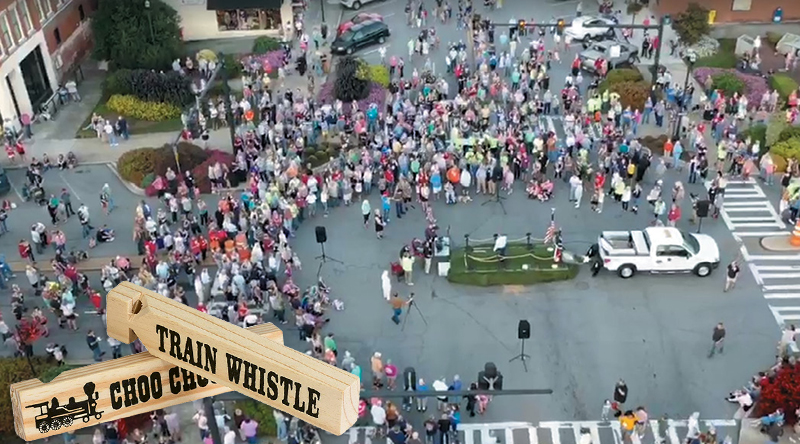 If you ever wanted to hear more than 2,000 people whistle simultaneously, last October 5 was your chance. That's when an extraordinary choir of whistlers gathered in downtown Murphy, North Carolina's westernmost county seat, to smash the world record set in an English town in 2014 by a mere 843 people.
As participants puffed air to the tune of "She'll Be Coming 'Round the Mountain," they weren't just trying to make a coveted appearance in the Guinness Book—they were intent on resurrecting the railroad line that once ran the 15 miles between Andrews and Murphy. It was decommissioned decades ago, but the tracks are still mostly intact and might soon see use again.
Bill and Barbara Hughes
Murphy Mayor Rick Ramsey, a major backer of the initiative, says that establishing an excursion line between the two towns, perhaps along with some light freight capacity, could be a major economic driver for Cherokee County. His sentiments are echoed by a 2015 state Department of Transportation study that predicted renewed railroad service could generate some 1,900 jobs and $60 million in revenue within five years. (Follow the progress of the effort at wnctrain.com.)
It would cost a little more than $17 million in repairs and startup costs to get there, the DOT estimated, but the project has a key advocate in state senator Jim Davis, who serves as cochair of the General Assembly's Transportation Committee and was among the whistlers in October. "It's a dream, and it's a big dream," Davis told the crowd. "But big dreams happen."
RESOURCES:
Photographs by (aerial) Tim Radford; (couple) Roz Barnett