Trailing Forward
Trailing Forward:
North Carolina celebrates the Year of the Trail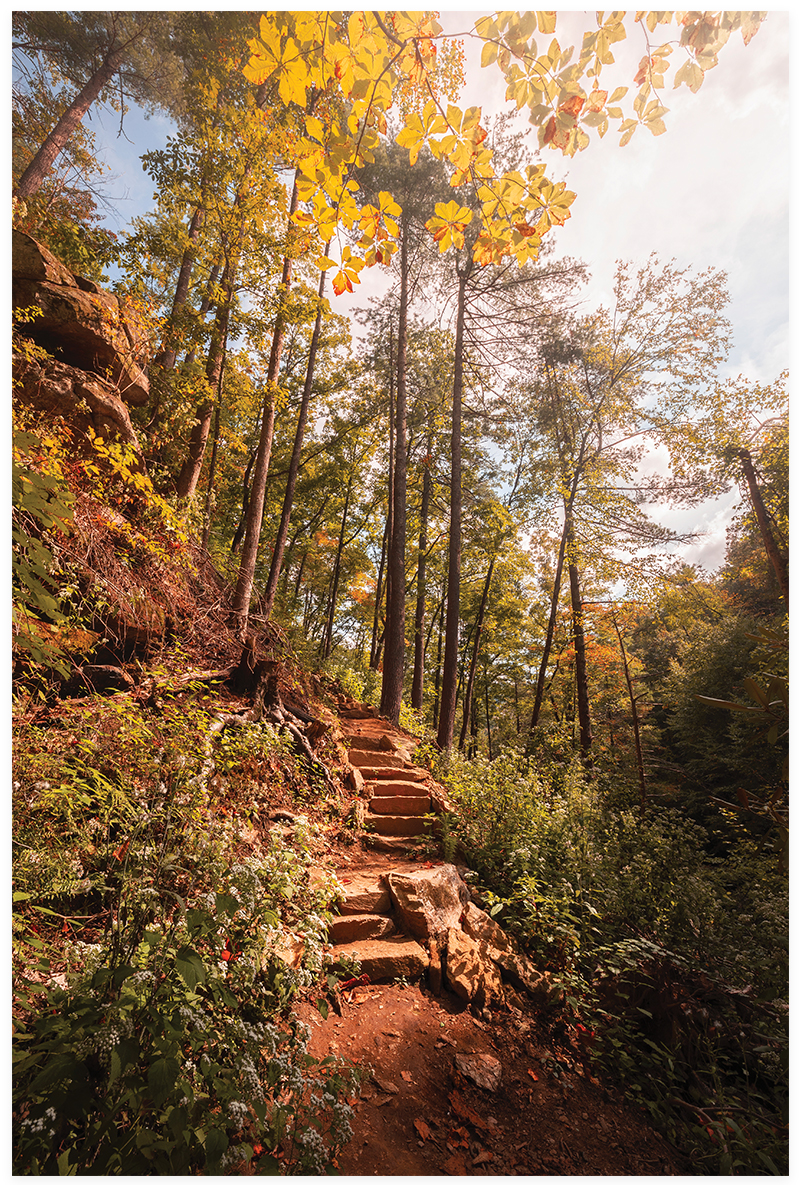 South Mountains State Park
In a state uniquely blessed with a mountains-to-sea spectrum of natural beauty and biodiversity, 2023's Year of the Trail launches an effort to spread trails and greenways all across North Carolina. Recent legislative action is pumping millions into that process.
This sudden shift—a silver lining in the dark cloud of COVID—occurred when even the seriously indoorsy stumbled outside for social distancing on a hike or bike. Trail traffic boomed. Today's vision started over a decade ago as a sleeper strategy to boost the economic impact of tourism, illustrated in 2010 by the Watauga County Tourism Development Authority building Boone's Rocky Knob Mountain Bike Park. 
Many communities have since started promoting their slice of outdoor heaven, realizing that building greenways and trails does more than make local tree huggers happy—it grows tourism, builds community, and fosters healthy lifestyles. Today, outdoor recreation in North Carolina generates more than $28 billion and creates 260,000 jobs, says The Great Trails State Coalition, a group of trail and land preservation organizations formed to advocate for state investment.  
By 2021, says Year of the Trail director Palmer McIntyre, "North Carolina, which had historically underinvested in trails compared to other states, was no longer missing the economic impact element."
Trail coalition member groups were hatching trail plans across the state. Others were building trails, forging vibrant visions that engage thousands of volunteers. In Western North Carolina, a few of those are state trails, like the Mountains-to-Sea Trail and the Fonta Flora Trail. 
The trail coalition went to work in Raleigh and the "Year of the Trail" was born. The legislature is investing $50 million to help organizations finish official state trails. Projects all over the state will get recurring funding, providing key matching money needed to keep snagging big federal bucks. Feasibility studies aim at more than 250 miles of paved trails. 
"We're hoping that the Year of the Trail gets more people out on trails and gets more money invested in trails," says D. Reid Wilson, secretary of the NC Department of Natural and Cultural Resources. "Everybody in North Carolina should be ten minutes away from a trail or greenway." Help celebrate! Take action—join an organization, volunteer, or attend an event. See the list on greattrailsnc.com.