Trailblazers
Trailblazers:
The history of women in Macon County is charted on a new path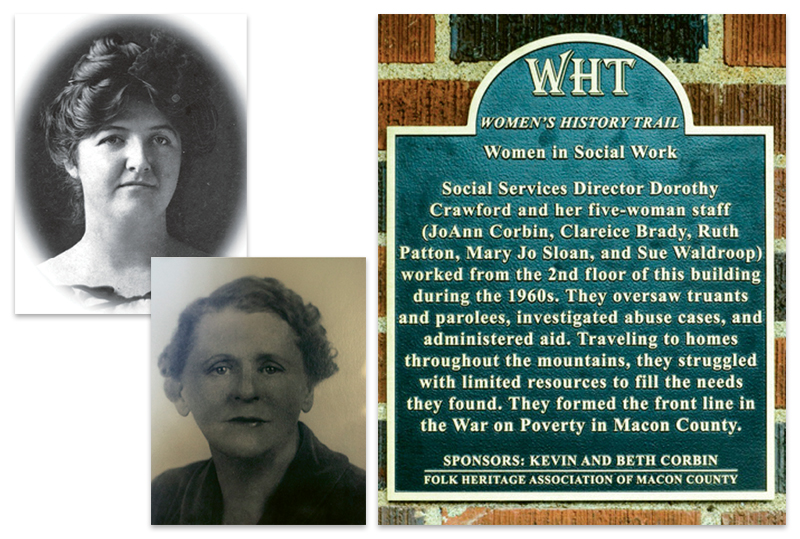 Elizabeth Kelly (top left) was a local Depression-era Red Cross leader. Eloise Franks Potts (bottom left) was Franklin's first, and so far only, female mayor and Macon County's first superintendent of public welfare; (Right) Women's History Trail of Macon County Visit the trail along Main Street in Franklin, and find details at folkheritageassociation.org.
Already picturesque and rich in history, downtown Franklin is now even more exemplary: in October, the Women's History Trail of Macon County officially opened. The first of its kind in the state, the project pays tribute to nine women who made notable contributions to their communities, using bronze plaques placed along a half mile of Main Street.
Barbara McRae, cochair of the project, says that the trail "creates ways for people to discover local history through the lens of these local women." Those saluted include social workers like Dorothy Crawford, who participated in President Lyndon Johnson's War on Poverty; public servants like Eloise Potts, Franklin's first female mayor; and Arrah Belle Johnson, the town paper's first female editor. "They offered a visible presence of professional, working women during a time when there weren't a lot of opportunities" for ladies to get involved in such settings, McRae says.
With phase one of the project complete, the committee plans to extend the trail to feature more women, as well as install a life-size statue of three matriarchal figures: one African-American, one white, and one Cherokee. "These seemingly disparate figures comprise so much of our history," McRae says. "We want our trail to be both accurate and inclusive. It shows what's truly unique to our area and tells a good story, rather than the bleak, dark ones we're so used to hearing."
RESOURCES:
Photographs (plaque) by Karen Lawrence; (2, women) courtesy of Folk Heritage Association of Macon County