Trailblazer
Trailblazer:
Earl B. Hunter Jr.'s Black Folks Camp Too builds bridges to the outdoors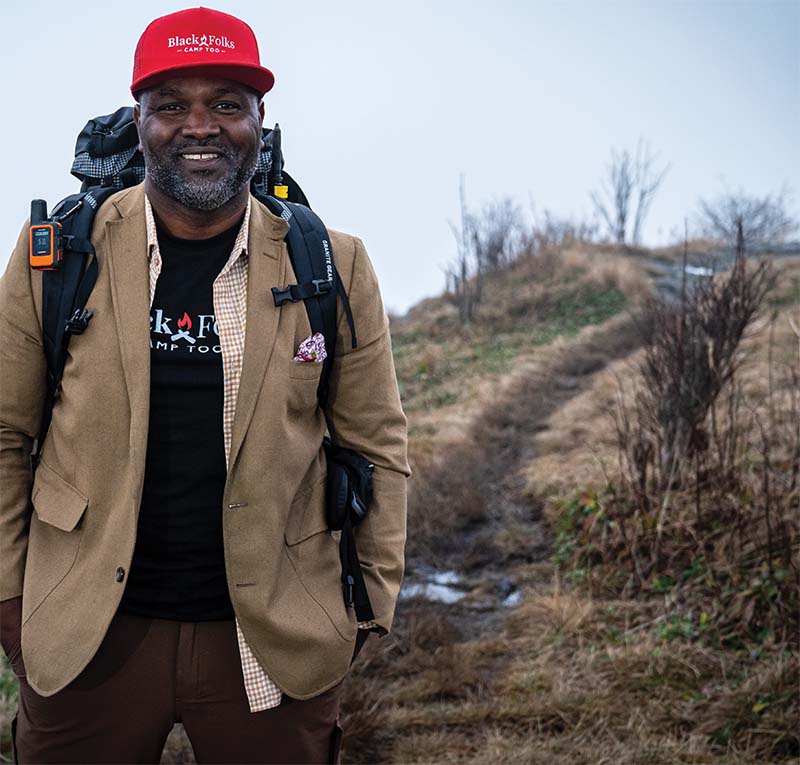 In the past year, Earl B. Hunter Jr. estimates he's backpacked about 300 miles, all while directing his Brevard-based company, Black Folks Camp Too. But he may have learned more about camping in America from attending scores of outdoor industry events—specifically for the recreational vehicle sector, in his former capacity as vice president of sales for Brevard-based SylvanSport.
Hunter quickly noticed that he was one of the few Black executives in the RV industry, which saddened him. "What's worse," he says, the industry "wasn't even marketing to Black folks, wasn't even saying to Black folks, 'We want your money.'" He saw glaring missed opportunities, "because you could both be making yourself money and helping Black folks get out into the outdoors. It's a win-win."
So in 2019, Hunter launched Black Folks Camp Too, at that year's Outdoor Economy Conference in Asheville. "We only care about one thing: it's getting Black folks into the outdoors," he says—while quickly adding that the company is a for-profit enterprise that helps outdoor gear companies and government tourism agencies connect with a long-neglected demographic.
"We help them with their content and their copy, their branding and their messaging," Hunter explains—showing them how to engage Black audiences. "In turn, they pay us." But the real payoff, he says, comes when diverse kinds of people find common enjoyment and unity in the outdoors—a sentiment symbolized by his company's campfire logo. "Because we believe, once we get Black folks, white folks, green folks around that campfire, we're going to start having some major conversations," Hunter says. "I believe that the outdoors is going to change America in a way that we've never seen before."
An Atlanta native, Hunter played football at both Georgia Military College and Appalachian State University before several corporate leadership positions primed him for his four-year tenure at SylvanSport. Now, he's focusing most of his infectious energy on Black Folks Camp Too. "This is my legacy," he says, "this is my baby." 
Hunter may be a man on a mission, but he isn't here to scold anyone. "We are a delightful company," he says. "Our job is not to pound on white folks or talk about how bad the industry has been to Black folks. Our job is to change the whole narrative" about Black people and camping. "We are removing generational fear, adding knowledge, and inviting more Black folks to camp and enjoy the outdoor lifestyle with any and everyone."