Trail Guide: Price Lake Trail
Trail Guide: Price Lake Trail:
Distance: 2.5 miles round-trip, Difficulty: Easy to moderate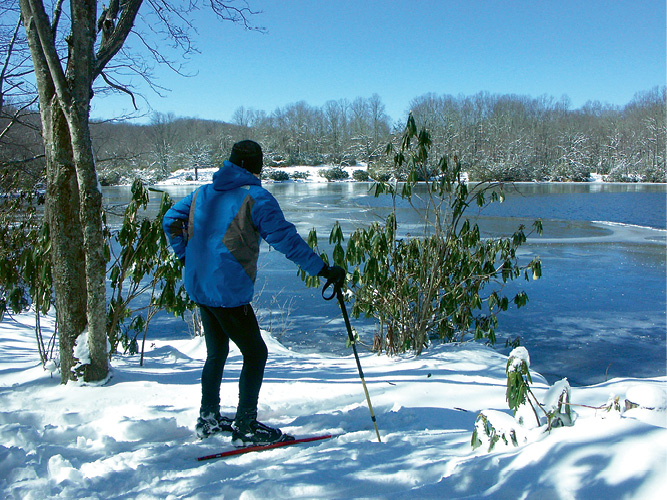 Popular any time of year, a hike around Price Lake, the largest along the Blue Ridge Parkway, might be best in winter. Leafless trees offer awesome distant views of Grandfather Mountain, and even without snow, the lake is often frozen. If you stop and listen, you might hear the ice sheet crack and moan. With good snow, not too difficult to find in the High Country, the lake loop makes an excellent cross-country ski tour or snowshoe hike.
Leave the parkway's Lake View Overlook, past the summer canoe rental, and the first half mile or so is wheelchair accessible, crossing a boardwalk and bridges to a lakeshore view deck. From there, the trail crosses more boardwalk at the quiet, distant end of the lake, then returns to the road and the overlook by passing through white pines in the Price Park Campground. There are a few tricky spots for skiers, but the entire trail is eventually slated for improvements to make it increasingly accessible.
---
Navigate: Lake View Overlook is at Milepost 297.2, south of the parkway's U.S. 221 entrance in Blowing Rock. If the parkway's gates are closed due to snow, take 221 south from Blowing Rock to access the parkway from Holloway Mountain Road and drive north for 1.6 miles to reach the overlook and trailhead. The Park Service often plows the parkway in this area.