Trail Guide - Overmountain Victory Loop
Trail Guide - Overmountain Victory Loop: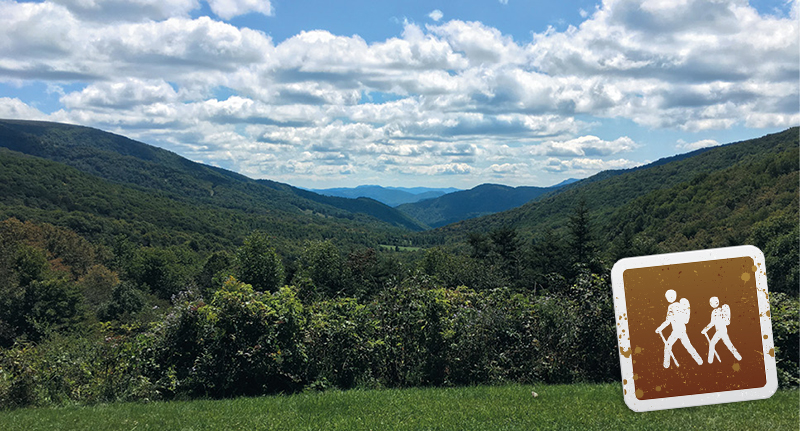 Distance: 2 miles round-trip
Difficulty: Easy
Exactly 239 years ago, a British officer threatened Southern Appalachian mountaineers "with fire and sword" if they didn't pledge loyalty to the king. Big mistake—the result was the Battle of Kings Mountain, a turning point of the American Revolution.
Today, the various routes backcountry patriots took to defeat Loyalist forces are honored at the Overmountain Victory National Historic Trail, which spans 330 miles through corners of North Carolina, Tennessee, and Virginia. It's easy to sample the OVT at one of its most interesting locations, Yellow Mountain Gap, where the militiamen crossed the Roan Highlands at 4,700 feet.
A great short hike reaches mountaintop balds from the Roaring Creek area of Avery County near Plumtree. From the Forest Service parking lot, pass the gate and follow a stream to a grassy field where road grades meet. Go left to take the switchback climb, and traverse a sizable line of trees with yellow blazes. Enjoy expansive views from the Appalachian Trail at the gap, then head left down a side trail to the Overmountain Shelter, a barn converted to an AT shelter. From there, a forest service gravel road returns to the trailhead.
Navigate: From Plumtree, head 3.2 miles north on US 19-E and go left on Roaring Creek Road. Drive 5 miles to the Yellow Mountain Gap AT trailhead. (Take rights at all three forks along the way.)
March On - An annual commemorative march takes place each fall. For details, visit ovta.org.
RESOURCES:
Photograph courtesy of the National Park Service