Trail Guide - Fonta Flora Loop
Trail Guide - Fonta Flora Loop: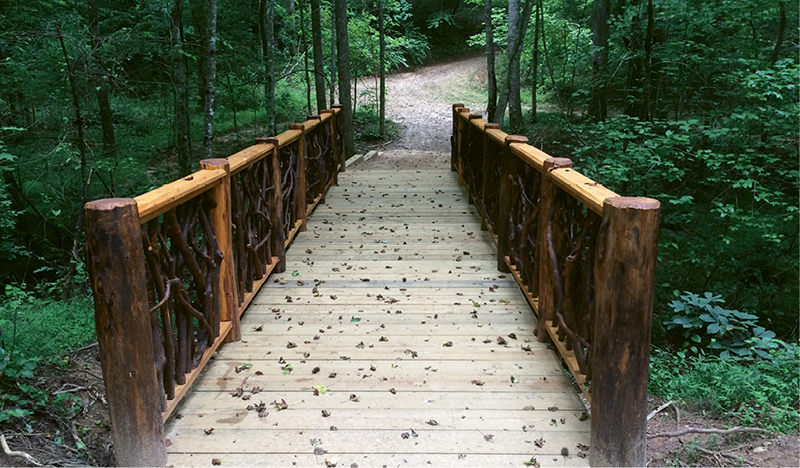 Distance: 5.5 miles - Difficulty: Moderate
Imagine a trail that connects the River Arts District in Asheville with downtown Morganton nearly 100 miles away. No mere dream, the Fonta Flora State Trail will one day link the western Piedmont, including a 27-mile loop around Lake James, with the mountains, and will be only the sixth state trail managed by the state parks system.
Named after a community now submerged by Lake James, the Fonta Flora State Trail's future development and upkeep will rely on the coordination of local governments, trail users, volunteer organizations, area landowners, and public land managers. At present, 20 miles of the Lake James Loop are complete.
A popular day hike is a 5.5-mile loop that begins in the Fonta Flora County Park on the lake's northern rim, below the mouth of Linville Gorge. Along the route are stellar views of the broad stone face of Shortoff Mountain, and, across the lake to the west, the towering Black Mountains. The trail descends from the parking area and meets the lakeshore in a cove in less than half a mile. In all, the trail traces the lake for roughly three miles and returns along a spur of the Mountains-to-Sea Trail system.
Once completed, the entire trail will incorporate portions of current greenways and other trail systems, including the Point Lookout Greenway Trail in Old Fort and sections of the Mountains-to-Sea Trail and Overmountain Victory National Historic Trail.
Navigate: From Marion, follow US 70 East for roughly 5 miles. Turn left on NC 126 near the community of Nebo and follow it for 12.5 miles to the trailhead at the junction of NC 126 and Fish Hatchery Road.
RESOURCES:
Photographs by (BRIDGE) Shane Prisby; (LAKE) Amy Swanson