Trail Guide - Deep Creek Loop
Trail Guide - Deep Creek Loop:
Distance: 4.2 miles round-trip - Difficulty: moderate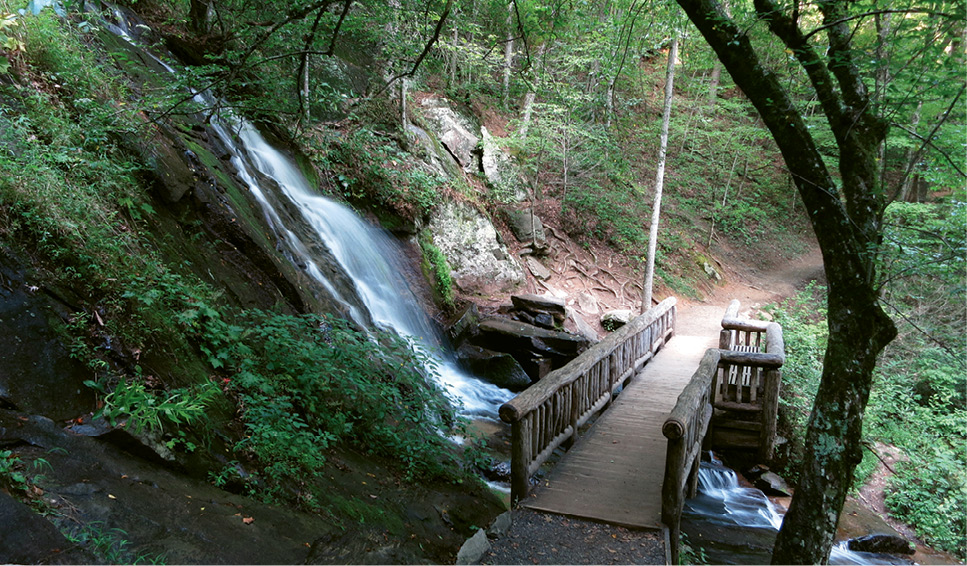 The Great Smokies are a renowned temperate rainforest, and rainbow-festooned waterfalls are among the park's most iconic attractions. The Deep Creek Loop north of Bryson City is the place to glimpse multiple gushers on an easy 1.6-mile hike that can be expanded to total a moderate 4.2-mile loop.
Start at the trailhead just past Deep Creek Campground. A drop-off circle permits the wheelchair-bound to hit the trail for the flat 0.2-mile first stretch to where Tom's Branch Falls cascades into Deep Creek. You're likely to see both tube-toting float trippers and mountain bikers on the start of this multi-use hike.
Cross a bridge and continue up Deep Creek, then turn right on Indian Creek Trail. An immediate left on a side path reaches Indian Creek Falls at 0.8 mile. Return the way you came for an easy 1.6-mile out-and-back hike.
For the extra mileage, continue past the falls and go left at 1.5 miles on Loop Trail. There's a short, steep climb then a descent before making a left on Deep Creek Trail at 2.5 miles. Wander this gradual grade beside Deep Creek back past the Indian Creek Trail junction and Tom's Branch Falls to the trailhead for a 4.2-mile round-trip.
Navigate: From downtown Bryson City, follow signs on Depot Street to Deep Creek Road for about 3 miles to parking on the left just beyond Deep Creek Campground.