Trail Guide
Trail Guide:
Daniel Boone Scout Trail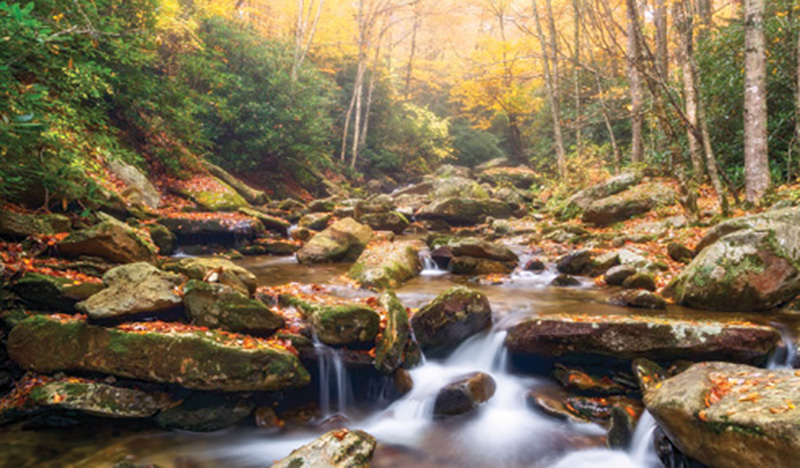 Distance: 7.2 miles round-trip - Difficulty: moderately strenuous
Navigate: Hikes start on the parkway's Tanawha Trail from Boone Fork Parking Area south of Blowing Rock at Milepost 299.9. Avoid the crowd by parking nearby on US 221 at the Asutsi Trail (which adds .4 mile to each hike).
Grandfather Mountain State Park has some of the region's steepest, hiking trails, but one path to Grandad's spectacular summit actually follows a gradual grade.
The Daniel Boone Scout Trail was built in the early 1940s by Blue Ridge Parkway ranger Clyde F. Smith and a Blowing Rock Boy Scout troop. It was overgrown and gone before being reclaimed in the 1970s, and today, it's still a pretty moderate 3.6-mile hike to Calloway Peak (5,946 feet). The stunning 360-degree view dazzles with its direct plummet to the Piedmont.
Newer, connecting trails permit shorter, easier walks that also boast big views. The rocky, gradual Nuwati Trail (3.2 miles round-trip) passes campsites into the high, bowl-shaped Boone Fork valley, once thought to be carved by a glacier. The trail ends with a short, steep scramble to a crag where Calloway Peak towers above.
Make it a loop hike by connecting the Nuwati and Boone trails on the vista-packed, aptly named Cragway Trail (3.9 miles). Even novice hikers can explore this area; just take the Boone Trail half-way up the mountain, then descend colorful Cragway.
With electric, alpine-appearing heath shrubs, New England tree species, and fragrant spruce forests, this is a hike made for fall (especially if rime ice coats the peaks).