Trail Guide
Trail Guide:
Whiteside Mountain National Recreation Trail: Cashiers: Distance: 2 miles Difficulty: moderate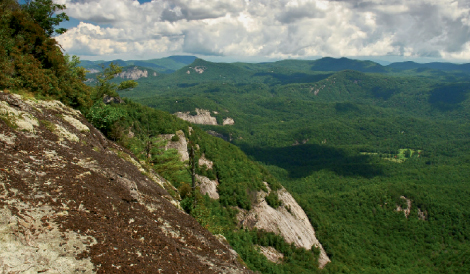 This spectacular scenic loop boasts views from some of the East's highest cliffs, which tower 400 to 750 feet along the Southeastern face of the 4,930-foot summit. From the trailhead located near the kiosk in the parking area, follow the path into the woods to the loop's start. Veer left at the intersection. As the gradual climb rounds the ridge, a grand vista of dome-faced peaks opens to the south, east, and north. Looking east, the Chattooga River breaks out of the higher mountains, and flows into a deep, broad valley more than 2,000 feet below.
Continuing on beside stretches of railing and dramatic views of precipitous domes, enter the woods along the cliff. As the trail crests the summit, tread lightly around the fragile vegetation that clings in this area, including Allegheny sand myrtle, luxuriant ferns, and many varieties of sedge and trillium. Look for bluets and violets, flame azalea, and Rhododendron vaseyi, the rare pinkshell azalea. Completing the loop, the trail descends, then switches back more steeply down steps before emerging onto the old road that leads to the parking lot.