Tot Trails
Tot Trails:
Set out on footpaths that offer big exploration for small people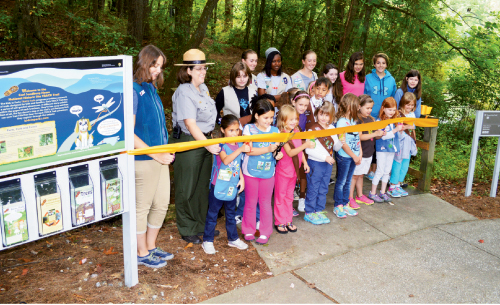 Finding trails to hike in WNC is a cinch, but picking ones the whole family will enjoy can be challenging. Ben Nelson, a field instructor with Muddy Sneakers, a program based in Brevard that connects public school students with the outdoors, says that kids appreciate sudden jolts of marvel. "There's a real sparkle of exploration that happens when kids go somewhere that's very different," he says.
Among Nelson's favorite excursions for kiddos are hikes in DuPont State Forest—such as Big Rock Trail to Cedar Rock Mountain, a rocky plateau with 360-degree views—but he points out that spectacular waterfalls and views aren't crucial for a satisfying trek. After all, there's plenty of joy to be had examining the millipedes and termites under an ordinary mossy log. He emphasizes avoiding longish routes with rugged terrain; instead, aim for short and sweet ambles.
Elise Kahl of Kids in Parks, a program of the Blue Ridge Parkway Foundation, suggests loop routes. Kahl says that kids don't necessarily enjoy having to stop and backtrack, but they may respond with wonder when they suddenly return to the starting point of a hike without realizing it. She suggests the TRACK Trail at the BRP's Asheville Visitor Center, a self-guided one and a half mile loop for kids of all ages, and the trail system at the Carl Sandburg Home National Historic Site in Henderson County, where there's plenty to stir the senses of a youngster, including two ponds to scout for turtles, kid-friendly goats, and a barn.
Ruby Compton, program director at Green River Preserve in Cedar Mountain, opts for water features. "Sometimes kids just need to get in the water," she says, suggesting the Reasonover Creek Trail in DuPont.
Don't hesitate to allow the kids to lead the way. "There are tons of cool things to see in the woods," says Nelson. "Let kids get off the trail and explore for themselves." 
Big Rock Trail
www.dupontforest.com/explore/cedar-rock-mountain
Track Trail
www.kidsinparks.com/blue-ridge-parkway
Carl Sandburg Home
www.nps.gov/carl
Reasonover Creek Trail
www.dupontforesttrails.com/trails/trails-o-r/reasonover-creek-trail
---
Trail Mix
These hikes combine education and exercise
Great Woodlands Adventure Trail
Chimney Rock State Park, Chimney Rock
Kids careen over this 0.6-mile route accompanied by animal friends. They can interact with sculptures of wildlife and visit discovery stations with information from park mascot Grady the Groundhog, whose den is located next to the trailhead and houses other live critters.
www.chimneyrockpark.com/park/interestpoints/woodland.php
Forest Festival Trail
Cradle of Forestry, Pisgah Forest
Tots can climb aboard a 1915 locomotive and ring its bell as they finish this 1.3 miler. Along the way, they'll learn about forest experiments and gardening and see an antique miniature sawmill.
www.cradleofforestry.com/site/things-to-do/the-forest-discovery-trail
Watershed Association of the Tuckasegee River Discovery Trails
Monteith Farmstead Park, Dillsboro
Along this path, use the educational signage to teach kids to take care of the ecosystem as they romp and wade along Scotts Creek. www.watrnc.org/visit-the-buffer-demo-trail
Talking Tree Trail
Holmes Educational State Forest, Hendersonville
Speak to your leafy green friends, and they'll talk back with messages about their life and the history of the forest. This half-mile trail is one of many short routes on-site. www.ncesf.org/hesf
RESOURCES:
Photograph courtesy of Kids in Parks