Top Dogs
Top Dogs:
Meet five exceptional dogs that lead the pack in Western North Carolina. These pups sniff out drugs, race through agility courses, model dog fashion, and guard farms like pros.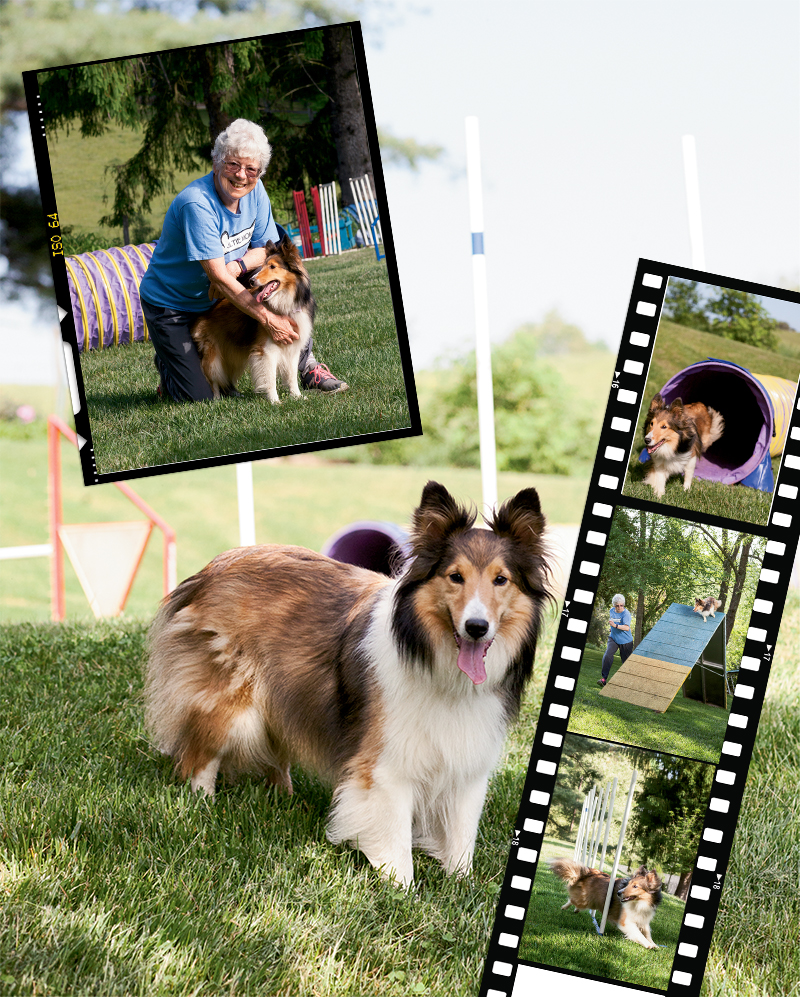 Breed: Shetland Sheepdog; Favorite Treat: Just about anything; Favorite Playground: Loves walking at Biltmore; Endearing Trait: Her enthusiasm for agility, meals, and life
This Agility Dog is Poised for Greatness
Natalie Bayless shouts "hup," and Missie, her three-year-old Sheltie, springs into action. Missie zips through the agility field at Companion Dog Training School in Asheville, leaping over jumps and weaving through poles. She is an agility dog extraordinaire who is ready to become a champion.
Missie was born for this job—she is young, healthy, and bred for speed. Shelties are light-boned, an advantage when clearing jumps and running through tunnels. Her herding instincts give her a natural understanding of body language and help her respond to Bayless' physical cues as they run the course together.
Bayless has raised several agility dogs and first encountered Missie during a visit to a breeder. "She chose me," Bayless remembers. "She looked at me, and I looked at her and I said yes." In some ways, Missie's training began right away, yet Bayless was cautious not to overwork her young joints. She began learning basic obstacles at eight months old, but didn't try a real jump until she reached her first birthday.
Now Missie is competing in American Kennel Club, UK Agility International, and United States Dog Agility Association competitions. They train in Asheville, as well as at Achieve Agility in Landrum, South Carolina, and Bayless says Missie has more fun training than competing. She attends a weekly 90-minute group class and trains at home three days a week. On her off days, she goes hiking and does fitness work to keep in shape.
Missie is eager to please on the agility course, but seems equally comfortable relaxing under a shady tree. Her fluffy white fur waves in the breeze as Bayless talks about Missie's role in the family pack. Bayless and her husband have three other canines, and while Missie is the youngest, she's also top dog. When one of her siblings gets feisty, Missie chases her out of the room until order has been restored.
Bayless is constantly teaching Missie new skills, even when they're not on the agility field. "You're always training," Bayless remarks. This positive reinforcement seems to be working, judging from the look on Missie's face when she gets a treat of dried fish after completing a triumphant run.
Missie placed first in her class at the Novice and Advanced levels, and will be moving up to the Masters level soon. She gets a good score if she runs a "clear round" without knocking down bars, missing an obstacle, or finishing after the standard course time. Bayless has high hopes for Missie as she prepares for regional and national competitions this fall. "Everybody dreams," says Bayless, "and I would love for her to shine."
-----------------------------------------------------------
Breed: Boykin Spaniel/Jack Russell/Labrador/American Staffordshire Terrier; Favorite Treat: Anything meat or cheese; Favorite Playground: Flat Rock State Park; 
Endearing Trait: She moves like a rocking horse when she's excited.
A Grand Old Dame Finds Local Notoriety as a Shop Dog
Winifred struts down Main Street like a fashion model on the runway. People turn their heads to see this Boykin Spaniel, Jack Russell, and American Staffordshire Terrier mix own the streets. At 12 years old, Winifred is the pride and joy of Caroline Gunther, the owner of Wag! A Unique Pet Boutique in Hendersonville, where Winifred is the shop dog superstar.
Winifred gazes at the shop's pet food, toys, and dog clothes from her plush bed behind the counter. She stretches her back legs and saunters over to the open treat bins at her eye level. Under Gunther's watchful eye, Winifred's willpower is remarkable. She's not tempted by the bins of dog cookies, and keeps her cool when a canine the size of a small pony enters the store.
Winifred's life at Wag! began with a photo shoot. Gunther remembers seeing Winifred's image on the website of an animal rescue organization in Georgia. "She was standing on top of an Igloo in her kennel and smiling," Gunther says. "She just grins." Gunther adopted Winifred before they ever met, and luckily, it was a perfect match. That's when Winifred began her climb to fame.
Winifred is known for her social media feeds, where she regales her fans with videos. Gunther helps her sing and speak through an app called My Talking Pet, and Winifred's Valentine's Day message was viewed by more than 700 supporters. Her biggest moment came on Halloween a few years back when Winifred transformed into "Win Kardashian," a Kim Kardashian look-alike dog, complete with a long brown wig and gold necklace that read "Kanye." She was the star of the Halloween party Gunther hosted at Wag!, and her transformation will live online forever.
In person, Winifred looks fabulous when she tries on dog outfits in the store (her primary duty as shop dog), but she still humbly accepts head scratches and words of praise.
"She's a model," Gunther says with pride. "We let her out of the gate and she puts her head in the outfit and then she lifts her little paws."
When she's off the clock, she sleeps next to Gunther with her arms outstretched under the pillows, sometimes savoring her beauty rest until 11:30 a.m. Gunther says Winifred enjoys going to work, unless there's snow on the ground, and then she'd rather stay home. With her white muzzle and soulful eyes, she has the grace of a Hollywood star: beautiful, wise, and always ready for her close-up.
---------------------------------------------------
Breed: Belgian Malinois; Favorite Treat: A KONG or other tug toy; Favorite Playground: Pinnacle Park; Endearing Trait: His drive and love for his work. He's a great asset to the team.
This Intrepid K-9 Sniffs Out Trouble for the Sylva Police Team
Don is serious about his work as a K-9 cop for the Sylva Police Department. He methodically sniffs a blue van parked behind the station, looks up at Officer K.J. Adams, and lays down flat on the grass during a mock drug search. That's how he alerts Adams to the real bag of heroin stashed behind the gas cap.
The police department acquired this four-year-old Belgian Malinois in 2016, and he did extensive training with Adams before he joined the force. The dog is originally from the Netherlands, so Adams learned several Dutch commands during training, which involved hundreds of hours of searching rooms and vehicles for narcotics under the guidance of a certified trainer. They continue to train 14 hours per month to keep his drug-sniffing skills sharp.
The canine mostly performs roadside searches of vehicles that might be transporting heroin or methamphetamines. If the dog alerts Adams to the scent of narcotics, the officer has probable cause to search the vehicle; this has led to several arrests. When Don has a successful alert, he is rewarded with a tug toy and a brief moment of play with Officer Adams.
The bond between police officer and K-9 did not begin with love at first sight. The first 72 hours were rough, Adams says. He took Don to a do-it-yourself dog wash for a bath, but Don did not appreciate the luxury. "It was like washing an alligator," Adams remembers. Although Don shredded an apron and destroyed a broom during those early days, they were on their way to forming a lasting relationship.
Don lives on Adams' property in a canine shelter that has indoor and outdoor spaces. He gets along well with Adams' children, and even visits schools and community groups for education and affection. The community has rallied around Don through fund-raisers that cover some of his expenses, like food and vet checkups. "He's very good," Adams says. "He's proven himself here."
------------------------------------------------------
Breed: Anatolian Sheppard/Great Pyrenees mixes; Favorite Treat: Kaiser's not really into treats; Argus loves chewing on leather boots; Favorite Playground:
The 130-acre farm they live on.
A Seasoned Farm Dog Teaches A Puppy New Tricks
The route to Mountain Harvest Organics farm in Madison County passes through the communities of Luck and Trust, and both virtues are helpful in finding this hidden Garden of Eden that farm dogs Kaiser and Argus guard day and night.
Argus is a seven-month-old Anatolian and Pyrenees puppy. He's the protégé of eight-year-old Kaiser, also an Anatolian/Pyrenees mix. The farm's owners, Carl Evans and Julie Mansfield, say that Kaiser is teaching Argus how to protect the vegetables they grow from destructive animals like groundhogs. The dogs also guard the chicken coop and will protect pigs when the next litter joins the farm this fall.
Kaiser first came into their lives when a farm apprentice found him on Craigslist. Kaiser translates to "emperor" in German, and with his big brown eyes and 105 pounds of furry muscle, he could not be more regal. His calm demeanor is the perfect foil for Argus, who is full of puppy energy. Argus is constantly in motion, wiggling in the grass and weaving through the farmers' legs as they walk beside the barn.
Unlike most guard dogs, Kaiser and Argus roam freely throughout the property. With no fencing to hold them back, they are able to monitor the entire area and react quickly when they see threats approaching from any direction. Kaiser protects livestock from coyotes and neighborhood dogs that have been known to attack pigs, but the farmers say he especially enjoys capturing groundhogs.
Both dogs sleep outside, and Kaiser barks throughout the night to keep predators away. "If you lived in the city, your neighbors probably wouldn't like that," Mansfield says, "but because we're out in the middle of nowhere, he can do that. It's his job."
Evans adds that Argus has only recently found his voice and is doing a good job learning the basics. He explains that training free-range farm dogs is more about harnessing instincts than teaching specific skills.
The farmers are outside harvesting crops and caring for farm animals all day, which Mansfield thinks helps the dogs learn what to protect. "I think Kaiser likes being with us," she says. "I think he's guarding us, too."
RESOURCES:
PHOTOGRAPHS (TOP TO BOTTOM) COURTESY OF SUSAN LILLY; WATAUGA HUMANE SOCIETY; ANN MARROW STALEY