Too Cool for (Just) School
Too Cool for (Just) School:
Whether you're an alumnus or not, there's plenty to learn about this college town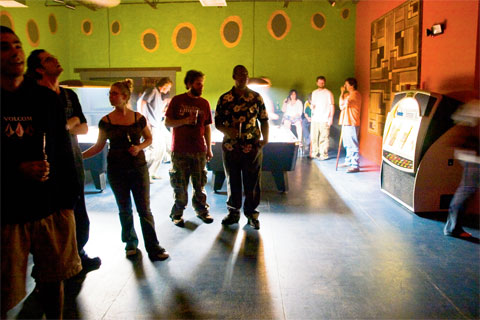 If there's any town in Western North Carolina synonymous with its college, it's Boone. Yes, Cullowhee has Western Carolina University and Asheville has UNCA, but the difference here is a symbiosis that makes transplanted Appalachian State University alums pine for the mountains and their undergrad days. And the town is no secret to plenty of second-home owners from warmer Southern climes who return each summer to refresh and recreate at this cooler elevation—the average summer temperature here is 78°F.
Happily, both of these groups can find what they're looking for here between shops and restaurants that cater to the collegiate crowd and those with more worldly offerings. But don't be surprised to find a retired couple from Florida checking out the Taco Tuesday lunch special at Boone Saloon [489 W. King St., (828) 264-1811] or a couple of coeds out for a romantic dinner at the upscale Char [179 Howard St., (828) 266-2179]. Boone is an all-are-welcome sort of place.
EAT
Once upon a time, Melanie Patterson had a breakfast joint on Broadway in Asheville (currently occupied by Over Easy Café). After bidding adieu to a teary-eyed, loyal clientele, she returned to her hometown and opened Melanie's Food Fantasy [664 W. King St., (828) 263-0300] with her brother-in-law, Scott Patterson. Breakfast, served all day, is still a high priority here. Greek omelets with spinach, tomatoes, onions, garlic, black olives, and feta and side dishes of tempeh strips, stewed apples, grits, and home fries draw diners from across the High Country. If you aren't a fan of pancakes after 10 a.m., try one of the butter burgers stuffed with pesto, herb, garlic, or spicy Southwestern butter, or one of the many vegetarian sandwiches. You can sip honey lemon-ginger tea or organic, unfiltered apple juice on the patio facing King Street or kick back in the homey dining room.
Around noon, take a side-street jaunt to the circa-1866 former jailhouse now inhabited by Reid's Café & Catering [142 S. Water St., (828) 268-9600]. My yummy, choose-three-items lunch ($8) included sesame noodles, fried chicken, and shaved vegetables marinated in a vinegar sauce. There's no guesswork here since most of the day's options, from salmon tortellini to angel hair flan, are on display in a deli case by the counter. During the summer, grab a table on the covered front porch or a seat on the patio in the front yard, where kids in the clean-plate club can play while moms and dads savor a sandwich. Check www.reidscateringco.com for the day's menu. Dinner is served on Thursday and Friday nights from 6 to 9 p.m.
Vidalia Restaurant & Wine Bar [831 W. King St., (828) 263-9176] is cosmopolitan enough to thrive in Atlanta or New York, with its high-backed, leather booths, white tablecloths, sleek, modern décor, and open kitchen, but it shines even brighter in this remote mountain town. The sweet onion that is this eatery's namesake enhances many dishes on the menu, but try the Georgia vegetable in its simplest adaptation, the Cajun-seasoned, Highland Porter-battered, thick-cut rings as an appetizer. Follow up with the zucchini squash risotto made with Heritage Homestead organic goat cheese, and Syrah gastrique or the Five Spice Seared Ahi Tuna with fried plantains, short-grain sweet rice, sautéed baby spinach, sweet and spicy chili coulis, and Tobiko roe garnish. Mark your calendar for the second Friday of the month so you won't miss the chance to taste wines from France, Italy, Napa Valley, Oregon, Australia, Argentina, and beyond.
SHOP
Where in a college town does a woman older than 23 find attire more fashionable than peasant blouses, patchwork skirts, and woven hemp necklaces? The answer is Gladiola Girls [549 W. King St., (828) 264-4120]. This cheerful, budget-friendly boutique carries a selection of Hobo International leather bags, shoes, jewelry, and dresses fit for cocktail parties—including a lovely black tulle number by RYU with flower appliqués at the hem and shoulders for less than $90. My one regret on this trip was passing up a pair of BC Footwear "Altitude" metallic silver sandals ($48). Ladies, I'll be back.
Around the corner is the boutique's alter ego Lucky Penny [132 Appalachian St., (828) 264-0302]. The two stores have RYU dresses in common, but here, the clothing is obviously geared to a younger clientele. Scattered about the shop you'll find Polaroids of women modeling everything from sundresses and bejeweled sandals, to shuttered sunglasses à la rapper Kanye West, and TOMS shoes. Guys don't have to twiddle their thumbs while the girls are trying on clothes, they can pick up a hip T-shirt or two and some denim, as well. Nothing will break the bank here, but if you're looking for a bargain, check out the trunk sale near the dressing rooms.
PLAY
Near downtown, the blooming museum that is the Daniel Boone Native Gardens [651 Horn in the West Dr., (828) 264-6390] exhibits plants specific to the region. Through an impressive wrought-iron gate made by one of Boone's descendants lie winding footpaths where you can learn about the varieties that thrive in the mountains, and brainstorm ideas for your garden. In July, expect to see purple cone flowers, Indian pipes, Turks cap lilies, evening primrose, sweet azaleas, and rhododendron among others. The self-guided tour is a steal at $2, but if you want to dig deeper you can arrange a guided tour with a reservation and $35 deposit.
If the nature stroll puts you in the mood for a more challenging outdoor experience, step into a harness to conquer the climbing wall at Rock Dimensions [139 S. Depot St., (828) 265-3544] in the Footsloggers outfitter's courtyard. Walk in any summer afternoon and lay down $17 for three climbs ($20 with climbing shoes), and you'll be assisted by a trained climber and go home with a new hobby. It'll be your only class during the visit, and it's much more fun than Accounting 101 ever was.
RESOURCES:
illustration by john t. nelson