Toasts with the Most
Toasts with the Most:
Give back to good cause when you imbibe these local brews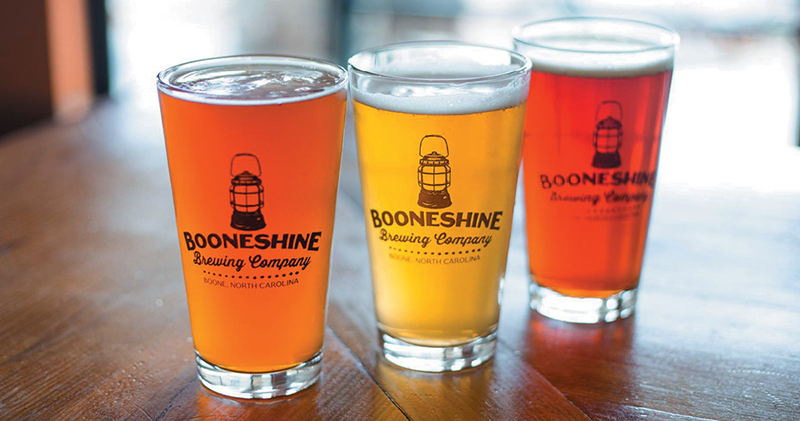 Sipping a craft beer at your favorite brewery is one of life's pleasures, and when the procedes are donated to charity, it's also a great way to support nonprofits across the region. Visit these breweries for the chance to sample suds and help worthy causes.
Booneshine Brewing Co. - Boone
The Beer It Forward program at Booneshine lets you order any beer from the taproom for a friend, and in doing so, a percentage of the sales goes to a good cause. In November, brew sales benefit Boone's Hunger and Health Coalition, which fights food insecurity in the area. In December, proceeds go toward Hospitality House, which combats homelessness in seven High Country counties.
246 Wilson Dr.; booneshine.beer
Eluvium Brewing Co. - Weaverville
Winter Rye Amber Ale
In December, a dollar from every pour of Eluvium Brewing's Winter Rye Amber Ale goes to buy Christmas gifts for needy kids in north Buncombe County through the school system. 11 Florida Ave.; eluviumbrewing.com
Boojum Brewing Co. - Waynesville
Hefemonkey Hefeweizen
Enjoy this refreshing Hefeweizen during November and support the Domestic Violence Sexual Assault Alliance. In December, sip the Gingerbread Porter and you'll be donating to Toys for Tots. 50 N. Main St.; boojumbrewing.com
Sanctuary Brewing Co. - Hendersonville
Throughout December, sample any of Sanctuary's beers—including a saison, sour brews, hoppy IPAs, malty and dark Belgians and porters—and a percentage of overall sales will benefit Sweet Bear Rescue Farm, a nonprofit animal sanctuary in Flat Rock. 147 1st Ave. E.; sanctuarybrewco.com
Catawba Brewing Co. - Asheville
Margarita Gose
Sip this spicy gose at both of Catawba Brewing's Asheville locations November 8 through December 6 and feel good that a dollar per pint is helping the Marine Corps League of Asheville, a local chapter that preserves the traditions and promotes the interests of those who've served in the US Marine Corps. 32 Banks Ave. & 63 Brook St.; catawbabrewing.com
Nantahala Brewing Co. - Asheville & Bryson City
Pattons Run Porter
For the month of December, a portion of proceeds from this relatively light bodied, roasty brew goes to the Swain County Resource Center to purchase Christmas toys for underserved children. 747 Haywood Rd., Asheville; 61 Depot St., Bryson City; nantahalabrewing.com
RESOURCES:
Photographs (clockwise from top left) courtesy of Booneshine Brewing Co.; Sanctuary Brewing Co.; by Bryce Alberghini; courtesy of Nantahala Brewing Co.