Toasts With the Most
Toasts With the Most:
Bubbly winter sparklers offer five reasons to raise a glass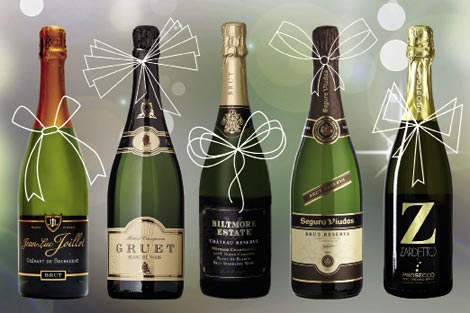 With the holidays approaching and party planning in full swing, pop the cork on one of these quality, nonvintage sparkling wines. Each is created with a different blend of grapes, offering a variety of character and nuance that's best enjoyed with a toast.  
Jean-Luc Joillot Crémant de Bourgogne  »  $30
This Burgundy-produced crémant is characterized by pinpoint bubbles and a mousse-like body, with notes of citrus and apple. Clean and refreshing, it makes a great apéritif, or pairs well with salad, shellfish, and fresh fruit.
Gruet Blanc de Noirs  »  $15
The town of Truth or Consequences, New Mexico, has produced sparkling wines by the champagne method since 1987. And at 4,300 feet, the vineyards are some of the highest in the United States. A creamy texture and toasty aroma make this a delightful post-dinner drink.
Biltmore Estate Blanc de Blancs  » $23
The jewel of the Biltmore Estate Winery's selections, this fresh and fruity sparkling wine holds delicate aromas of apple, pear, and lemon with a neat, tart finish. Serve it with spicy seafood or enjoy it as a cocktail.
Segura Viudas Brut Riserva » $10
A Spanish cava noted for its balance and elegant finesse, this wine is an excellent pick for the budget-conscious. Its meadow-scented notes are laced with the flavors of the grapes and a pleasing touch of sweetness. Enjoy
with olives.
Zardetto Prosecco  » $15
This vibrant, refreshing, off-dry sparkling wine comes from grapes grown on the hilltop vineyards surrounding Conegliano, Italy. Elegant bubbles combine with aromas of white flowers, apricot, and herbs to create a harmonious effect on the palate. Try it with eggs for brunch. 
 
RESOURCES:
<p> Photographs (left to right) : courtesy of www.pcommswines.com; total wines &amp; more; robin austin; segura viudas USA; www.winebow.com</p>