Theme Park Land
Theme Park Land:
Western North Carolina's worlds of wonder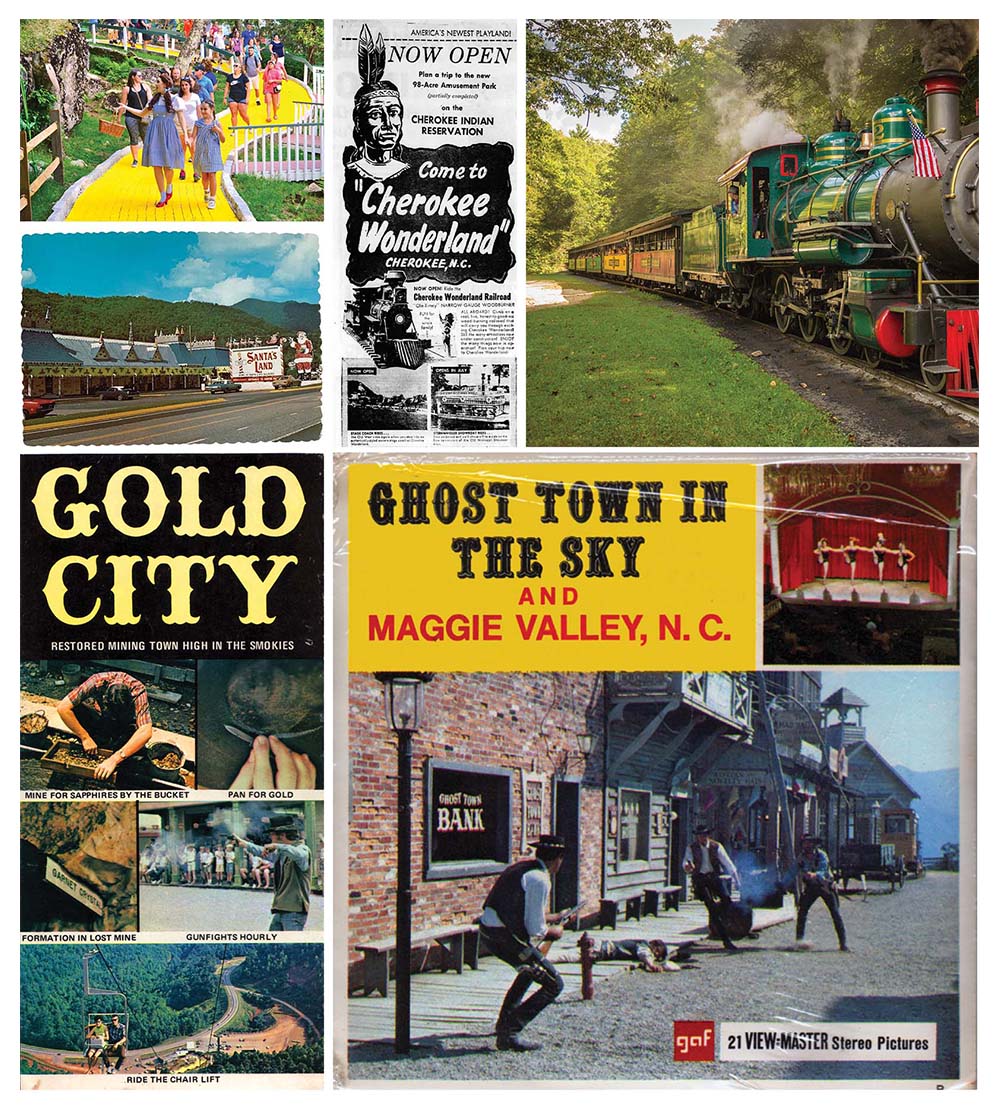 If there was a golden age of American theme parks, perhaps it was bookmarked by two of Walt Disney's grandest debuts: the openings of Disneyland, in California in 1955, and Disney World, in Florida in 1971. These ultimate fantasylands came to embody just how far the amusement park phenomenon could go—but of course, not everyone could afford the trip and the tickets to Disney's main attractions. Cue a nation of imitators: throughout the US, hundreds of smaller theme parks sprang up, eager to cash in on the escapist yen of young 'uns and their parents.
Along the way, Western North Carolina became a mini mecca of distinctly themed parks—the kind that smolder in generations of local memories and still spark up every summer in the hearts of today's visitors. The parks brought sky lifts, roller coasters, live entertainment, costumed characters, Hollywood stars, and much more to our front door. Some of the most storied ones have come and gone, while others have remained open for decades. Meanwhile, one of the region's erstwhile destinations—Ghost Town in the Sky—might be gearing up for yet another comeback.
For some, the parks evoke a hokey nostalgia that's more kitschy than sincere. For others, they're a locus of genuine and treasured recollections—of time with family and friends, awe and wonder, and a form of fun you just can't find anywhere else. Tim Hollis, author of Lost Attractions of the Smokies and other books that lovingly document old theme parks, says that there's plenty of room for both takes: "The two are not mutually exclusive. You could love these places and still recognize how patchy some of them were. People can be totally sentimental about them and realize that they can be made fun of, too."
Whatever draws you to them, WNC's theme parks have showcased a wild and wonderful mix of culture and quirkiness, camp and showmanship, and chills and thrills that keeps us coming back.
Since 1957, Tweetsie Railroad has held court as WNC's original theme park.
Tweestie Railroad - Blowing Rock
We've got the Wild West covered in these here mountains: Tweetsie Railroad is Western North Carolina's oldest theme park, and it's still going with guns a blazin'. It opened on July 4, 1957, the brainchild of Grover Robbins and sons—the family that had earlier turned the Blowing Rock into a popular natural attraction. Back then, Tweetsie was a veritable one-horse affair—one iron horse, that is. A short span of train cars would convey visitors back and forth along a stretch of railway. But what a train: formerly of the line that connected the Boone area to eastern Tennessee, it was owned by Hollywood crooner Gene Autry before he sold it to the Robbins family, who made it the starter seed for their ever-expanding theme park.
Like a frontier outpost that grew into a village, Tweetsie Railroad added complementary elements as the years passed. An expanded rail route circling Roundhouse Mountain; live-action "shoot-outs" that took place trainside as costumed desperadoes, bandits, lawmen, cowboys, and Indians staged scenes; and the trappings of an Old West town. Later, a chairlift to the top of the mountain was added, ferrying visitors to Magic Mountain, which replaced the western motif with fairy-tale fare—a castle sheltering a paper-mache giant was a main attraction, along with a host of other amusements.
Today, Tweetsie Railroad continues to draw thousands of wide-eyed kids (and their adults) with its mainstay offerings like the three-mile Wild West Train Adventure and Diamond Lil's Can-Can Revue, along with magic shows, a clogging jamboree, lots of old-timey shops, gem mining and gold panning, a petting zoo, and more rides than you can shake a six-shooter at. There are special events galore, from Day Out with Thomas (the Train) in June to Railroad Heritage Weekend in August to the Halloween-themed Ghost Train. As always, Tweetsie's historic steam engines chug along, sounding the whistles that have signalled days of delight for decades.
All Aboard!
Tweetsie Railroad is at 300 Tweetsie Railroad Lane between Blowing Rock and Boone. The park is back in full swing this summer and fall after the pandemic drawdown. For info on days, hours, special events, and ticketing options, call (800) 526-5760 or visit tweetsie.com
Land of Oz - Beech Mountain
Somewhere over the rainbow—in Beech Mountain, to be precise—there's a patch of hallowed theme park history. For it was here that an enchanting attraction celebrating all things Wizard of Oz held court for one magical, challenging, and all-too-brief decade. But its story is not over yet.
Land of Oz opened with a Tinsel Town-powered publicity splash on June 15, 1970. In attendance were no less than superstar actress and singer Debbie Reynolds and her 13-year-old daughter, Carrie Fisher (later known as Princess Leia). They were there to celebrate a venture dedicated to recreating the vibe of the classic 1939 musical fantasy, The Wizard of Oz. In fact, Reynolds had collaborated with the park's owners, the Robbins family of Tweetsie Railroad fame, to obtain a huge collection of authentic props and memorabilia from the film to display at a Land of Oz museum.
Throngs of visitors soon poured in. They'd start by riding a gondola up the mountainside (or take a quick bus instead), and begin the adventure at a mock-up of Uncle Henry's farm. A simulated tornado transported them to Munchkinland, where they would follow the Yellow Brick Road and meet the Tin Man, Cowardly Lion, the Scarecrow, and Dorothy herself. Last came an encounter with the Wizard and a stage show featuring all of the costumed characters. The journey back to the parking lot was via the Land of Oz's only bona fide ride—a modified chairlift system designed as a string of delightfully colored hot air balloons.
But real trouble came to this little fantasy world: tragedy struck Land of Oz in December of 1975, when thieves swiped some of the valuable movie memorabilia from one building—including a gingham dress Judy Garland had worn—and apparently set the fire that destroyed the park's theater and a shop. A quick rebuilding kept Land of Oz open the next few seasons, but visitation dropped precipitously with the gas crisis of the late '70s, and in 1980, the park closed its doors.
Still, the allure of the short-lived theme park proved too strong for it all to end there: today the remnants of the park have been restored and play host to Autumn at Oz weekend festivals each September. What's more, special tours are now available at the place where, as Dorothy sang, "trouble melts like lemon drops, high above the chimney tops."
Hello Yellow Brick Road
For information on Autumn at Oz weekends and private tours of the former Land of Oz, visit landofoznc.com. 
Santa's Land - Cherokee
A Christmas-themed park for summer and fall merriment in the mountains of North Carolina—why not? That's been the sentiment behind Santa's Land Fun Park and Zoo—"The North Pole of the South"—a jolly outpost near the town of Cherokee since 1966.
The attraction is geared toward fulfilling the Christmas fantasies of those on the younger side of childhood. At Santa's Land, they can visit Kris Kringle himself (and get an early start on sharing their wish list), hop on kid-friendly rides (the Rudicoaster and the Santa's Express mini train are favorites), take in a magic show, and tour what's billed as the "largest zoo in the Smokies," home to deer, kangaroos, goats, monkeys, and more.
It's an unconventional mix, to be sure, but this is one theme park that has stood the test of time, distance from the North Pole be darned. As one recent visitor put it on Facebook: "There's nothing like Santa's Land anywhere in our great country. And that's coming from a born and raised Disney brat!"
Ho, Ho, Go! 
Santa's Land, located at 571 Wolfetown Road near Cherokee, is open May through October. Call (828) 497-9191 or visit santaslandnc.net to plan a visit.
Gold City - Franklin
In yet another testament to the scrappy, innovative approach that characterized some of WNC's smaller theme parks, Gold City shined brightly for a while and wasn't afraid to experiment with novel approaches. Consider the scene at its grand opening in 1965, when a local congressman slashed the ceremonial ribbon with a Spanish sword.
Perched on a mountaintop on the Macon-Jackson county line, Gold City's visitors ascended a chairlift to a "16th-century Spanish village" that hyped the historical fact that Hernando De Soto and his band of explorers once probed these mountains. After a couple of years, that approach gave way to a "restored mining town," complete with swaggering cowpokes, a mine tour, amusement rides, hourly gunfights, and can-can dancers at the Red Garter Saloon. (Incidentally, the attraction was built on the site of a former excavation site, the Glory Hole Mine.)
Interestingly, the comedian and recording artist Archie Campbell, of Hee Haw fame, became a major early investor in Gold City, and even mined talent for the popular TV show from the performers at the park.
Gold City went bust in the late 1980s. Today, there's a DIY mining attraction, Gold City Gem Mine, at the base of its former location (9410 Sylva Road in Franklin), where roadside tourists still sift for just the sort of treasure De Soto was seeking.
Ghost Town in the Sky - Maggie Valley
You can't keep a good theme park down—or maybe there are some that just won't give up their ghost. Consider Ghost Town in the Sky, a Maggie Valley destination for decades that keeps taking a shot at an afterlife, years after its most recent closing.
The attraction sprang up in 1961 as a rootin' tootin' rendition of the then wildly popular Old West theme park, sporting some 40 replica buildings in the main "town" as well as Indian and mining villages. Set atop Buck Mountain, it could be reached by either an incline railway or a chairlift, both traveling more than 3,000 feet. During its heyday, more than half a million people would visit each year for staged gunfights, soda-tap saloons, heel-kickin' live music, and some of the wildest roller coasters in Western North Carolina. Sweetening the deal were regular appearances by country and western music and film stars.
However, come the 2000s and 2010s, the proverbial tumbleweeds steadily took over Ghost Town in the Sky as it faced a series of closures, new owners, reopenings, and still more closures. Western-themed parks had lost their luster among the masses, it seemed, and the attraction's aging rides, prone to breakdowns, help put the place on hiatus.
The jig still might not be up though: in March of this year, the Smoky Mountain News reported that a new group of developers has a revitalization plan for Ghost Town, one that foresees a more mixed-use approach to the abandoned attraction. Details are tantalizingly scant, the newspaper noted: "There are some big names associated with the project—instantly recognizable to most—but ongoing discussions prevent their disclosure."
Cherokee Wonderland - Cherokee
onsider this "The Wonder that Wasn't," a tale of big aspirations and dashed dreams. Cherokee Wonderland wanted to have it all. The theme park opened in 1961 on prime real estate—98 acres adjoining a curve in the Oconaluftee River near downtown Cherokee. Its owners pledged to promote authentic Cherokee culture and history, and made plans for an elaborate "Cherokee Historama"—a giant visual exhibit recounting the tribe's saga. They also offered rides on a stagecoach, train, and a mini steamboat, at first, while promising a Disney-esque future for the park, with planned additions of pirate- and space-themed rides, along with the full complement of shops and live shows.
But it was not to be. Some of Cherokee Wonderland's grandest designs were just getting underway when they screeched to a halt. The park's developers had leased land from several local residents, members of the Eastern Band of Cherokee Indians. A couple of them felt the park was overstepping its bounds, and low-level hostilities (a few roadblocks, the occasional hollered animosity and hurled rock) ensued, followed by lengthy legal disputes and Cherokee Wonderland's untimely demise in 1964.
While its tenure was short, those who visited Cherokee Wonderland said it had a promising vision for multifaceted diversions—and left the kind of fantasy-fi lled memories that only theme parks can.
Frontier Land - Cherokee
When Frontier Land opened in 1964, a day's visit to the 140-acre attraction in Cherokee cost just $2 per adult and $1 per child. For that pittance, visitors were transported back to the Old West on a grand scale. Arriving at the park via a wood-burning steam train or a gondola, they'd scatter out to explore Frontier Land's three main areas: Indian Territory, with more than 20 Native American structures and performances of "war dances," to boot; Fort Cherokee, a huge replica of a frontier stockade; and Deadwood Gulch, a full mock-up of a hardscrabble 1860s Western town.
If the lineup sounds familiar, that's true in part because Frontier Land was the brainchild R.B. Coburn, who'd developed Ghost Town in the Sky just a few years earlier. His recipe for theme park success here also included helpful assists from stars of the big screen and the tube, who paid regular showcase visits. For the entirety of the grand opening week, Bonanza main player Dan Blocker (aka Hoss Cartwright) was there to help fend off the requisite bank robbers and pesky natives.
The fervor for Frontier Land tapered off over the years, and in 1983, its owners transitioned it into Water World, a water amusement park (with unmistakable Western touches) that had a couple of hot summers but threw in the towel in 1986. The site of the park was to have a most-fortuitous future, however: since 1997, it's been home to the money-minting Harrah's Cherokee Casino.
RESOURCES:
Images: photographs (6) courtesy of Tweetsie Railroad; (Dorothys & mushroom scene) courtesy of the W.L. Eury Appalachian Collection, Appalachian State University; all others courtesy of Land of OZ, NC; (view-master) courtesy of Tim Hollis; (chairlift) courtesy of Mike Smith; (color renditions) courtesy of Lance George; image (brochure) courtesy of Tim Hollis